1834 O-120 R4 Small Date, Small Letters Capped Bust Half Dollar
Obverse: 18 (Second Marriage)
Reverse: T
Minted in 1835

Aa tougher marriage with only a few MS examples up to MS64, and a small population of AU specimens available to collectors.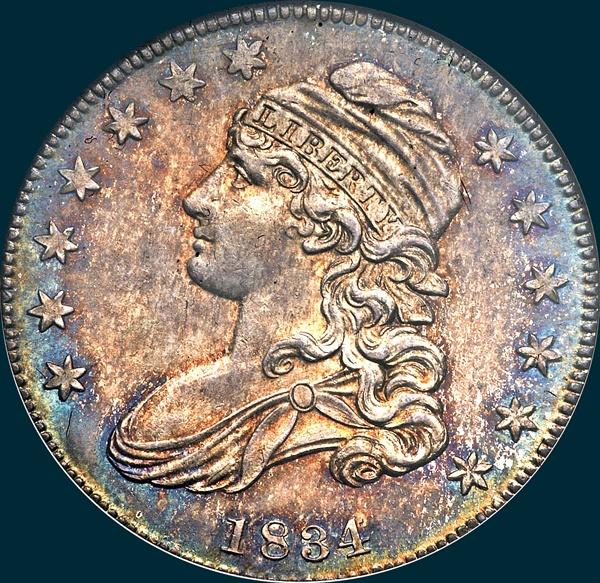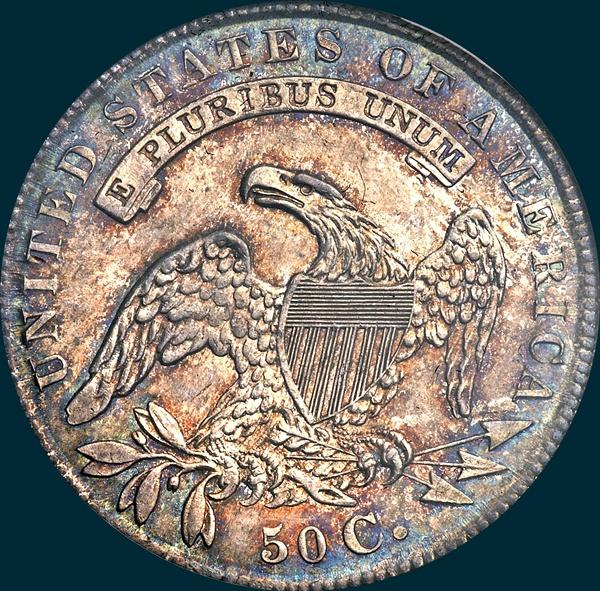 Variety Attribution: Obverse-Stair Step Date. Star 1 is 2 1/2 mm. from drapery. Date is 6 3/4 mm. with slender sharp figures that are progressively lower and closer together from left to right, hence the stair step designation. Mouth is slightly open and an ugly curl to upper lip. The most prominent nose to any 1834.
Reverse- 50 C. is 1 mm. and well centered, with all units slanted left. The 5 is higher and tipped more sharply left than 0 C. The horned top 5 derives its name from the broad sharply curved top. this reverse T and O-121 rev U are easy to identify, because they are the only two small date varieties with this horned top 5. Arrow to A is 1 mm. Left sides of D-E and T-I in line.
1835 Leaman-Gunnet Emission Sequence Number for O-120: 11 (This variety was minted in 1835 after 1835 O-104)
Overall Number: 423
Top five condition census coins from last 10 years of auction and sale records:
04/18 Heritage (Dallas) PCGS MS65

01/12 Hertiage (FUN-Orlando) NGC MS64
05/12 Heritage (Long Beach) PCGS MS63 CAC
03/10 B&M (Baltimore) PCGS MS63
02/12 Heritage (Long Beach) NGC MS61