1806 O-105 R2 Draped Bust Half Dollar
Obverse 3
Reverse B (Second Marriage)

This marriage has a decent group of AU's available but none higher, it seems, than AU55. Well circulated examples appear to be abundant. This marriage is easily confused with O-101 thru O-103, O-106 and O-107.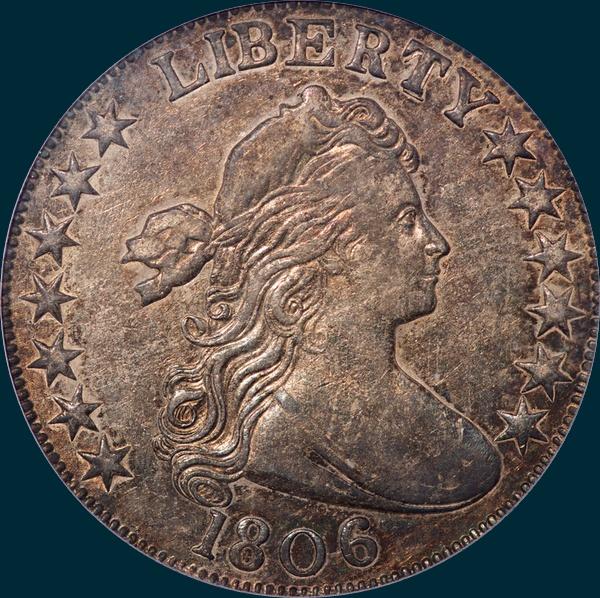 Variety Attribution: Obverse- O-105: Star 7 is 2 mm. from L and star 13 is close to bust. large wide date is 9 mm., with 1 nearly touching curl,. A fine die crack through 180 and another at top of LIB. T is broadly recut. "Large stars" on obverse, although in reality, it is difficult to distinguish these stars from the small stars, and it is thought that there really is no difference. See for yourself!
O-105a
The fine die crack from 180 extends through all stars on left to join the crack at top of LIB. This die crack at top of LIB eventually becomes a cud.

Reverse-: 6 berries on the olive branch, the only one so found. the berry above the branch and closest to the claw, is a tiny one without a stem. The two berries near end of branch do not have stems. AME are solidly joined at base. A bold die line points right from upper corner of shield and another line joins upper arrow shaft to tail feathers.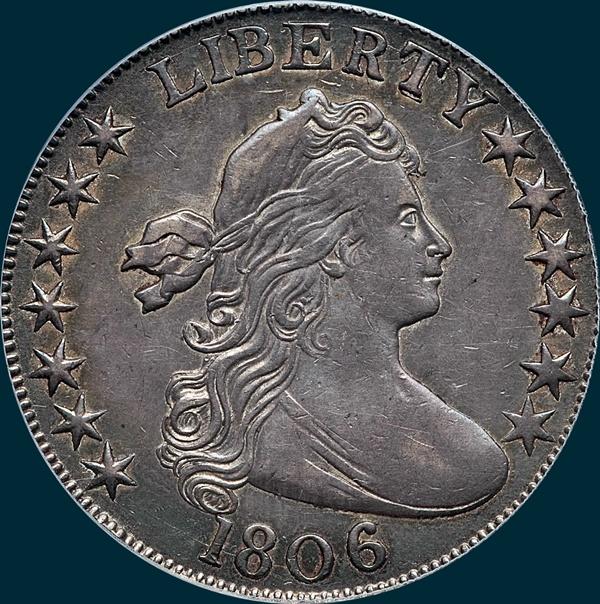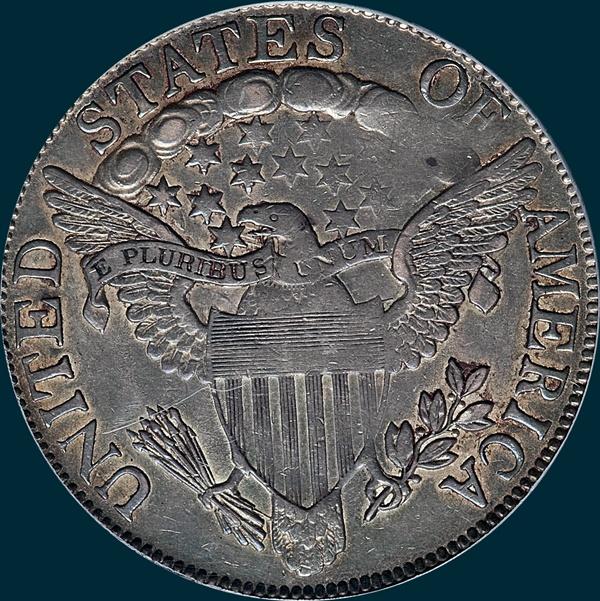 The distinguishing characteristic of the 105b, a cud. R7?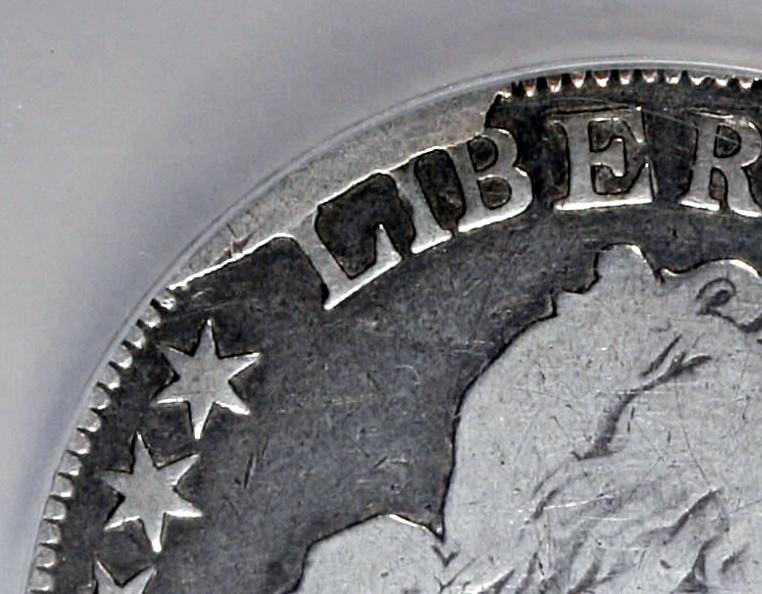 1806 Leaman-Gunnet Emission Sequence Number for O-105: 5
Top five condition census coins from last 10 years of auction and sale records (O-105):
08/16 Heritage (ANA-Anaheim) PCGS AU55
02/17 Legend (Regency XX) PCGS AU53 CAC
08/15 Downey MBS 41 PCGS AU53 (Friend)
06/10 Heritage (Long Beach) NGC AU53
06/17 Stack's-B (Baltimore) NGC AU50
Top five condition census coins from last 10 years of auction and sale records (O-105a):
​08/18 Heritage (ANA-Philly) PCGS (S) AU55 CAC (Dale Friend)
01/17 Heritage (FUN-Ft Lauderdale) PCGS AU55
01/08 Heritage (FUN-Orlando) PCGS AU55
08/19 Heritage (ANA-Chicago) PCGS AU53
10/08 Heritage (Dallas) NGC AU53
Top five condition census coins from last 10 years of auction and sale records (O-105b):
01/08 Heritage (FUN-Orlando) NCS VG08 det (heavy scratches obv)