1803 O-102 R3+ Large 3 Draped Bust Half Dollar
Obverse 1 (Second Marriage)
Reverse B

O-102 R6? below, and O-102a R3+ at bottom.


There have not been any mint state appearances for this die marriage, and very few AU's. The prime die state is very rare, with the reverse on most examples showing clashing and a die crack.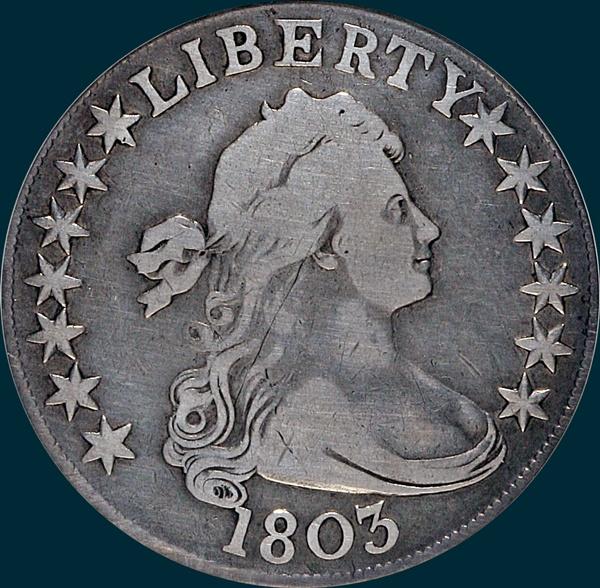 Variety Attribution: Obverse-Stars all large and sharp. Stars 7 and 8 very close to L and Y. 1 touches curl. The large 3 is close to bust and has a vertical serif at top. Some show a fine die crack at top of LIBERTY.

Reverse-O-102: 5 Berries, the upper one below branch is partly hidden by leaf below. Point of leaf very close to extreme right base of I. 13 arrows. Star and beak clearly separated. Die line at base of D.

O-102a: Irregular crack from rim that joins TAT at top and another though ERICA. Some specimens (See Above) show letters of LIBERTY and other devices clashed on reverse especially under tail feather area.

NGC Graded VF35. Totally Original with a whole lot of crud on it hiding some details on the reverse. Same crud caked on the obverse as well. Silver dust? Some luster remains in the devices. This is the toughest 1803 to get, and one of the best survivors out there as this one has not been abused.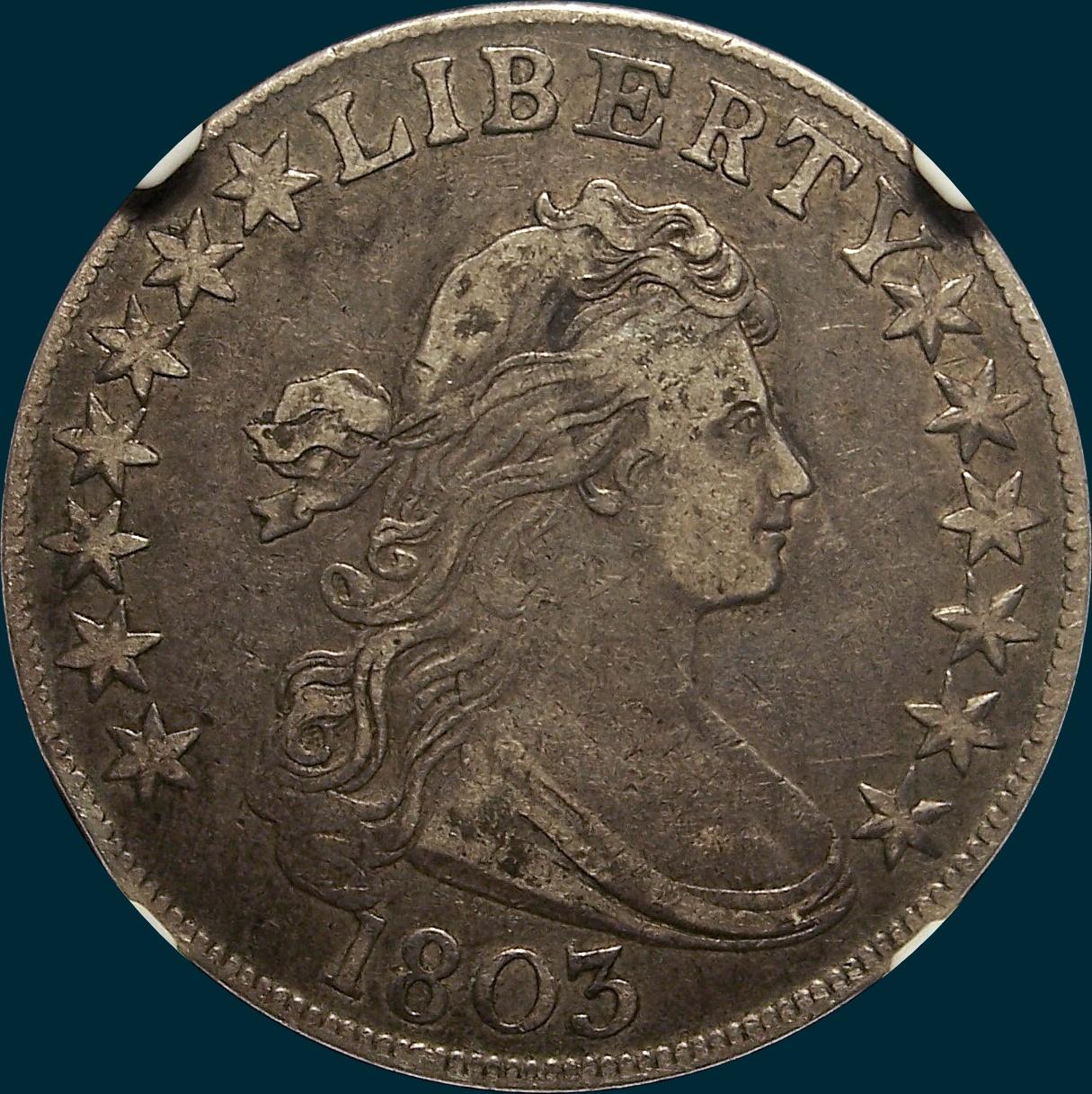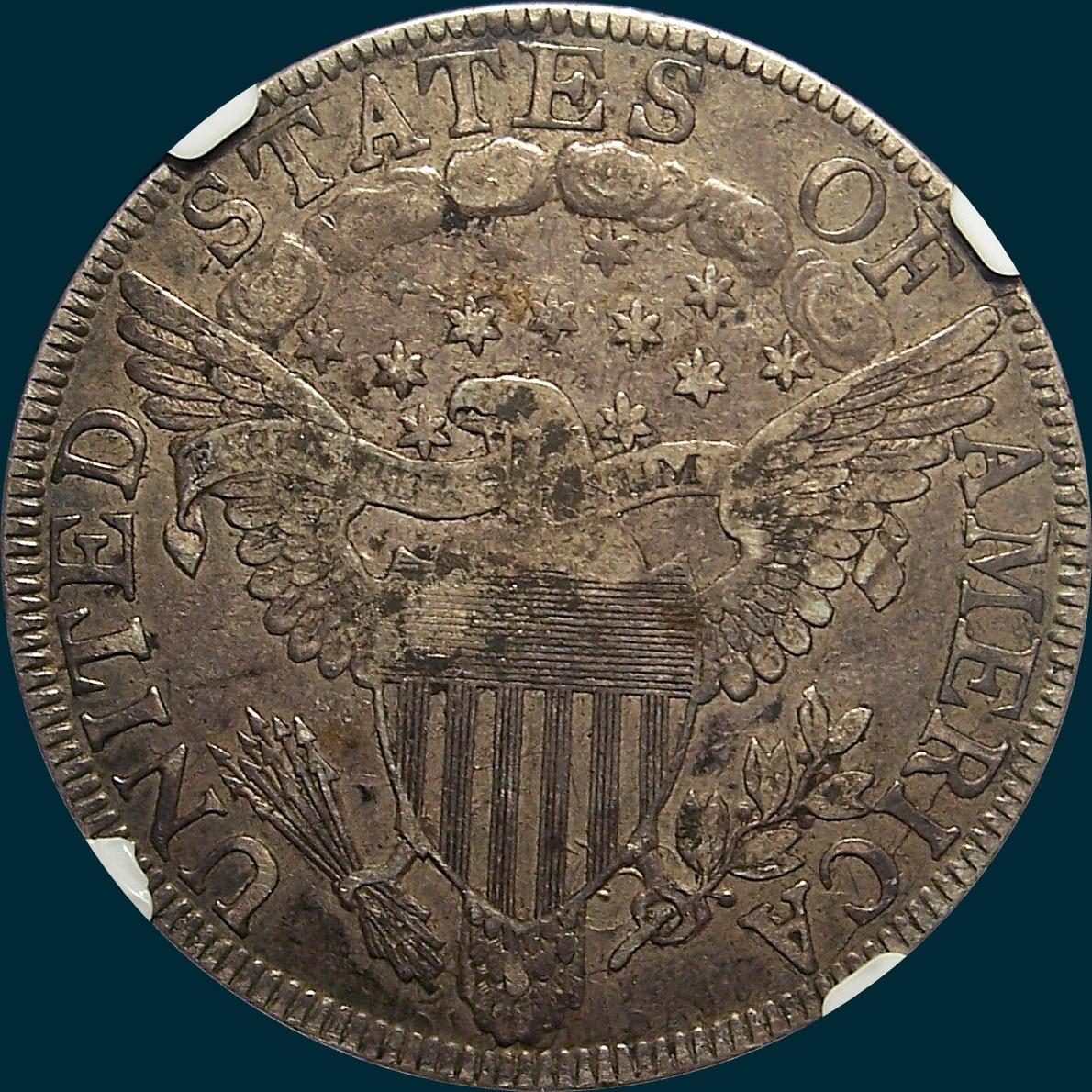 Here are some edge pics for reference, and viewing pleasure, Clockwise from the bottom:





Top five condition census coins from last 10 years of auction and sale records :
01/10 Stu Keen FPL VF20 Old Clean, Scratch Rev.
04/08 Heritage (Final Session) ANACS F12 (cleaned)
Top five condition census coins from last 10 years of auction and sale records (O-102a):
09/10 Heritage (Long Beach) NGC AU58 (Ex Byers, Simpson)
08/12 Heritage (Philadelphia) NGC AU55 CAC
12/19 Heritage (Dec-Signature) PCGS AU50 CAC
07/18 Heritage (FUN-Orlando) NGC XF45 ​
09/16 Legend (Regency XVIII) PCGS XF45