1836 O-116 R2, 50 over 00, Capped Bust Half Dollar
Obverse: 12
Reverse: N
O-116 R2 below, O-116a R6 bottom

A high demand Redbook variety where examples in higher grades tend to not appear very often. There is an MS66 topping the census and a small group of MS and AU specimens surviving, perhaps not as many as an R2 would suggest.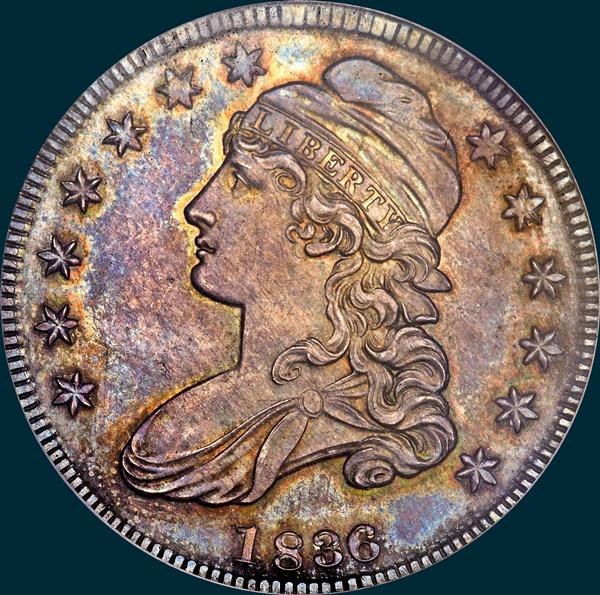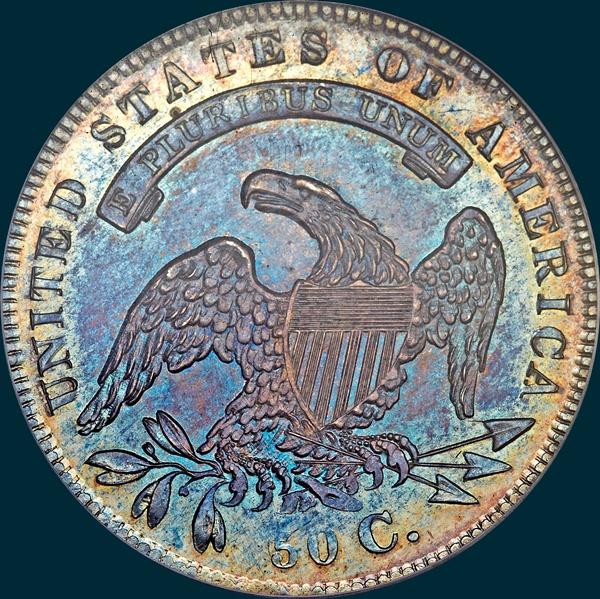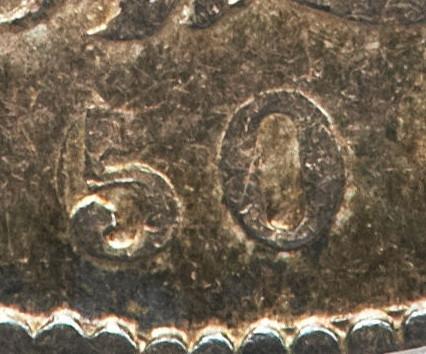 Variety Attribution O-116: Obverse-Stars are a little larger than on other 1836 halves. Star 12 sharply recut with 3 extra points. Date is 7 mm., and the 18 is much wider than 836 and 8 low.
O-116a: The die apparently rusted from non use and then was lapped to a mirror or proof like finish prior to being placed back into service. A few rust lumps remain on bust below neck. Milling weak.

O-116: Reverse-50 C. is 1 1/4 mm. and high with rather large figures. 5 has broad curved top and is recut over 0 the curve of 0 showing clearly to left of 5 and on some specimens it shows between top and upper curve of 5. Arrow to A is 1 mm. Line 1 of stripe 2 to second crossbar, right edge of shield extends 1 mm. beyond shield at bottom. Right side of T and left side of I in line.
O-116a: The reverse die has been lapped and the recutting of the 0 under the 5 has been entirely removed. The lapping has also removed arrow feathers, berry stems etc. This reverse die apparently rusted from non use and then was placed back into service. Section of rust pitting below ITE in UNITED and IC in AMERICA. One specimen seen exhibited proof like surfaces obverse and reverse from lapping of the die.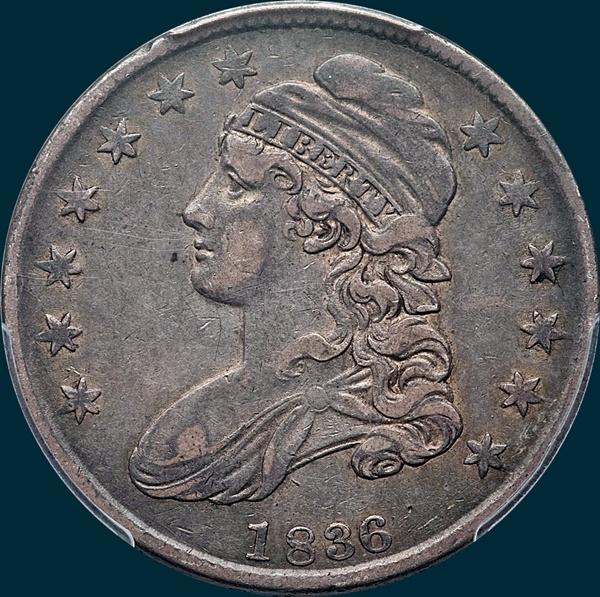 1836 Leaman-Gunnet Emission Sequence Number for O-116: 11
Overall Number: 437
Top five condition census coins from last 10 years of auction and sale records (O-116):
02/16 Stack's-B (Pogue Part 3) PCGS MS65
08/13 Downey MBS 37 (Nomura-Hilgard) NGC MS64 (Not Sold)
01/10 Heritage (FUN-Orlando) PCGS MS64 CAC
07/10 Heritage (FUN-Orlando) PCGS MS63
01/09 Stack's (Orlando) PCGS MS63
Top five condition census coins from last 10 years of auction and sale records (O-116a):
04/20 Heritage (CNST-Dallas) PCGS (S) MS62 (Prooflike)

​​​​​​​​​​​​​​11/19 Stack's-B (Baltimore) (In a Hallmark Holder) MS60 (Cleaned)
11/16 Heritage (New York) PCGS XF45
02/14 Heritage (New York) PCGS XF45 CAC
08/13 Downey MBS 37 (Nomura-Hilgard) PCGS XF45 CAC