1829 O-101 R1 29 over 27 Capped Bust Half Dollar
Obverse: 1
Reverse: A (Third Marriage)

O-101 R1 is below, O-101a R1 at bottom

There are several gems topping the census for this die marriage, with a couple of MS66's at the top, followed by a few 65's and 64's. This is one of the more readily obtainable overdates.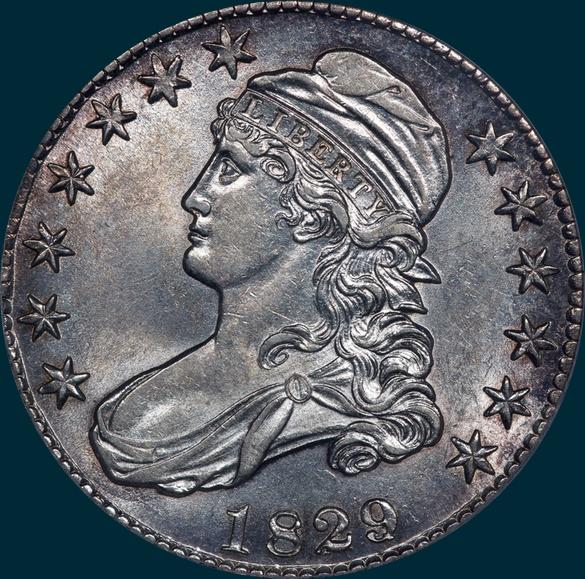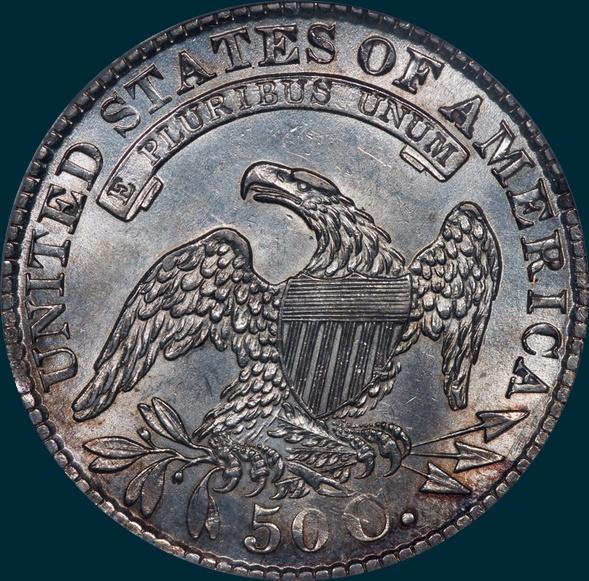 Variety Attribution: Obverse-1829 over 1827. Date is recut, 1 and 8 slightly lower and 2 and 9 higher than original figures. Bases of first 2 and 7 show at base of 2 and 9.
Reverse- 50 C. is very large, high and a close 1 mm. Top of C is close to olive stem and ends of C are nearly closed. Upper part of C is weakly struck. Arrow to A is 3/4 mm. left sides of T and I in line. E PLUIRIBUS UNIM entirely recut. A2 recut along left base. (first used on O-106 and O-107).

O-101a: The die at this state has been re-worked. The tail feathers on the right side of the shield and the feathers on the right side of the shield have been removed, at least partly (The below example appears to be an early "a" die state). The arrow shafts have also been removed (the above example is missing the arrow shafts at the talons).

PCGS Graded AU55. Plenty of luster to support the grade. From Bowers:Even smoky-gray patina to both sides, the surfaces also revealing more vivid champagne-apricot undertones as the coin rotates under a light. This is a remarkably smooth-looking piece for having seen light circulation, plenty of sharp detail further enhancing the eye appeal.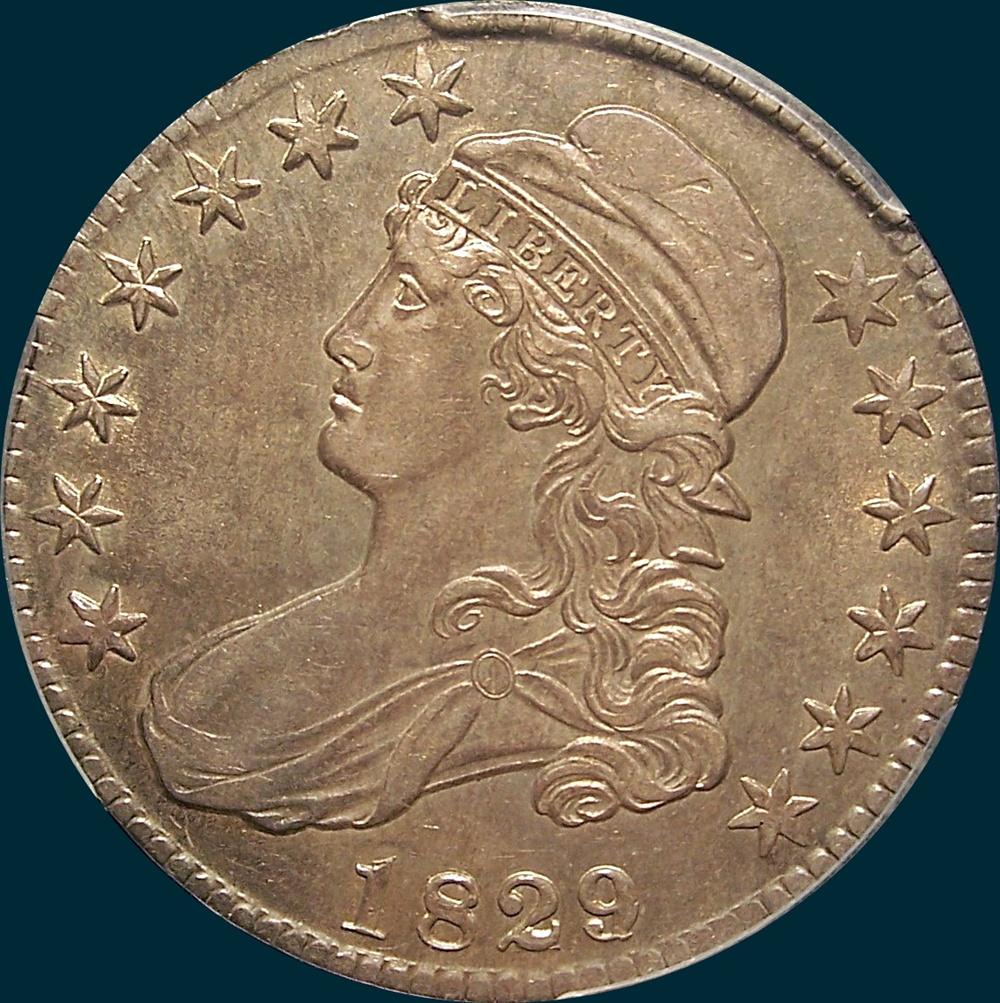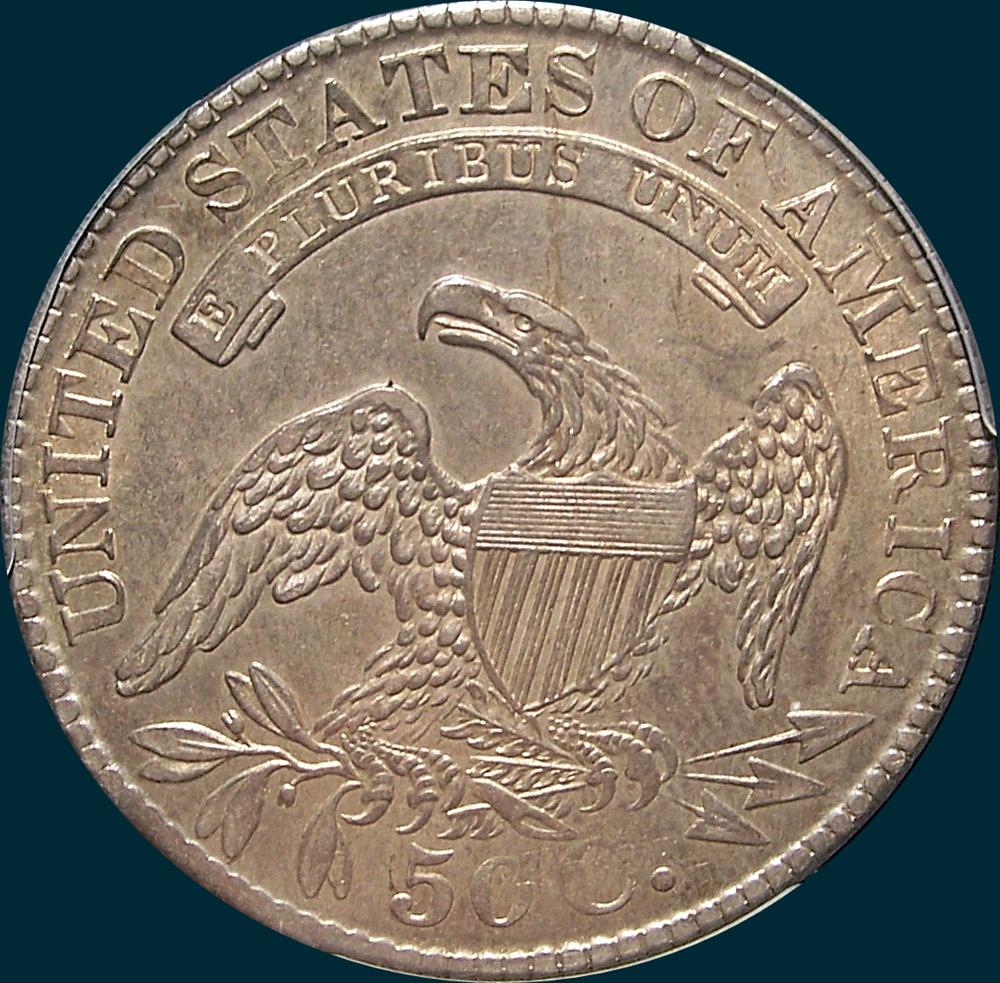 Another example of a Guido. This edge appears to read FIFTY CENTS OR A DOLLAR. The problem is that the pinch spots are at the upper left prong and the lower right prong, but the word HALF appears to be missing although there may be a letter or two present under the lower right prong, with the OR and A clearly visible right on either side of it. FIFTY is clearly impressed between the two left prongs, and there is no lettering from F just below the top left prong, all the way around to the * just to the left of the top right prong.





Notes:
According to Edgar Souders, he estimates that the projected mintage for this overdate is approximately 390,753. Get his book Bust Half Fever and read all about overdates and how he came up with the number! The varieties that this number includes are O-101 and O-102.
1829 Leaman-Gunnet Emission Sequence Number for O-101: 15
Overall Number: 309
Top five condition census coins from last 10 years of auction and sale records O-101:
02/16 Stack's-B (Pogue Part 3) PCGS MS66 (Finest Known)
​​​​​​​​04/19 Heritage (CSNS-Chicago) PCGS MS65 CAC

02/16 Stack's-B (Pogue Part 3) PCGS MS65+
10/15 Stack's-B (October Rarities) PCGS MS65 CAC (Gardner
05/12 Goldberg (Pre-Long Beach) NGC MS65
Top five condition census coins from last 10 years of auction and sale records O-101a:
11/13 Heritage (Newman) NGC MS66+ CAC
​04/19 Heritage (CSNS-Chicago) PCGS (S) MS64
11/16 Heritage (New York) PCGS MS64 CAC
04/12 Downey MBS #35 PCGS MS64 (Friend)
07/08 Heritage (ANA-Baltimore) PCGS MS64