1809 O-102 R1 (XXX Edge) Capped Bust Half Dollar
Obverse: 2
Reverse: A (Third Marriage)

O-102 R1 below, O-102a R1 at bottom

Most of the prime die state are the XXX edge, while most, but not all, of the O-102a die state have a plain edge. This one is tough due to the XXX designation that every collector needs. 102a's tend to appear with greater frequency as they are considered a common 1809 (not a scarcer and coveted XXX or III). With the advent of slabs, and the fact that grading services will not check the edge unless instructed to do so, many of these XXX edge coins have not been discovered. Every 1809 should be checked as there is also the chance that blanks that have passed through the castaing machine (for the edge lettering) were on occasion used out of sequence, dropping an XXX into a plain edge Overton variety....

ANACS Graded VF30. Cool looking coin with dove gray toning, but it has had an old cleaning with hair-lining in the fields. I saw this one as an O-102 so I bought it as a plain edge to crack it and see what the edge was like (see below). It is in fact an XXX edge.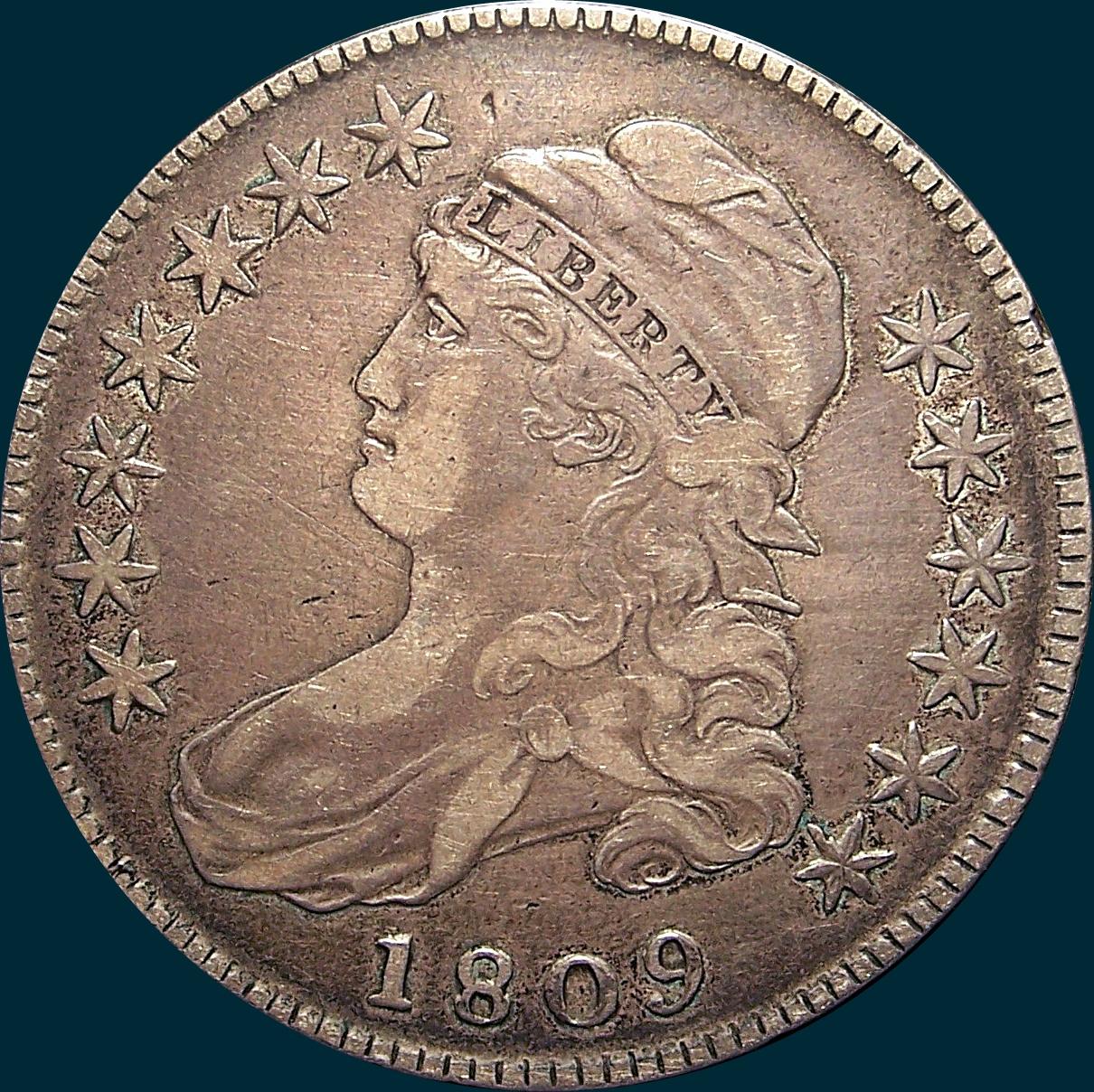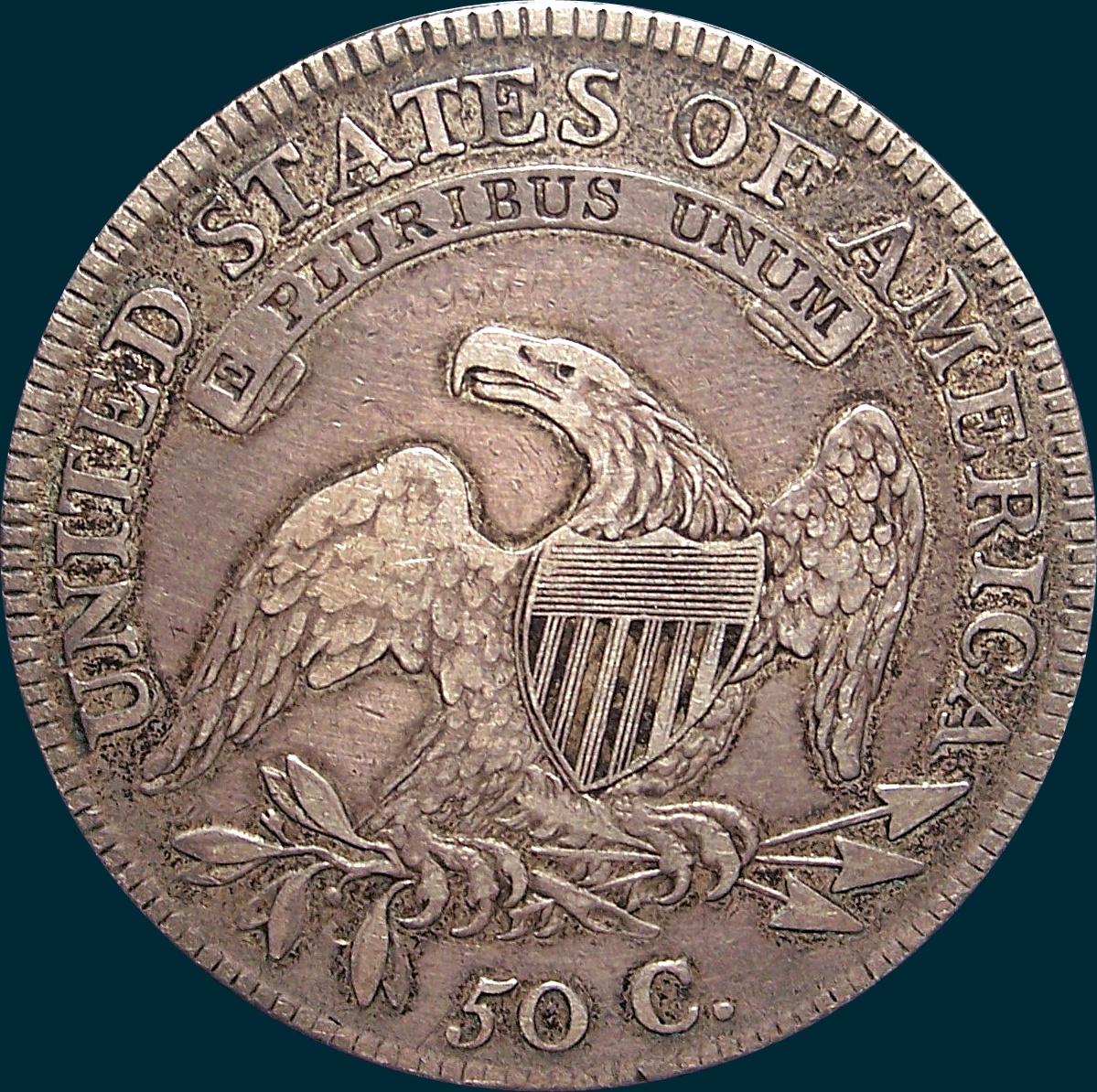 OR is barely legible and is practically merged with HALF



The key section, with the chicken scratch-like marks between DOLLAR and FIFTY.


Variety Attribution: Obverse-Stars are large and unusually sharp. Star 13 has scalloped point 1/4 mm. from curl. Date is 9 1/4 mm. and well centered. Mouth is slightly open.

O-102a: There is a crack at the base of date and another from top of 1 extends across bust and into stars at left.


Reverse-50 C. is 1 1/4 mm. Arrow to A is slightly less than 1 mm. A is lower and touches under the left base of M. U in UNITED broadly recut. There is a row of uniform, pointed, segments clash marked between scroll and eagle's head.

O-102a: Crack at top of UNITED STATES OF AMERICA.

Note: Some O-102a's have an XXX edge.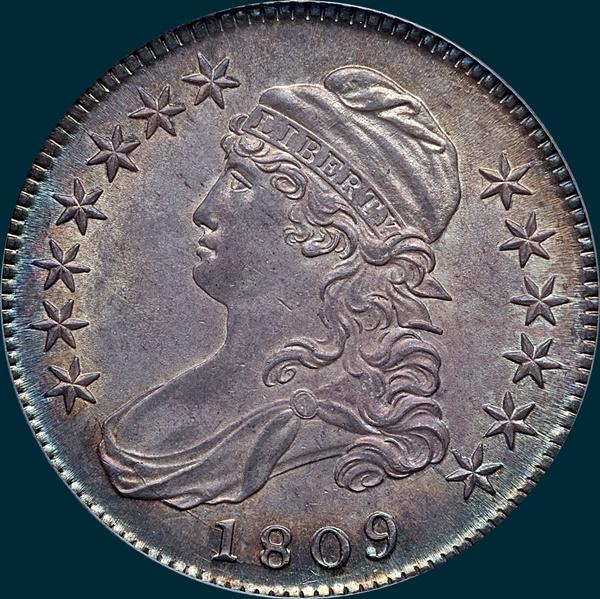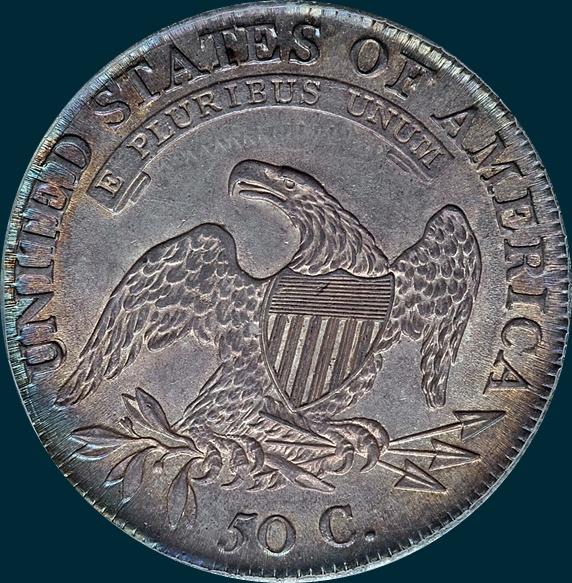 1809 Leaman-Gunnet Emission Sequence Number for O-102: 11
Overall Number: 25
Top five condition census coins from last 10 years of auction and sale records O-102:
01/19 Heritage (FUN-Orlando) PCGS (S) MS63 CAC (Friend)

08/16 Heritage (ANA-Anaheim) PCGS MS63 CAC
02/10 Heritage (Long Beach) NGC MS62
01/16 Heritage (FUN-Tampa) PCGS AU58
05/13 Stacks-Bowers (ANA-N'Orleans) PCGS AU58
Top five condition census coins from last 10 years of auction and sale records O-102a:
10/16 Heritage (Dallas) NGC MS64 CAC
09/18 Legend (Regency-XXVIII) PCGS MS63+ CAC
11/16 Heritage (New York) PCGS (S) MS63 CAC
09/14 Heritage (Internet) NGC MS63
01/14 Heriage (FUN-Orlando) PCGS MS63