1824 O-110 R2 4 recut over 4 Capped Bust Half Dollar
Obverse: 9
Reverse: I
O-110 R2 is below, O-110a R2 at bottom

Somewhat common variety with a neat and bold recut 4 plainly visible. High grade examples are available in both prime and later die states, though the 110a is the tougher die state. I would place the later state as an R3 perhals, to fit the overall R2 rating. The O-110 may be a little more common than its sister the O-109.
PCGS Graded AU55. Antique gray coating of toning, with minimal wear. Luster is subdued. This one is a guido with pinches by star 7 and below date (near S OF and 5 reverse). From Bowers: Both sides are richly toned, pale-apricot undertones peering through an overlay of much bolder charcoal-gray patina. A small spot at the lower-left obverse border is noted, but we see no outwardly distracting abrasions.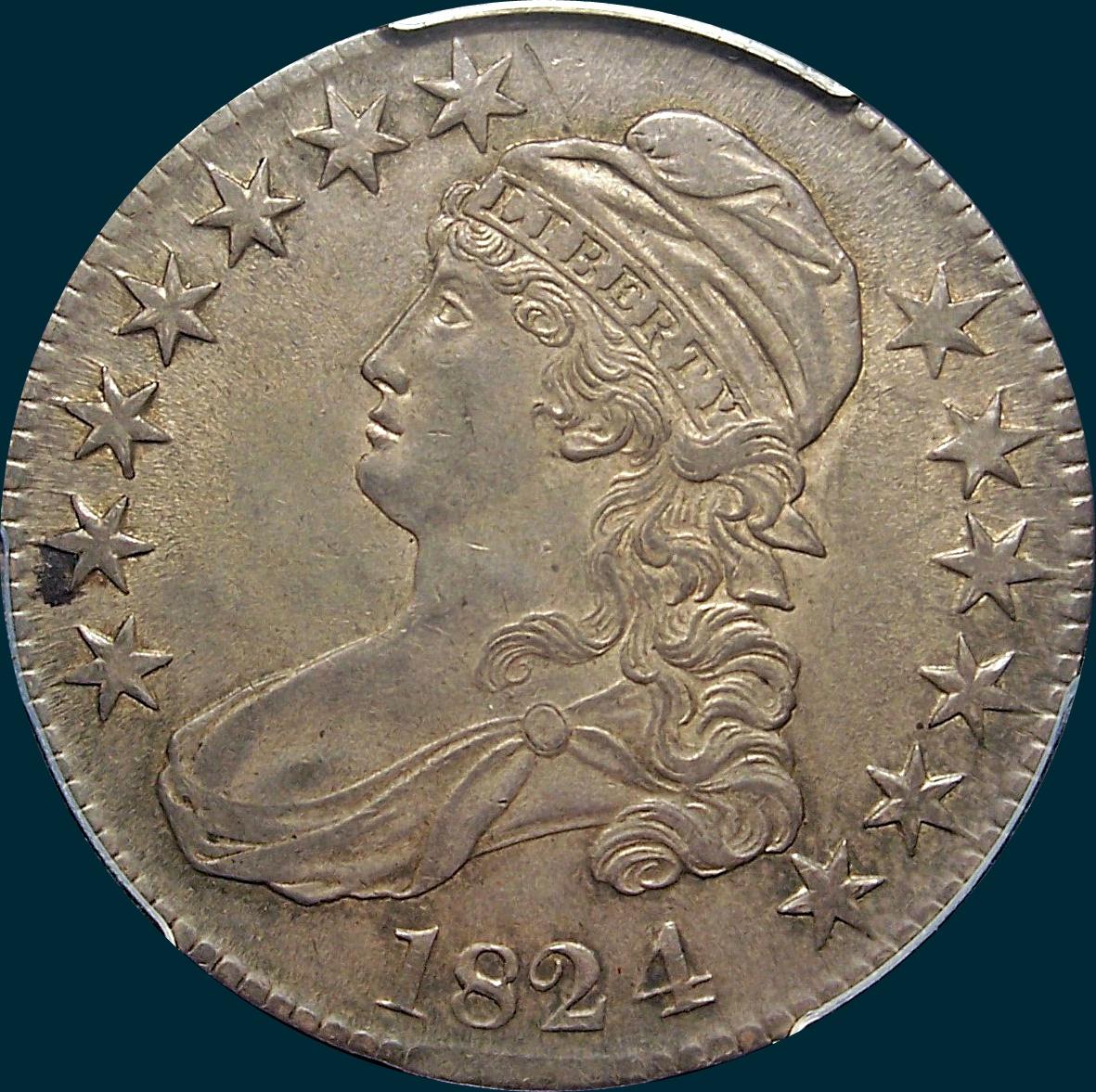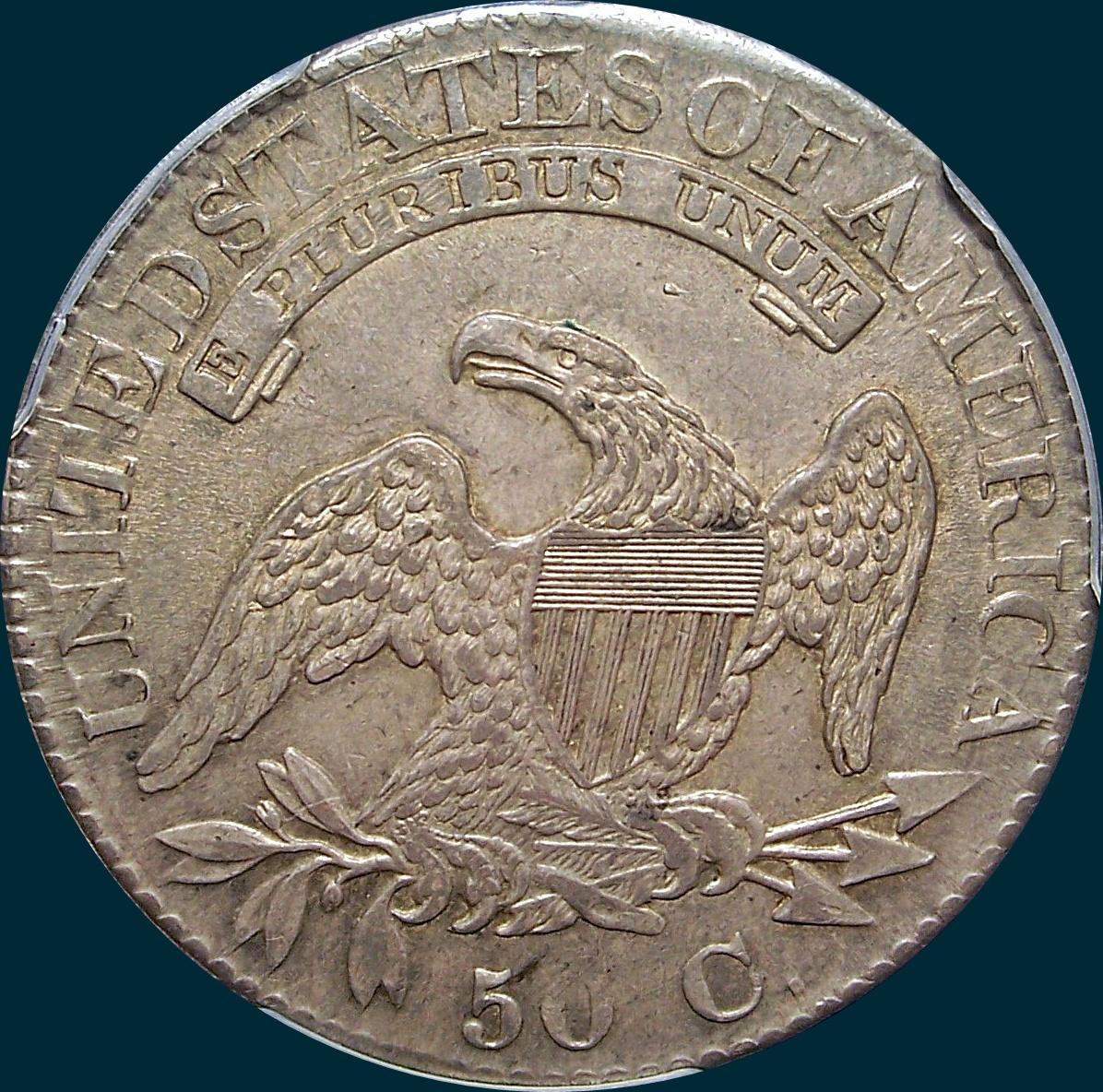 Variety Attribution: Obverse-Date is 8 1/2 mm. with 82 closer than 18 or 24. 4 recut over 4, top of first 4 shows to left of final 4. Often called over 1, but close examination will show it is the tip of a 4 and not a 1 that is visible.
Reverse- 50C is 2 1/4 mm. Arrow to A is 1/2 mm. Arrowheads are connected by die defects and the two lower ones are solidly joined to shafts above. A small die defect lump is in field between eagle's head and UN in scroll. A small vertical tine is at right side of O in OF. Letters of legend are very large, with words crowded together. Right stand of M in AMERICA is recut.
O-108a: Die crack spanning reverse from edge between AM across right wing. Lower right edge of shield to edge between two lower pairs of leaves. Another crack from edge through UNITED ST to edge above A.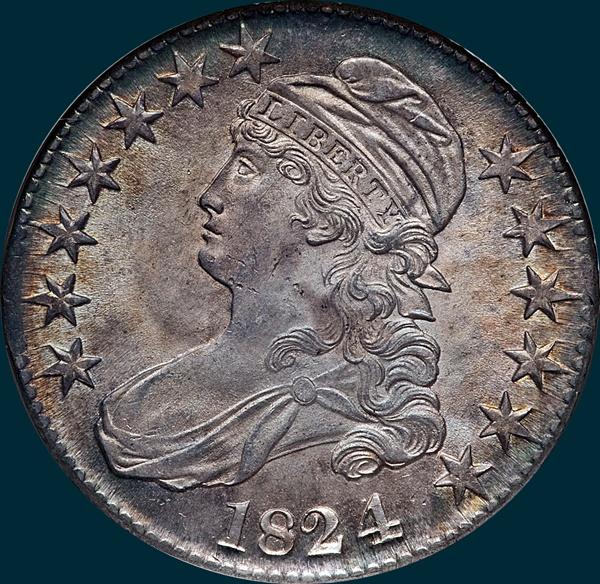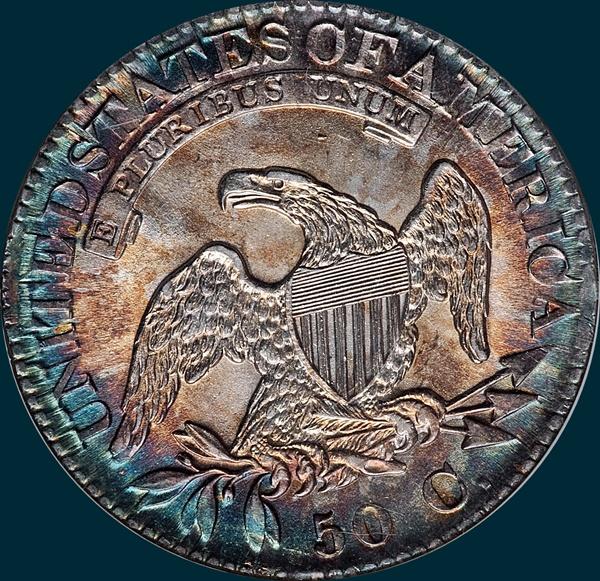 1824 Leaman-Gunnet Emission Sequence Number for O-110: 13
Overall Number: 179
Top five condition census coins from last 10 years of auction and sale records O-110:
01/19 Goldberg (Pre-Long Beach) NGC MS65
05/16 Goldberg (Pre-Long Beach) PCGS MS65 (former NGC MS65)
​​​​​​​01/20 Heritage (FUN-Orlando) PCGS (S) MS64 CAC (Friend)

​12/18 Heritage (Dec Signature) PCGS (S) MS64
04/16 Heritage (CSNS-Chicago) NGC MS64+ CAC (former NGC MS64+)

Top five condition census coins from last 10 years of auction and sale records O-110a:
09/18 Legend (Regency-XXVIII) PCGS MS65 (former NGC MS65)
05/12 Heritage (Long Beach) PCGS MS64+
06/14 Heritage (Long Beach) PCGS MS63
05/17 Heritage (CSNS-Chicago) PCGS NS62 (former PCGS AU58)
01/17 Heritage (FUN-Ft. Lauderdale) PCGS MS62