1827 O-123 R5- Capped Bust Half Dollar
Obverse: 16 (Second Marriage)
Reverse: S (Second Marriage, first used in 1825 as Rev L)

The Overton plate coin tops the census at MS65, and there may be another 2 or 3 MS coins out there, but few AU's. This one may be tougher than the R5- indicates.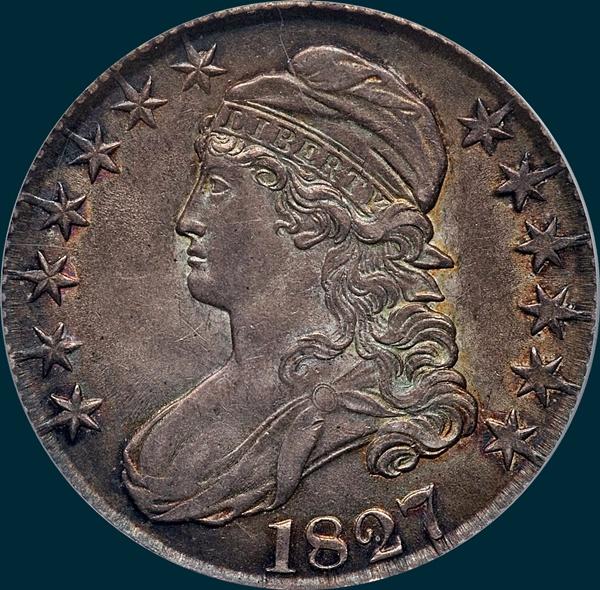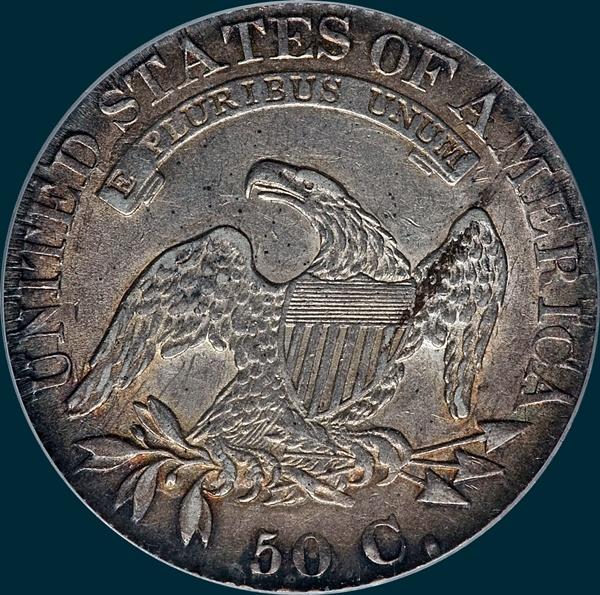 Variety Attribution: Obverse-Date is a wide 8 1/2mm. and medium low, top of 2 is slightly lower than 187. All.stars are large, star 1 is usually flat and it is 1 1/2 mm. from drapery. Other stars are relatively sharp.
Reverse- 50 C. is 1 3/4 mm. and very low next to a narrow rim. Arrow to A is 1/2 mm. There is a raised unfinished lump above scroll at E PL rising to base of first S in STATES and along scroll for about 4 mm. extending under edge of D and T. S is unfinished at top. Arroheads flat and close. I is centered under left side of T.
1827 Leaman-Gunnet Emission Sequence Number for O-123: 13
Overall Number: 232
Top five condition census coins from last 10 years of auction and sale records:
01/19 Downey MBS 48 PCGS AU58 CAC ​​​​​​​
08/10 Heritage (Witham-Boston) PCGS AU58
01/11 Heritage (FUN-Tampa) PCGS AU55
08/15 Downey MBS 41 PCGS AU53 CAC
10/11 Heritage (Pittsburgh) PCGS AU53