1805/4 (5 over 4) O-102 R3 Draped Bust Half Dollar
Obverse 1 (Second Marriage)
Reverse B
O-102 R3 below, O-102 "a" R7? die crack photo at bottom

This die marriage does not have any appearances in mint state, yet seems to be more common in the lower grades than O-101.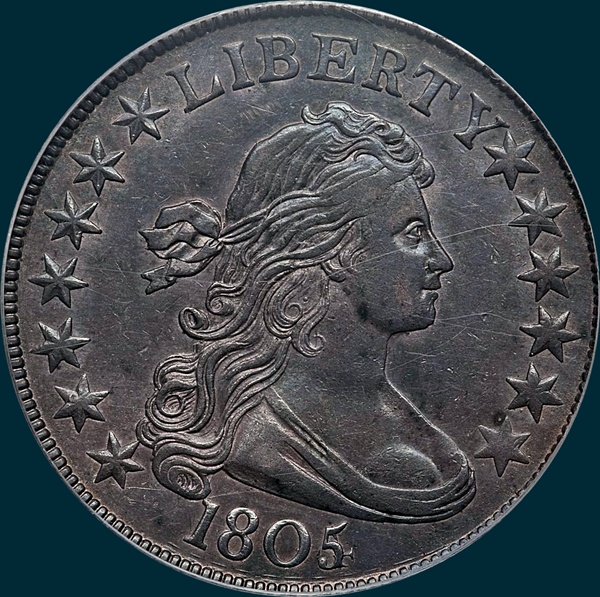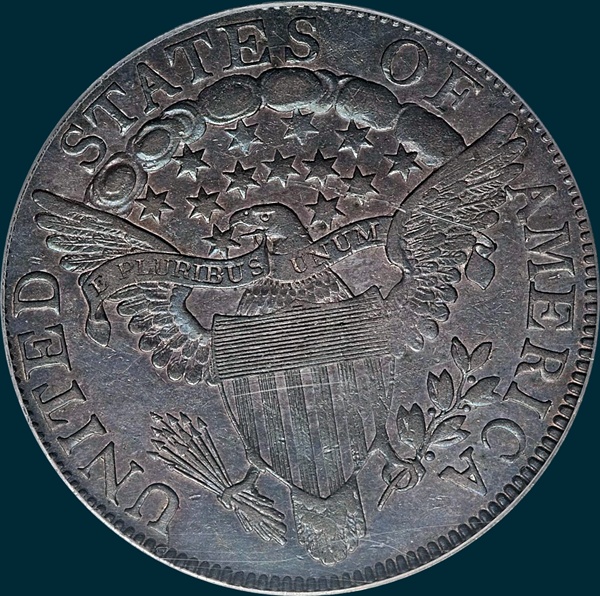 Variety Attribution: Obverse- Star 8 very close to upper right serif of Y. Date is 8 1/2 mm. from 1 to crossbar of 4, the 1 touching curl, and set high. 180 are larger than the slender 5. Stand, point and crossbar of 4 shown clearly. Narrow milling. Most specimens in this die marriage show a fine die crack through the second star to the curls. There is also a later "a" die state with a bisecting crack through star 7 to bust. See picture below.

Reverse-4 berries and the two center ones have long stems, the upper and lower ones no stems. 12 arrows and the second arrow point is below the left stand of N. Beak and star are attached solid point to point. end of leaf close to right base of I. Most specimens show a fine die crack from tip of right wing to top of AM.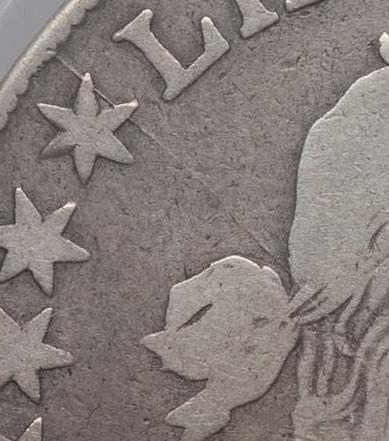 1805 Emission Sequence Number for O-102: 5
Top five condition census coins from last 10 years of auction and sale records (O-102):
​08/18 Heritage (ANA-Philly) PCGS (S) AU58 (Dale Friend)
02/10 Heritage (Long Beach) NGC AU58
05/17 Heritage (CSNS-Chicago) PCGS AU55 (former PCGS AU50)
02/18 Heritage (Long Beach)
PCGS AU50
10/15 Heritage (New York) NGC AU50
Top five condition census coins from last 10 years of auction and sale records (O-102 "a" with bisecting crack):
04/20 Heritage (CNST-Dallas) PCGS AU55 CAC

07/08 Downey FPL (ANA-Meyer) PCGS VF20
08/12 Heritage (Philadelphia) PCGS VF10