1836 O-106 R1 Beaded Border Reverse Capped Bust Half Dollar
Obverse: 4
Reverse: E
O-106 (R1) below, O-106a (R3) at bottom

A common die marriage and a Redbook variety, with a decent population of high grade examples up to MS65.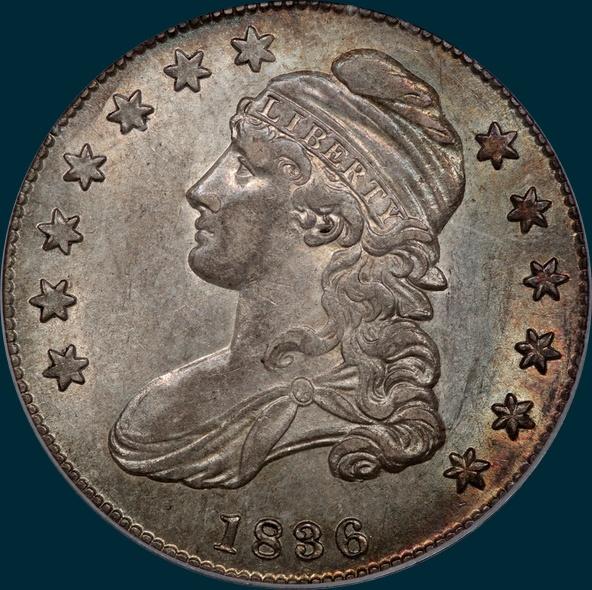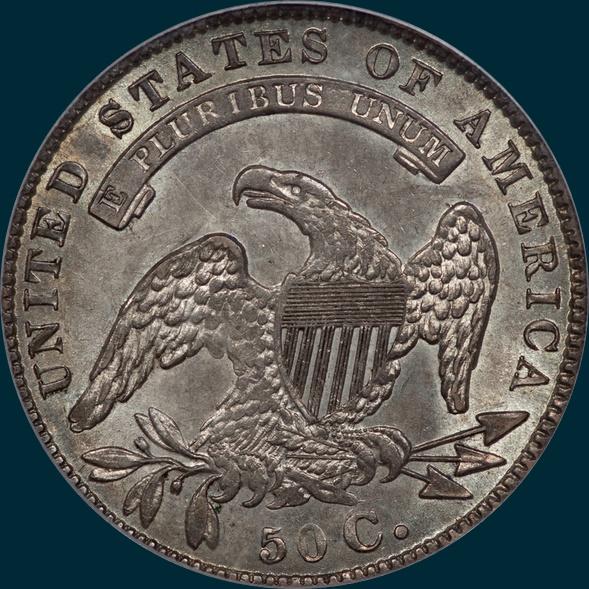 Variety Attribution O-106: Obverse-First 9 stars are flat, last 4 sharp. Date is 7 1/2 mm. with nicely formed and well aligned figures.
O-106a: Surface is rather granular, with a pronounced roughness around date and last four stars, especially the latter.

O-106:Reverse- 50 C. is 1 mm. with a larger 50 than most in 1836. Arrow to A is 1 1/4 mm. Left side of T and right side of I in line. Most of the stripe lines extend to crossbars 2 and 3. Line 2 and 3 of stripe 5 extend below feathers into field. This reverse is the only reverse in the lettered edge series in the lettered edge series that has a raised edge with beaded segments.
O-106a: There is a die break from rim to center arrow point and progressing in stages through upper arrohead, across right wing and field to scroll. In the latest stage another crack crosses upper right wing to bottom of C in AMERICA.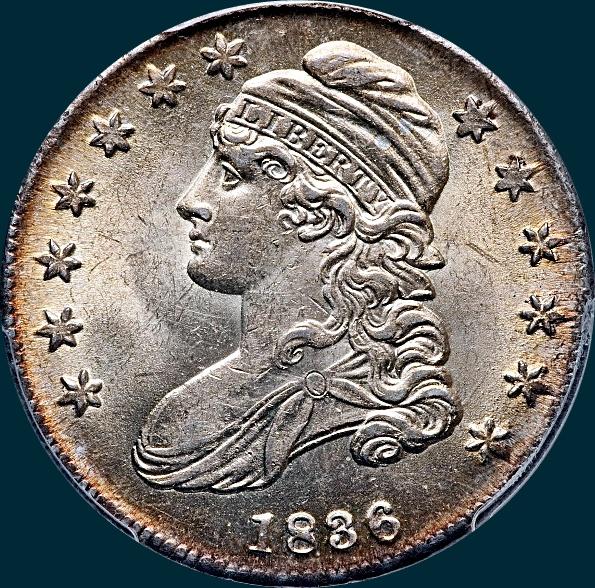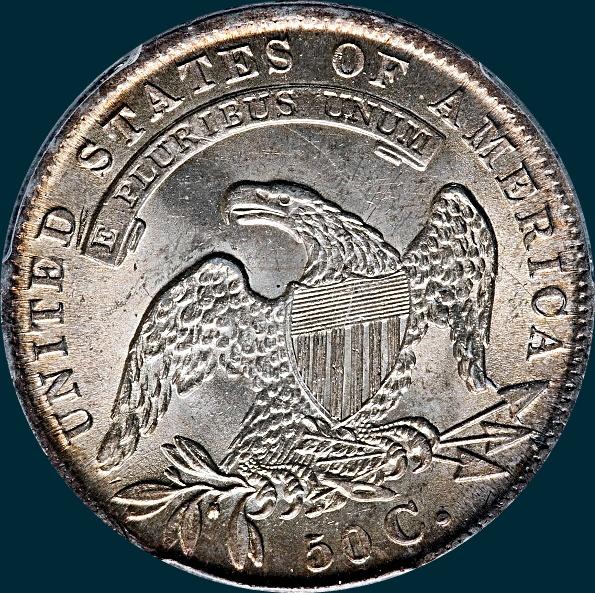 1836 Leaman-Gunnet Emission Sequence Number for O-106: 4
Overall Number: 430
Top five condition census coins from last 10 years of auction and sale records (O-106):
07/09 Downey FPL NGC MS64
01/08 Heritage (FUN-Orlando) NGC MS64
07/08 Downey FPL (ANA-Meyer) NGC MS63
08/16 Heritage (ANA-Anaheim) PCGS MS62 Gold CAC
12//09 Heritage (Houston) NGC MS62
Top five condition census coins from last 10 years of auction and sale records (O-106a):
03/16 Heritage (ANA-Dallas) PCGS MS64+ (former NGC MS65)
08/12 Stack's-B (ANA-Philly) NGC MS64 CAC

08/16 Heritage (ANA-Anaheim) PCGS MS63 CAC
11/09 Stack's (74th Anniv Baltimore) PCGS MS63 CAC
​​​​​​​02/20 Heritage (Long Beach) PCGS MS62