1818 8 over 7 O-101 R1 Large 8 Capped Bust Half Dollar
Obverse: 1
Reverse: A

O-101 R1 is below and O-101a R1 is at bottom

One of the most readily available overdates, with high grade examples up to MS65. Usually overdates command significant premiums, but 1818 overdate premiums are quite a bit less than all of the earlier years. The obverse die was used a second time on the O-103.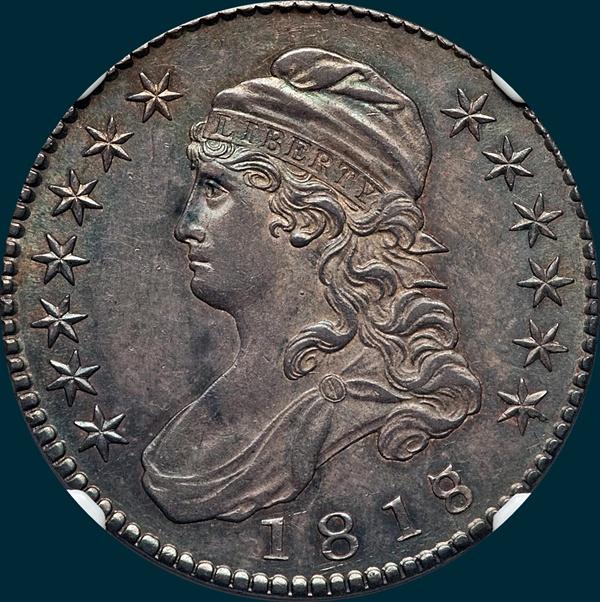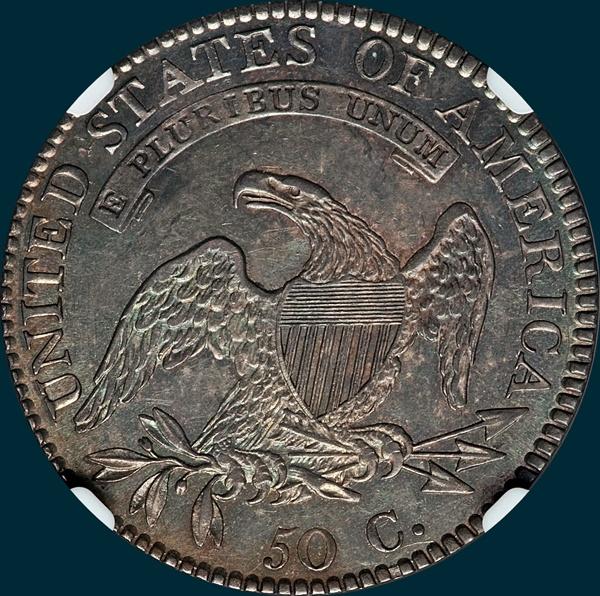 Variety Attribution: Obverse-1818 over 17. Date is a wide 11 mm. 181 wider than last 18, first 8 larger than second 8. Serifs and crossbar of 7 show above top of 8 and trace of stand in lower loop. Center dot on neck.

O-101a: Fine die crack from edge through star 11 to curls on most specimens.

Reverse- 50 C. is 2 mm. Arrows to A is 1/2 mm. Center dot between crossbars 4 and 5. Right sides of T-I are in line.

O-101a: Die crack through 50 C. across olive leaves and to UNI. UNITED is very close to edge.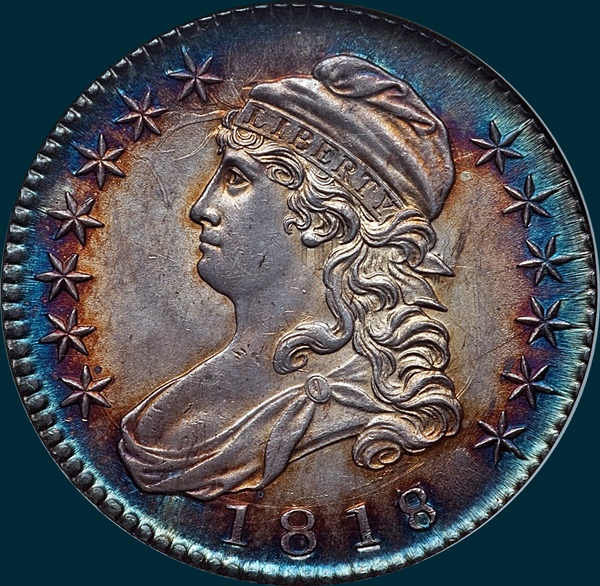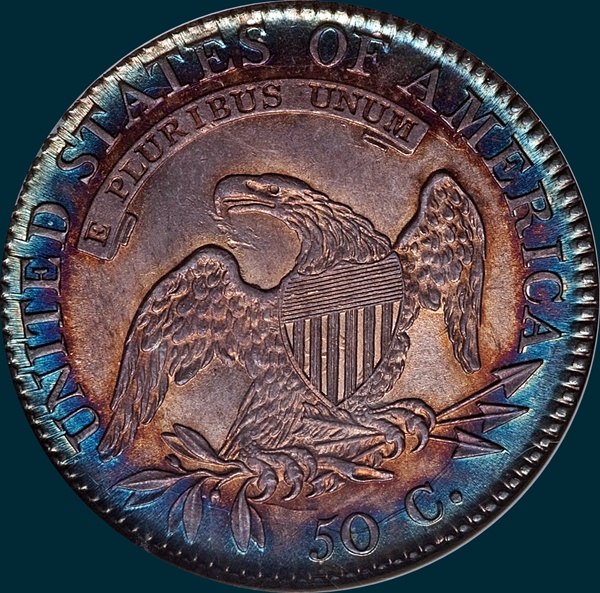 Notes:
According to Edgar Souders, he estimates that the projected mintage for this overdate is approximately 392,062. Get his book Bust Half Fever and read all about overdates and how he came up with the number! This number would include three Overton varieties, O-101, O-102, and O-103.
1818 Leaman-Gunnet Emission Sequence Number for O-101: 1
Overall Number: 96
Top five condition census coins from last 10 years of auction and sale records O-101:
04/09 Heritage (CSNS-Cincinnati) NGC MS64
03/19 Heritage (Signature) PCGS MS63
11/17 Heritage (Dallas) PCGS MS63
12/16 Legend (Regency XIX) PCGS MS63 CAC (Friend)
10/14 Heritage (New York) NGC MS63 CAC (Gardner)
Top five condition census coins from last 10 years of auction and sale records O-101a:
06/20 Heritage (Long Beach) NGC MS64+
12/17 Legend (Regency XXIV) NGC MS64 CAC
02/07 B&M (Rarities-Bev Hills) NGC MS64
12/15 Heritage (Houston) PCGS MS63 (former NGC MS63)
10/14 Stack's-B (PNG-New York) PCGS MS63