1818 O-106 R3 Capped Bust Half Dollar
Obverse: 4
Reverse: D
O-106 R3 below, O-106 R3 at bottom. The O-105 and the O-106 die marriages were both intermingled during the minting process, as both shared an obverse die, and both have the same prime and 'a' die state characteristics.

This one has the appearance rate of an R5. There is an MS63 as finest with maybe two or three MS examples accounted for total, and a rather small group of AU specimens as survivors. It makes an appearance on my toughest R3 list and the finest appearance in the last 10 years is the only MS appearance last 10 years at MS62 (the Newman example).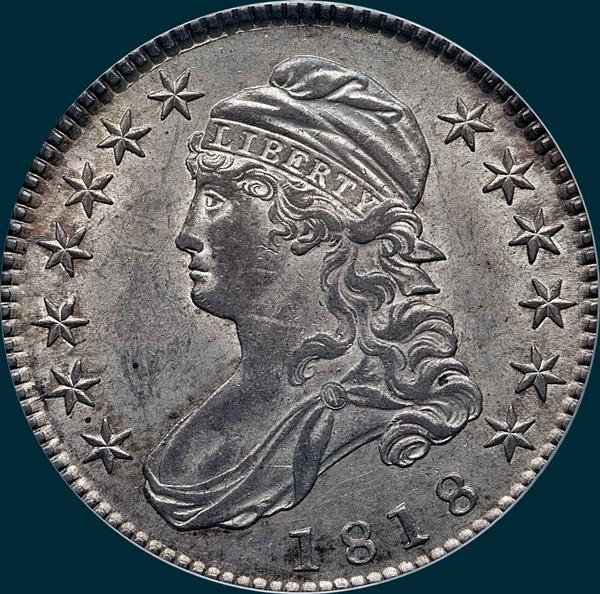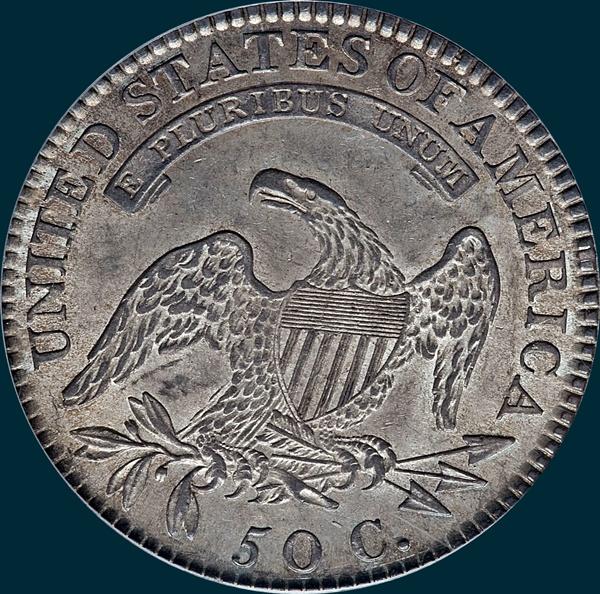 Variety Attribution O-106: Obverse-Date is 10 mm. with very small 8's and 81 is a shade closer than either18. Most specimens show a die crack from edge through upper points of star 12 into field. The stars on left have points of cerying lengths.
O-106a: Another crack from the crack at star 12 that curves up through star 11, across points of star 10 to cap and head band at LI in LIBERTY.

O-106: Reverse- 50 C. is 1 3/4 mm. Arrow to A is 1 mm. left sides of D and T are in line with right sides of E and I. Line 1 of stripe five solid to crossbar 2. Line 3 extends into right wing. The "solid" triple segment above R is actually three separate segments that are not well separated. When wear occurs the segments quickly appear to be one large triple segment.
O-106a: Die crack from above TED to top of STAT and to edge above T.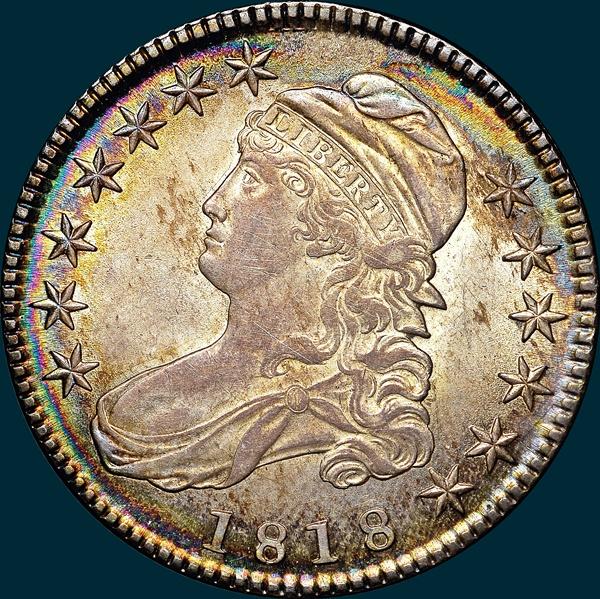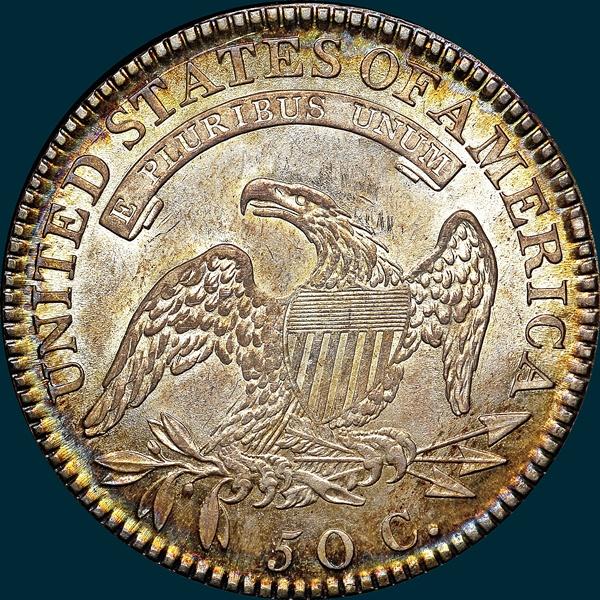 1818 Leaman-Gunnet Emission Sequence Number for O-106: 6
Overall Number: 101
Top five condition census coins from last 10 years of auction and sale records (O-106):
07/08 Downey FPL (ANA-Meyer) PCGS AU58
04/11 Heritage (Frederick-CSNS) PCGS AU55
05/07 Goldberg (Pre-Long Beach) PCGS AU55
03/18 Heritage (internet) PCGS XF40 CAC
09/08 Heritage (Tuesday-Internet) NGC VF35
Top five condition census coins from last 10 years of auction and sale records (O-106a):
11/13 Heritage (Newman) PCGS MS62 CAC
02/19 Heritage (Long Beach) NGC AU58
​11/18 Heritage (Dallas) PCGS AU58 CAC
08/18 Downey MBS47 (ANA-Philly) PCGS AU58 (Cape Cod)
01/20 Heritage (Downey MBS 50) PCGS AU55 CAC

11/18 Heritage (Dallas) NGC AU55 CAC
01/18 Downey MBS 46 (FUN-Tampa) PCGS AU53 CAC (Hilgard, Prouty)