1836 O-112 R1 Capped Bust Half Dollar
Obverse: 8
Reverse: J
bar Dot variety

Common die marriage available in all grades up to MS65.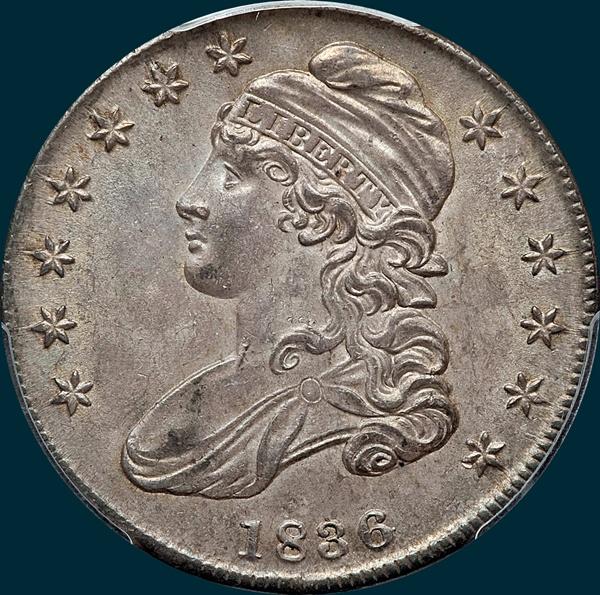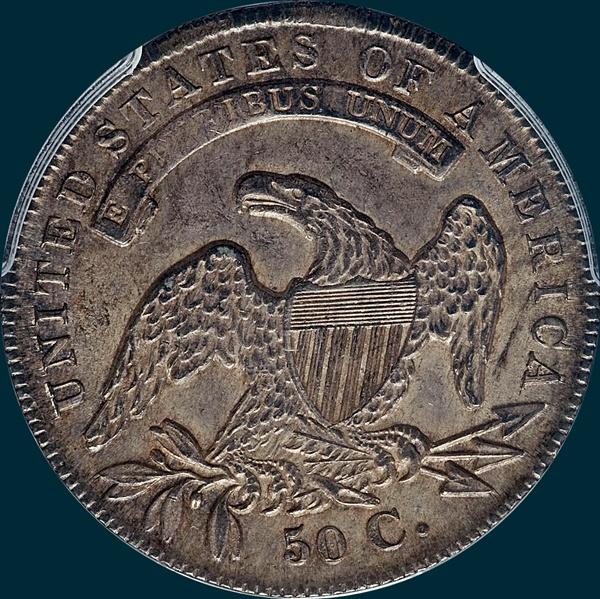 Variety Attribution: Obverse-Stars are sharp and star 6 is sharply recut at lower left point. Date 7 1/2 mm. and 83 closer than 18 or 36. A short horizontal bar with dot like end protrudes from right loop of 6. there is roughness and signs of recutting around 183.
Reverse- 50 C. is 1 1/4 mm. and high with well formed figures. The 5 is much higher than 0 with sharply curved top and tipped more to left. The C. is large. Arrow to A is 3/4 mm. a die line joins the lower arrowhead to back of the center one. left sides of T-I in line. Oval centering dot between lines 3 and 4.
1836 Leaman-Gunnet Emission Sequence Number for O-112: 22
Overall Number: 448
Top five condition census coins from last 10 years of auction and sale records:
01/20 Heritage (FUN-Orlando) PCGS (S) MS64 (Link)
06/18 Heritage (Long Beach)
PCGS (S) MS64
08/17 Heritage (ANA-Denver) PCGS MS63 CAC
07/12 Heritage (FUN-Orlando) PCGS MS63 CAC
06/19 Heritage (Fun-Orlando) PCGS (S) MS62