1829 O-113 R2 Capped Bust Half Dollar
Obverse: 8
Reverse: J
O-113 R? Top and O-113a R? bottom.
This die marriage has all the makings of an R5!!!! There is a decent population in collections, but market appearances are so rare, especially in high grade, that this die marriage is in dire need of re-evaluation in terms of rarity.
This one appears to be much tougher than other marriages, especially in the prime state. It ranks as my #1 toughest R2 Marriage, with a grand total of 4 problem free O-113a's in AU (none in mint state) as the only examples the last ten years to appear for this die marrriage. The prime die state I believe is more like R7. Research suggests that there may be 2-3 MS coins out there at most, with an MS65 being the finest, but these have been out of circulation for years now. AU examples without issues are very rare, and it seems like most examples in any grade have ended up in collections.

UPDATE: 7/10/2017:

An MS 62 has appeared as part of a major collection, providing the first MS example in a long time....And Heritage placed 2 AU's into their May 2018 internet auctions...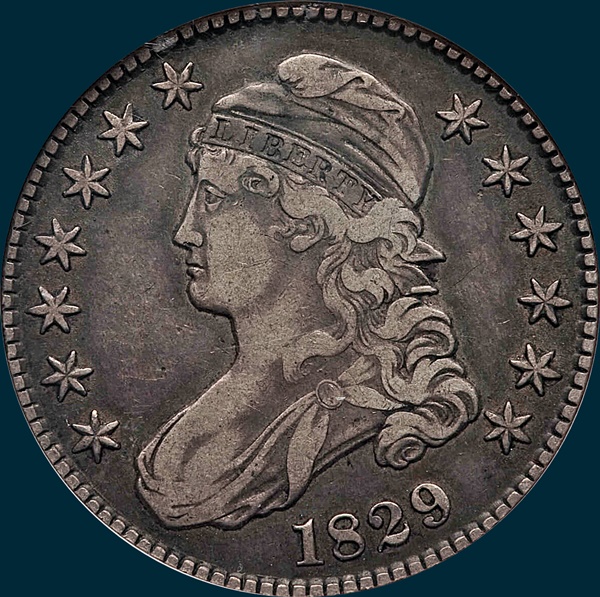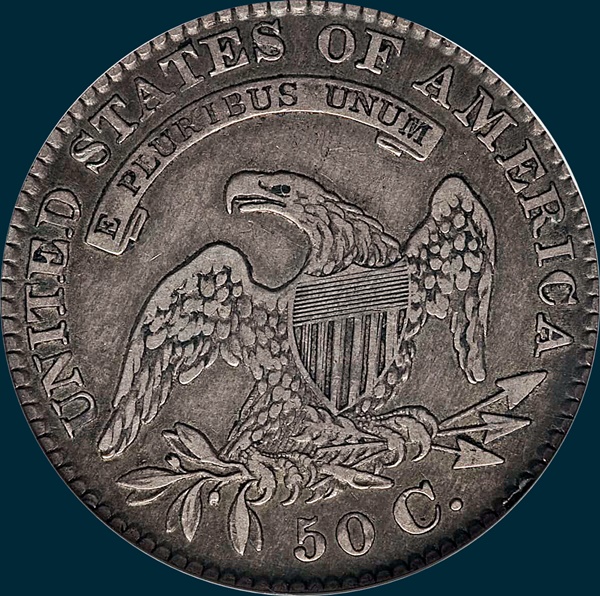 Variety Attribution: Obverse-Star 13 close, less than 1/4 mm. to curl. Date is 8 mm. and well centered.

O-113: Reverse- 50 C. is 1 1/4 mm. and high. Arrow to A is 3/4 mm. Right sides T-I in line. Line 3 of stripe 1 solid to crossbar 2.
O-113a: Top of A3 is filled solidly from progressive chipping of the die.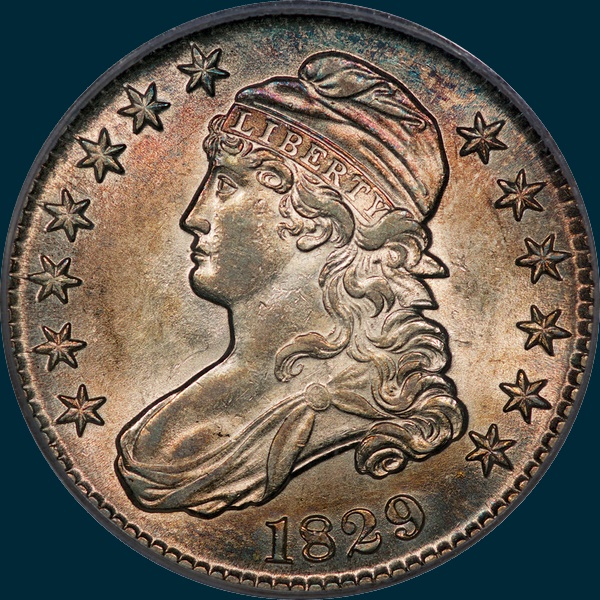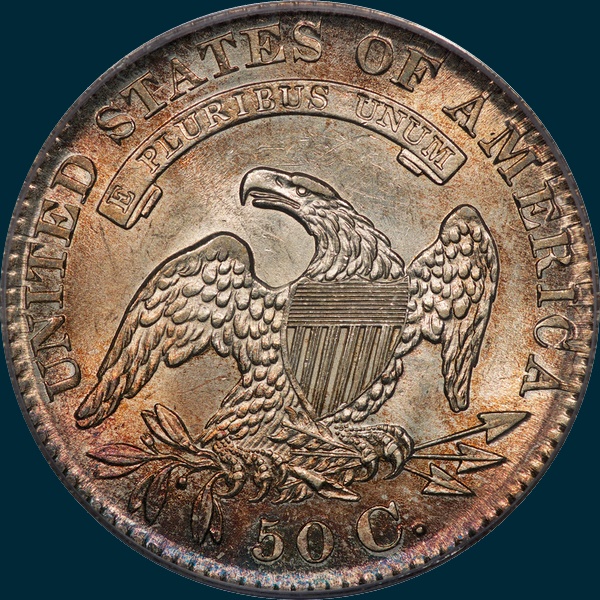 1829 Leaman-Gunnet Emission Sequence Number for O-113: 4
Overall Number: 298
Top five condition census coins from last 10 years of auction and sale records (O-113):
04/18 Heritage (Internet) NGC XF40
03/10 Heritage (Internet) ANACS VF25
Top five condition census coins from last 10 years of auction and sale records (O-113a):
08/17 Heritage (ANA-Denver) PCGS MS62
​​​​​​​11/19 Stack's-B (Baltimore) PCGS (S) AU58
09/19 Downey MBS 49 PCGS AU58 CAC (Davignon, off market since 1996)
​04/19 Heritage (CSNS-Chicago) NGC AU58
02/19 Heritage (Long Beach) NGC AU58
06/19 Heritage (Long Beach) NGC AU55
08/17 Heritage (ANA-Denver) PCGS AU55 det cleaned (Frederick)
05/17 Legend (Regency XXI New Orleans) PCGS AU55