1818 8 over 7 O-102 R2 Small 8 Capped Bust Half Dollar
Obverse: 2

Reverse: B

O-102 R2 is below, O-102a R2 at bottom

A common overdate, but many have been cleaned or damaged in some way. The early die state is likely less common than the later die state with the filled loop of the second 8, where overall the rarity is a 2. There are several MS coins out there with the Kaufman MS66 topping the list.

NGC Graded AU50. A gray-toned example that has subdued luster. The details are all there and the marks are minimal. From Heritage: The second overdated obverse with small first 8 in the date. Light, even wear crosses the high points of the well struck devices. Luminous with soft rose and orange elements against otherwise slate-gray surfaces.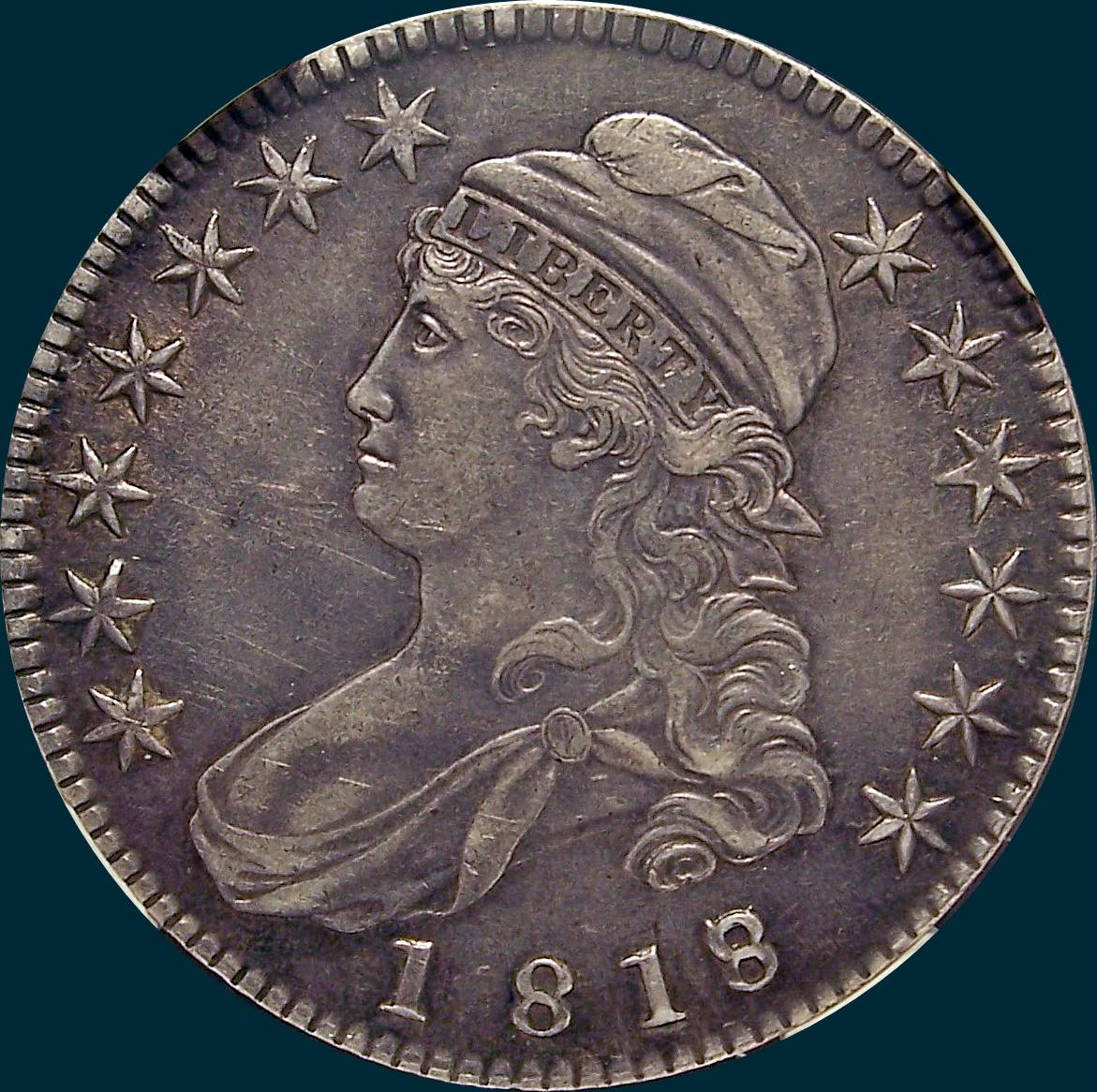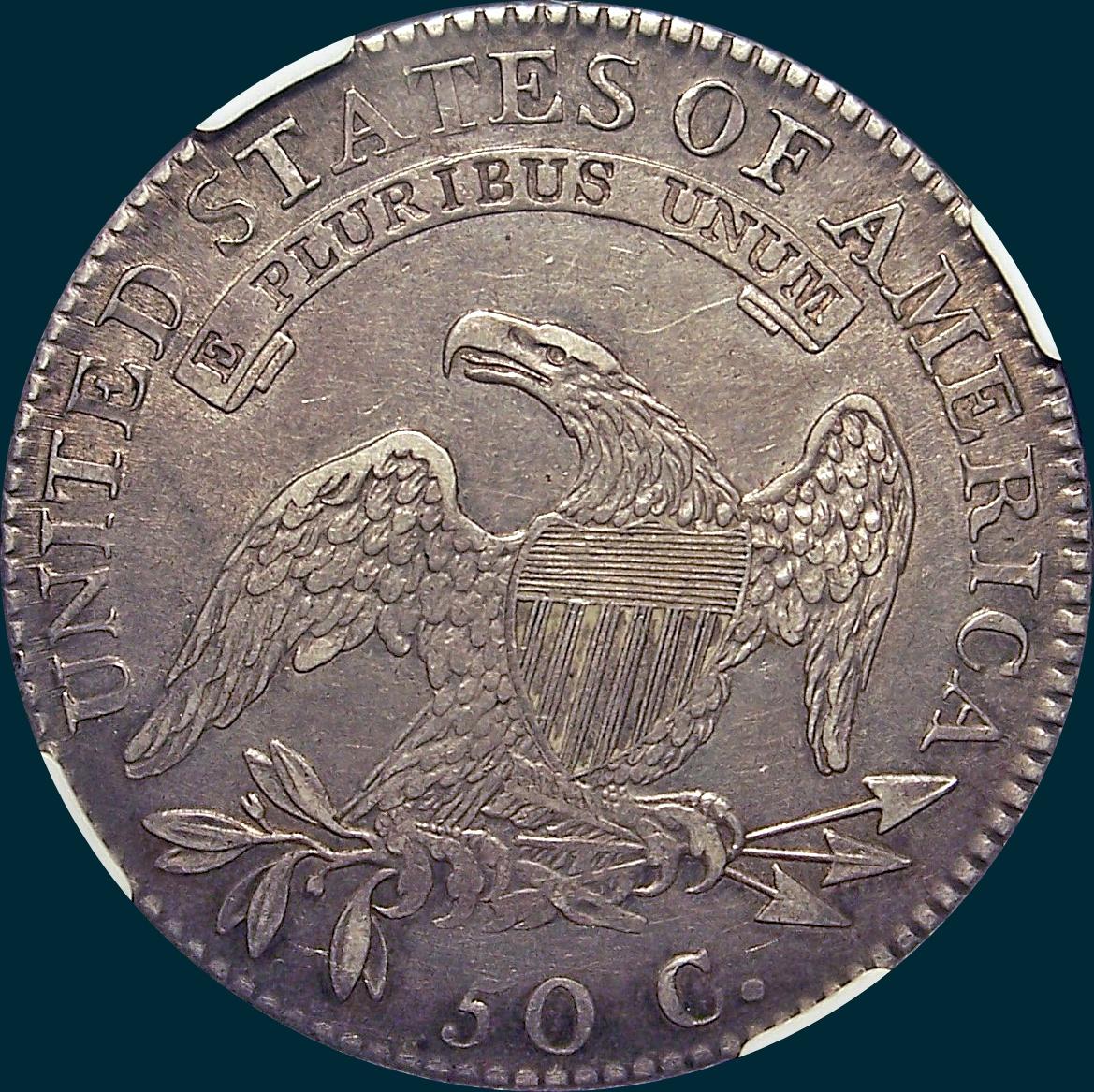 Variety Attribution: Obverse- 1818 over 17. Stars well formed. Date is 11 mm. The first 18 is wider than 818. Upper serifs of 7 just visible above 8. First 8 is as small as second 8.

O-102a: Die break in upper look of 8 almost filling it.

Reverse- 50 C. is 2 mm. Arrow to A is 3/4 mm. AM nearly touch, with base of M lower than either A or E. Second crossbar extends to right.
Notes: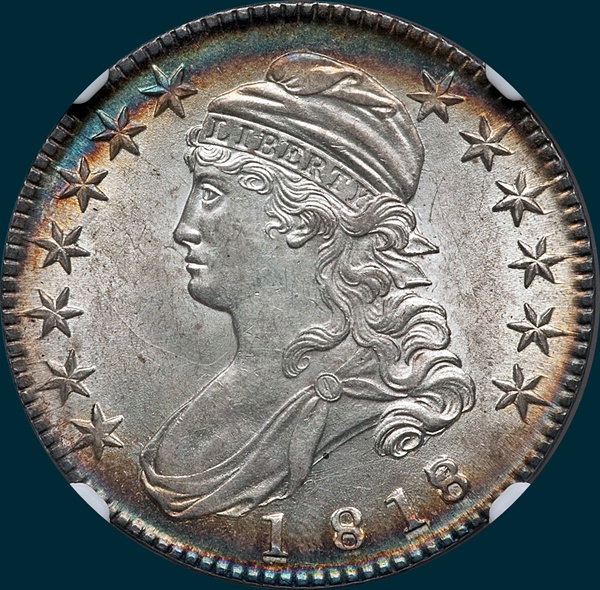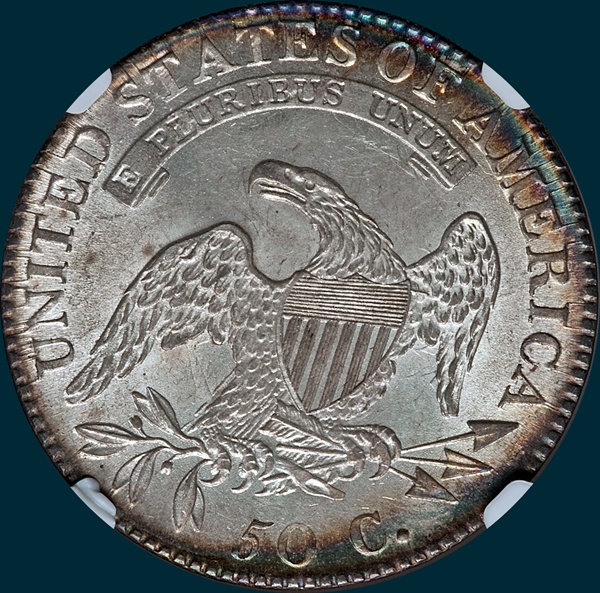 Notes:
According to Edgar Souders, he estimates that the projected mintage for this overdate is approximately 392,062. Get his book Bust Half Fever and read all about overdates and how he came up with the number! This number would include three Overton varieties, O-101, O-102, and O-103.
1818 Leaman-Gunnet Emission Sequence Number for O-102: 15
Overall Number: 110
Top five condition census coins from last 10 years of auction and sale records O-102:
04/09 Heritage (CSNS-Cincinnati) NGC MS66 (Kaufman)
09/10 Goldberg 60 (Pre-Long Beach) NGC MS64 (Flannagan, Eliasberg)
05/09 Alpine Numismatics FPL PCGS MS63
08/18 Downey MBS47 (ANA-Philly) PCGS AU58 CAC (Cape Cod)
03/09 Heritage (Baltimore) NGC AU58
Top five condition census coins from last 10 years of auction and sale records O-102a:
09/15 Stack's-B (Pogue Part II) PCGS MS65
04/19 Heritage (CSNS-Chicago) PCGS MS64+ CAC
01/17 Heritage (FUN-Ft Lauderdale) NGC MS64 (former NGC MS63 CAC (Cairns))
​​​​​​​01/20 Heritage (FUN-Orlando) ANACS MS63

01/14 Heritage (FUN-Orlando) PCGS MS63