1807 O-110 R2 Draped Bust Half Dollar
Obverse: 7
Reverse: F (Fourth Marriage, the first being O-121 from 1806 (Rev M))
O-110 R2 is below. O-110a R2 is at bottom. It may be possible that combined this marriage is an R1.

PCGS Graded XF45. Antique colorful toning embraces both sides of this high end example. Quite a bit of luster remains, especially in the devices, and it appears to fully circle the coin on either side. Strike weakness is apparent in Miss Liberty and the Eagle.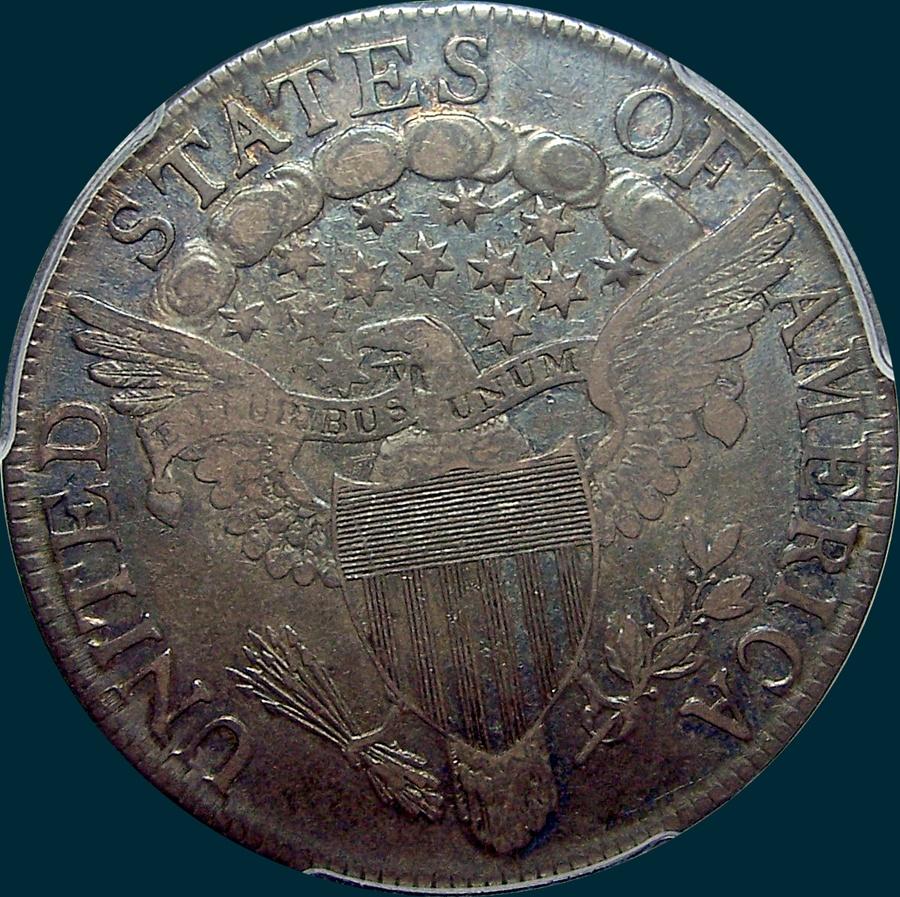 Variety Attribution: Obverse- O-110: Stars have long, sharp points. Stars 7and 8 are 1/2 mm. from L and Y. Date is 7 3/4 mm. and high, with point of 1 lightly touching curl. Large 180 and small 7. Center dot in hair 2 mm. below and slightly left of ear. All observed specimens have fine die cracks, encircling legend and stars.

O-110a: The fine die cracks are now much heavier. one crack from edge below star 1 through all stars on left along top of LIBERTY to edge above star 9. Another from top of Y connects all stars on right to edge at front of bust. Another from star 12 to star 13 across bust along bottom of date to edge left of I. Another from left edge of O left through date and centers of stars 1, 2, and 3 to star 4. Lumps at stars 5 and 7.

Reverse- O-110: Berries have rather thick stems. Point of leaf to extreme right base of I. Beak comes down on upper side of star point.AM joined at base and A joined to third feather. Right base of F missing. Right base of F missing. Die crack from edge above E in UNITED across left wing tip and top of STATES. This crack is supposed to extend down through last S to clouds (not seen on this example). Later states also show a crack from tail feathers to top of U and another from arrow curves through N to I.

O-110a: Cracks are now heavier. There is a crack from tail feathers to edge above U. Anothr circular crack from left top of I in UNITED across N and arrows toard left edge of shield. Another crack from edge along left edge of E in STATES to cloud.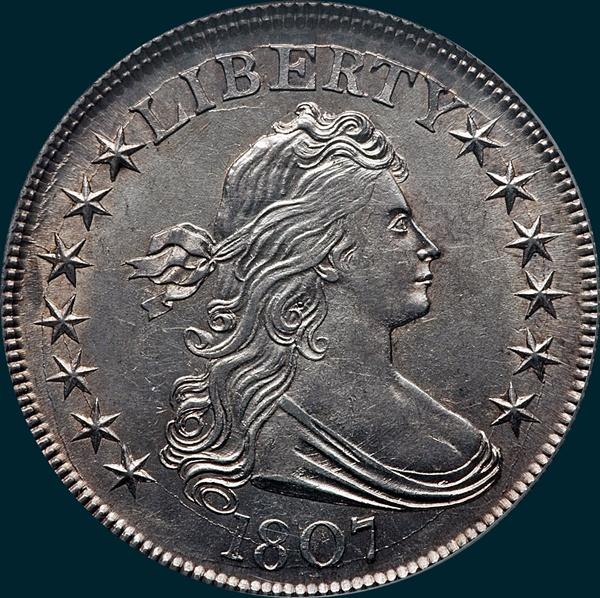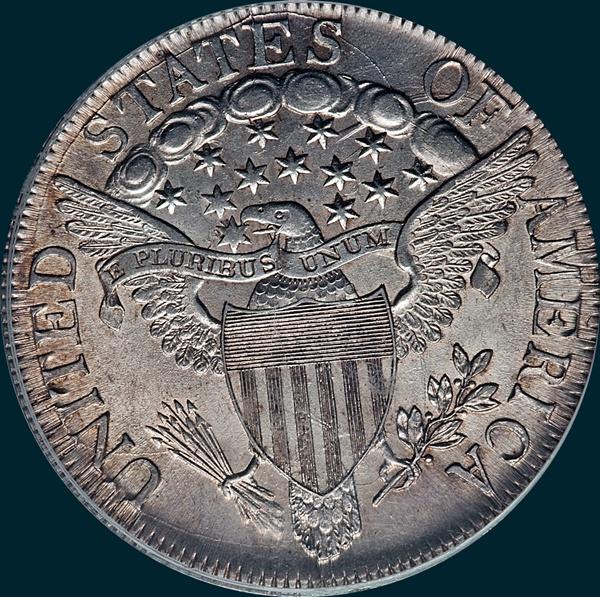 1807 Leaman-Gunnet Emission Sequence Number for O-110: 3
Top five condition census coins from last 10 years of auction and sale records (O-110):
01/16 Heritage (FUN-Tampa) NGC MS66
11/13 Heritage (Newman) NGC MS65

12/05 ANR (Old Colony-Baltimore) PCGS MS65
01/09 Heritage (FUN-Orlando) PCGS MS63 CAC
09/19 Heritage (Legend Regency XXXIV) PCGS AU58

Top five condition census coins from last 10 years of auction and sale records (O-110a):
​​​​​​​12/18 Heritage (Dec Signature) PCGS (S) MS64
01/12 Heritage (FUN-Orlando) PCGS MS64 CAC
01/09 Heritage (FUN-Orlando) PCGS MS64
10/06 Stack's (Byers-New York) MS63 (Ex Engel)
04/16 Heritage (CSNS-Chicago) NGC MS62