1806 O-107 R4+ Draped Bust Half Dollar
Obverse 4 (Second Marriage)
Reverse E

O-107 R4+ at top, O-107a R4+ at bottom, though the combination of the two is what is supposed to be R4+, so each die state may be R5.


PCGS Graded VF30. Crossed from an NGC VF20 holder. Bowers described it as such:A handsome and fully original example of this scarce die marriage, both sides are awash in even copper-gray patina. Liberty's bust and the opposing area on the reverse are softly defined--a fairly common attribute for the type--but the wear is evenly distributed even though it is fairly extensive. Scattered abrasions are mostly small in size and singularly inconspicuous to the eye.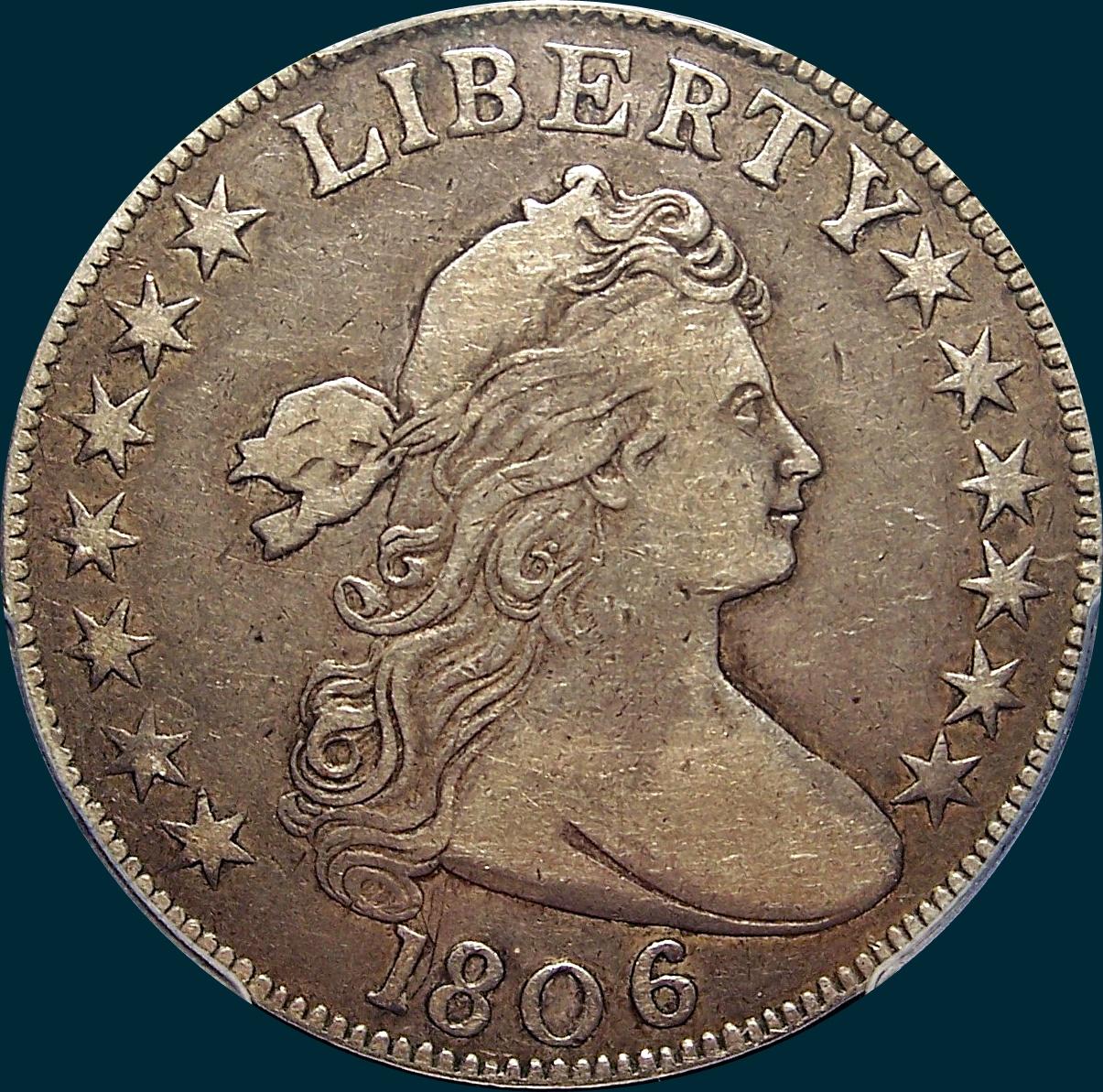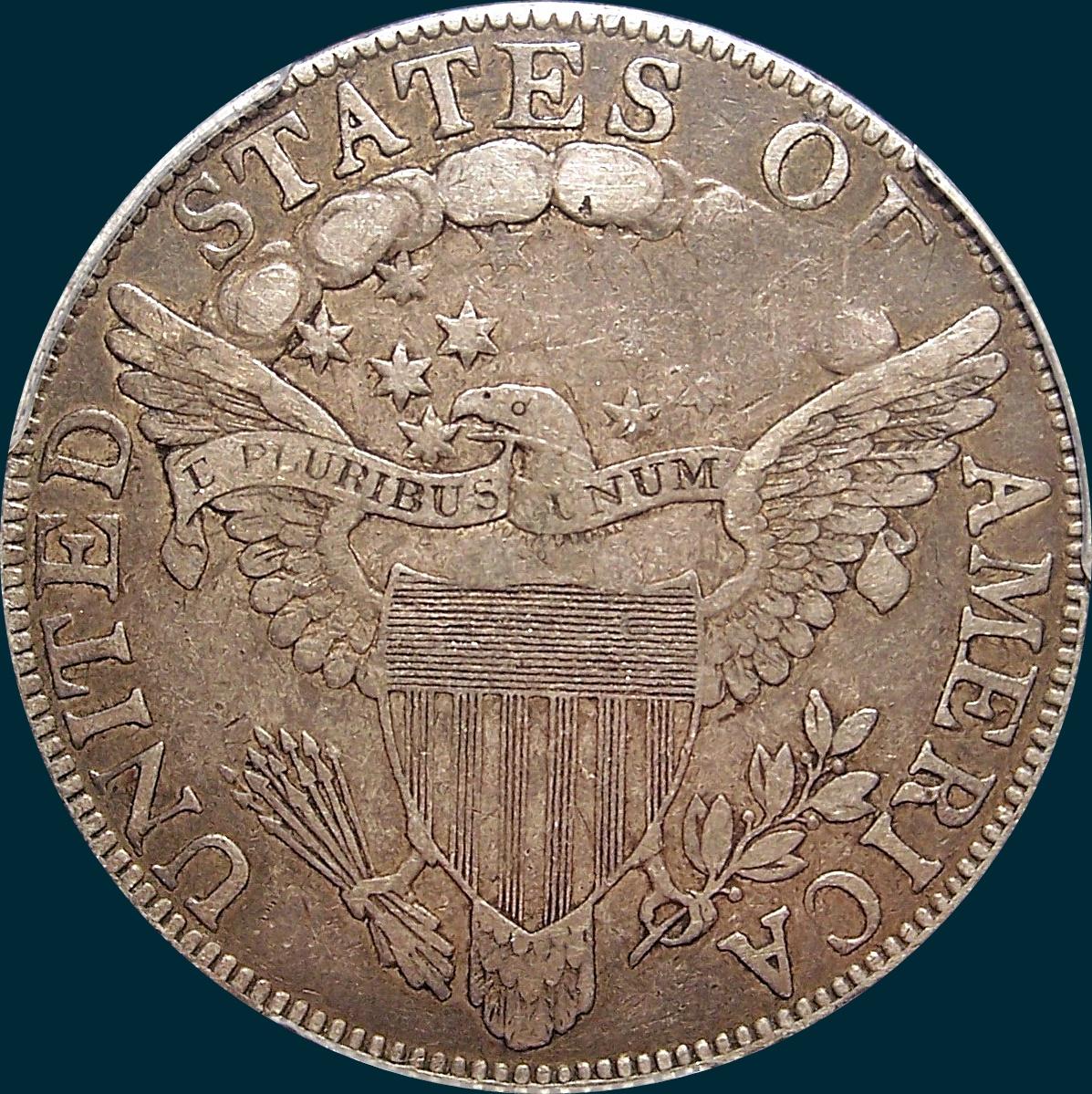 Variety Attribution: Obverse-Sharp pointed small stars are clear of milling. Star 7 is 1 1/2 mm. from L and star 13 is a close 1/4 mm. to bust. Date is 9 mm., evenly spaced and high, I nearly touching curl, 6 is rather high and slender, with a taller and more open top than most of the knobbed variety. Center dot in hair. Some specimens show a wavy die crack from stars around top of LIBERTY to star 11.

Reverse (O-107)-5 berries all with thick stems. Eagle's beak touches upper side of star point. Point of leaf to left base of I and 1/4 mm. from same. ME joined. (O-107a) Die crack has formed top of UNITED (tough to see below, but it is there). Latest die state has a cud developing around the crack.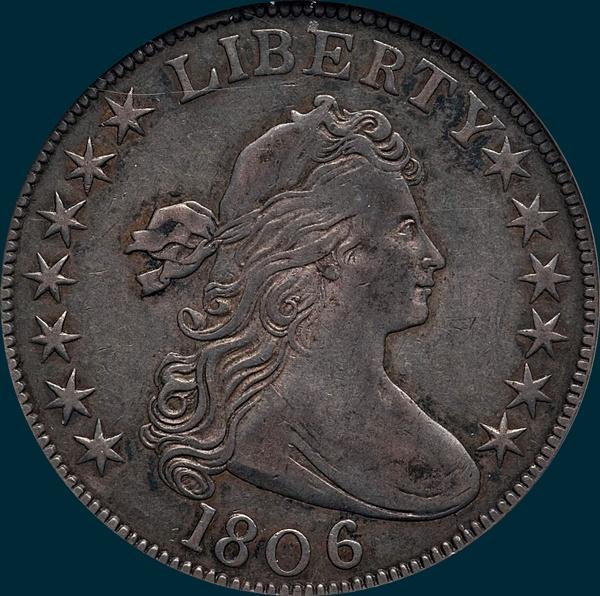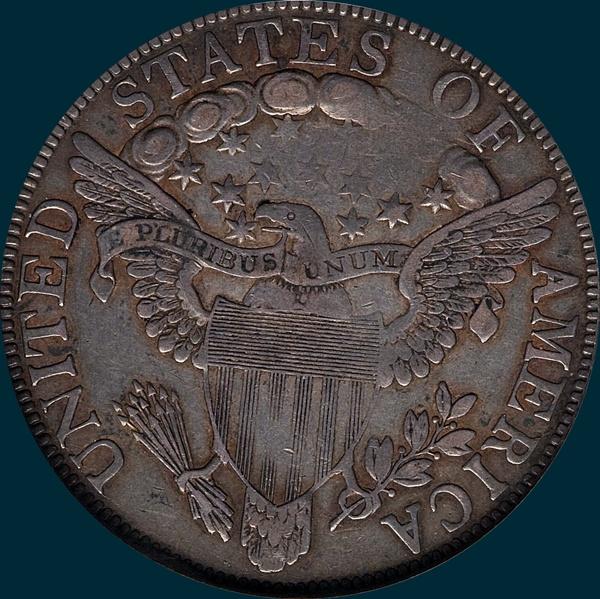 1806 Leaman-Gunnet Emission Sequence Number for O-107: 2
Top five condition census coins from last 10 years of auction and sale records (O-107):
10/14 Heritage (New York) PCGS AU53 CAC
03/10 DLRC (Picky Collection) PCGS XF45 CAC (Meyer)
12/18 Heritage (FUN-Orlando) PCGS (S) XF40

09/18 Heritage (Long Beach) PCGS XF40 CAC ​

02/12 Heritage (Long Beach) PCGS VF35
Top five condition census coins from last 10 years of auction and sale records (O-107a):
01/19 Heritage (FUN-Orlando) PCGS (S) AU58 (Friend)
01/18 Heritage (FUN-Tampa) NGC AU58
​03/18 Stacks-B (Baltimore) NGC AU55 (Sutton Court)
11/17 Heritage (Newman-Dallas) NGC AU55
​08/18 Heritage (ANA-Philly) NGC AU50