1810 O-107 R3 Capped Bust Half Dollar
Obverse: 6
Reverse: G

O-107 R3 below, O-107a R3 at bottom.

Like the O-106, this one makes my toughest R3 list. The O-107 early die state may be tougher than the R4 O-106 early die state. There are a couple of MS65's at the top of the census, one in each die state.

PCGS AU50. One of my favorite coins. Best described by Sheridan Downey: Subdued luster beneath antique bronze toning. Strong obverse, left wing only slightly weak. Full dentils both sides. A much tougher variety than the usually seen O-101, O-102, and O-103. Needless to say I had to reach for this one...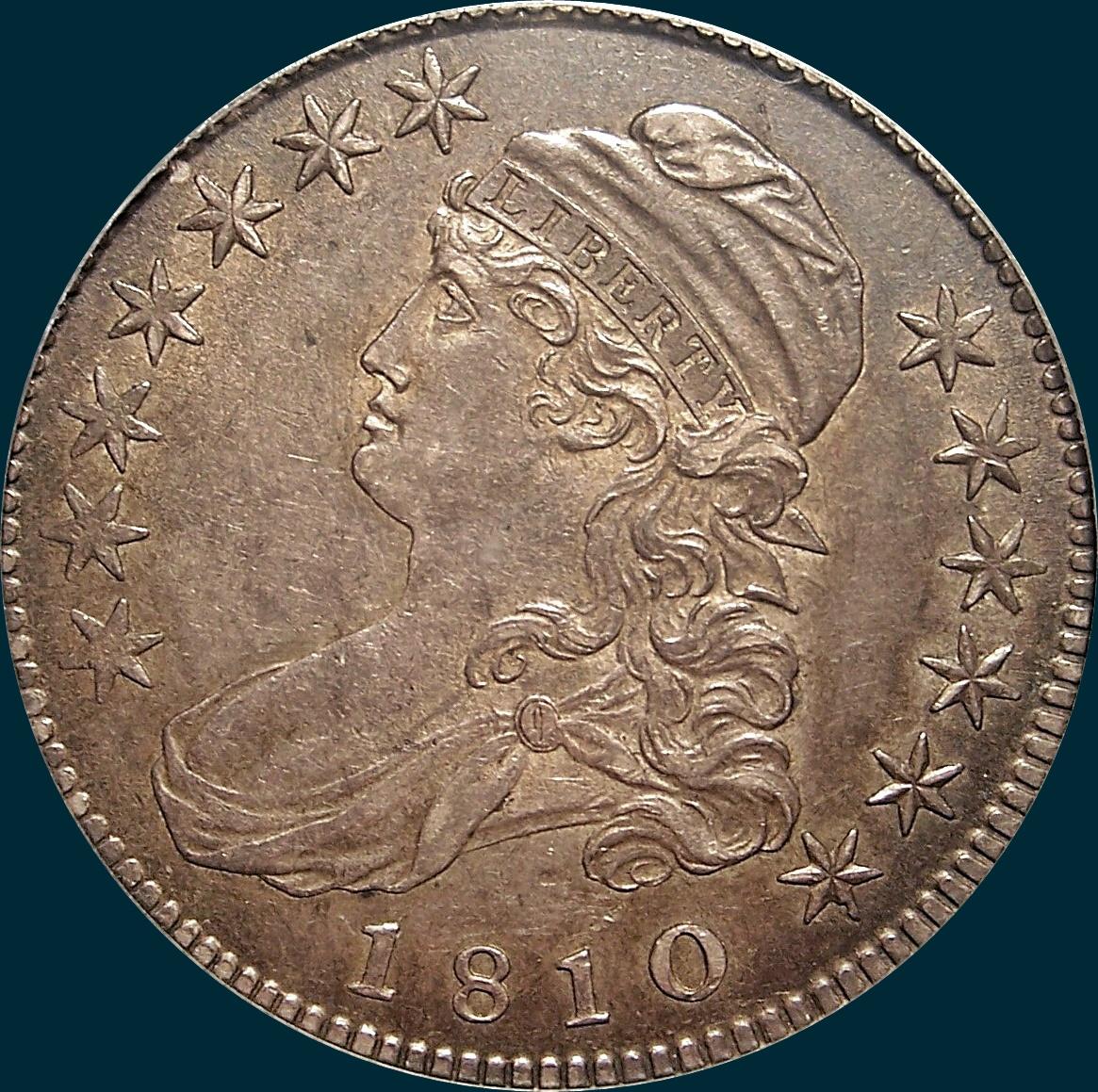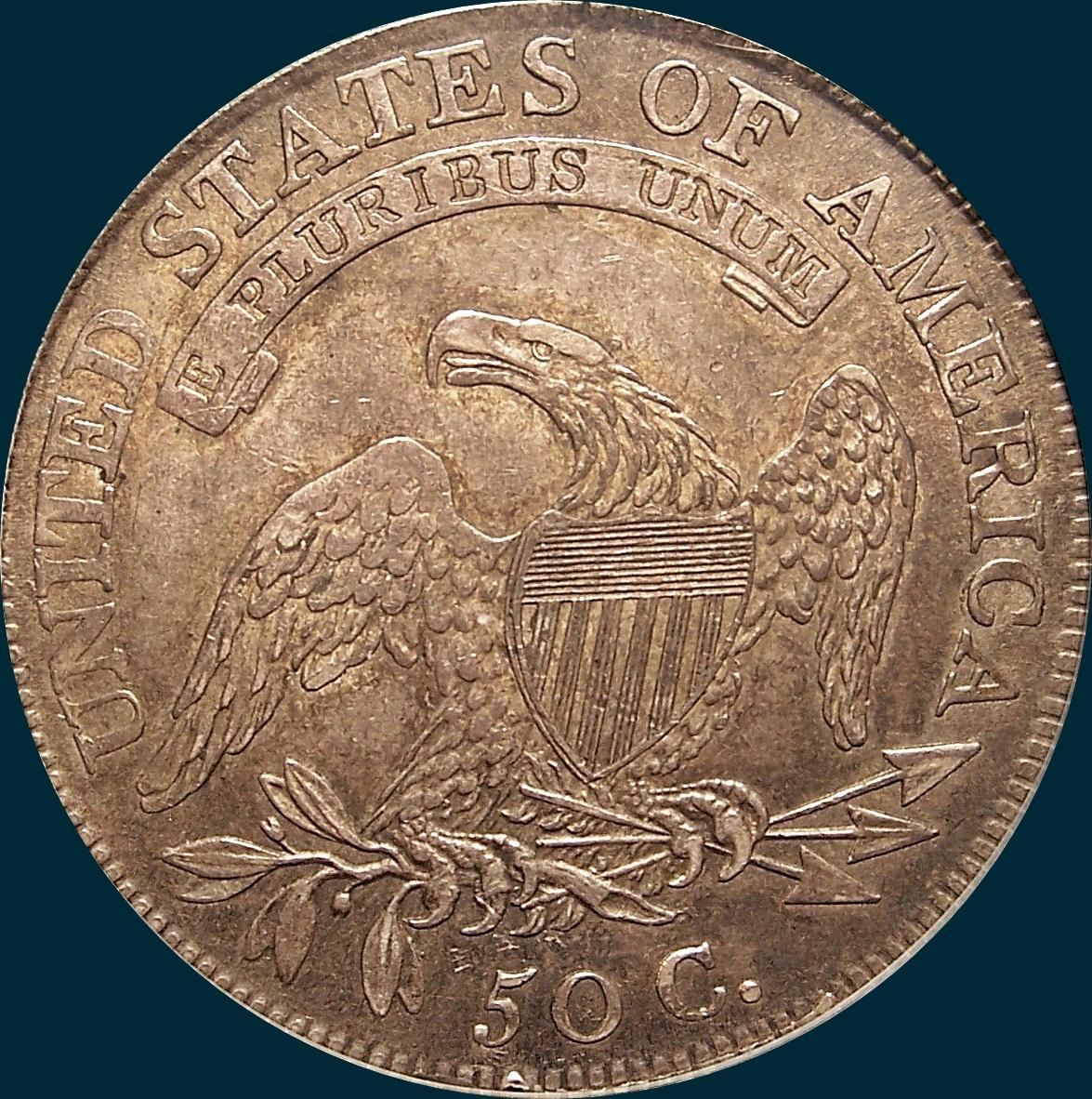 Variety Attribution: Obverse-Star 13 is 1/4 mm. from curl. Date is 10 1/2 mm. small and wide spaced with 18 the widest. Mouth broad and slightly open.
O-107a: There is a die crack from edge upward, just left of second 1 and into drapery. A second lighter crack crosses end of bust and joins first five stars on some specimens.

Reverse-50 C is 1 mm. Arrow to A is 3/4 mm. C in AMERICA broadly recut at base.
O-107a: Recutting of C in AMERICA no longer visible and there are extensive die cracks. One from TA down across scroll, top of right wing and through RIC to edge. Another from edge through R in AMERICA across tip of right wing, both claws, left wing, along base of UNITE and up thouigh D ST to edge.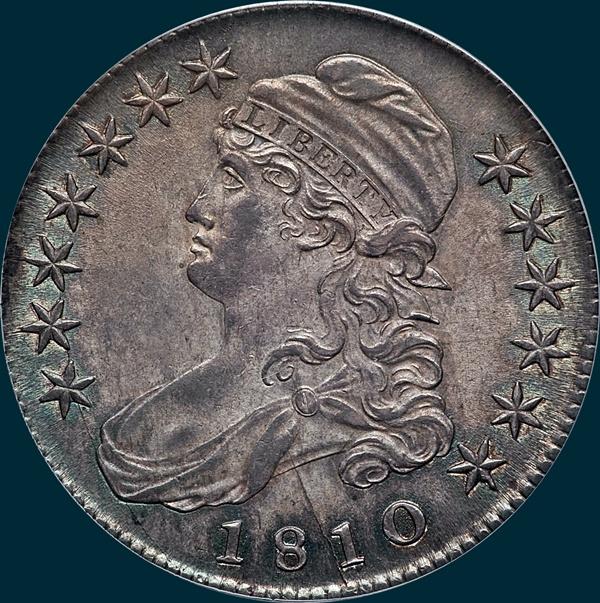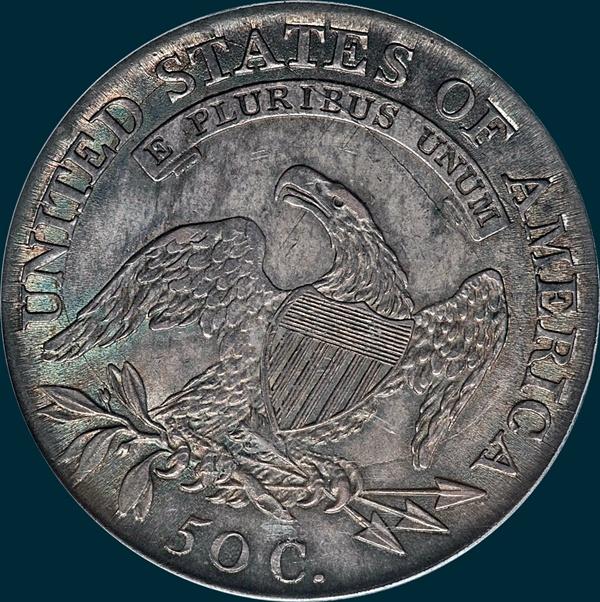 1810 Leaman-Gunnet Emission Sequence Number for O-107: 8
Overall Number: 37
Top five condition census coins from last 10 years of auction and sale records O-107:
06/13 Heritage (Long Beach) NGC MS65
12/15 Heritage (Houston) PCGS AU55 (Ex-PCGS AU53 Witham)
08/07 Downey MBS #33 PCGS AU50 (The above coin)
04/10 Heritage (CSNS-Frederick) PCGS AU50 Details cleaned (Has reverse cracks, but no obverse cracks)
04/10 Heritage (CSNS-Frederick) PCGS XF40 Details cleaned
Top five condition census coins from last 10 years of auction and sale records O-107a:
01/14 Heritage (FUN-Orlando) PCGS MS63 (former NGC MS62, ex Reiver)
06/19 Heritage (Legend Regency XXXIII) PCGS (S) AU58 CAC (Link)
08/12 Downey MBS 36 (ANA-Philly) PCGS AU58 PQ (Ex-Meyer)
01/11 Heritage (FUN-Tampa) PCGS AU58 CAC
05/17 Heritage (Long Beach) PCGS AU55