1805 O-111 R2 Draped Bust Half Dollar
Obverse 7 (Third Marriage)
Reverse G

If one is looking for an XF or AU 1805 for a type set, this would be a likely candidate. 2 MS coins emerged recently, with a relative abundance of AU and XF coins available.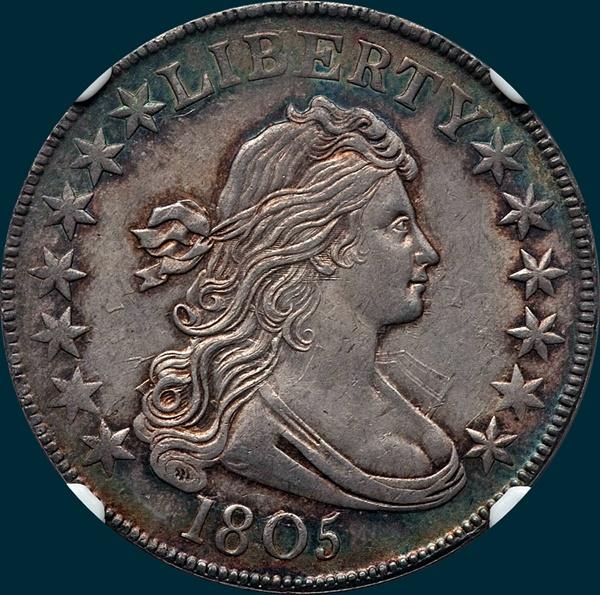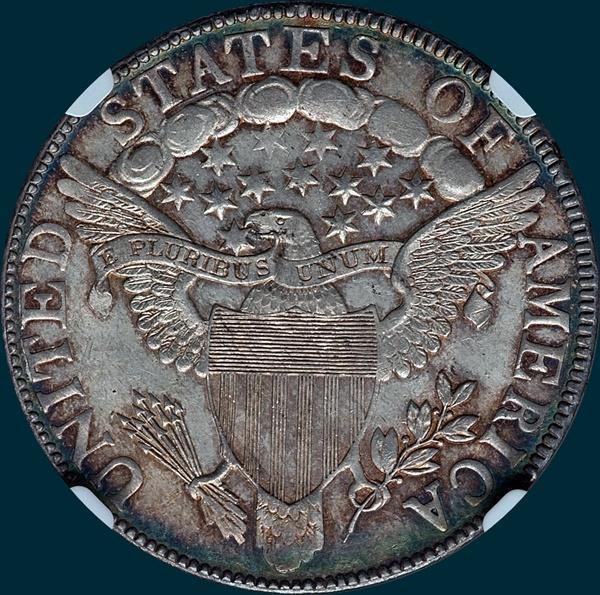 Variety Attribution: Obverse-Star 9 shows recutting. Date is 8 mm. and high. with the 1 very close to curl. A large 80 and slender 5, with well curved top. Stars 1 and 13 nearly touch curl and bust.

Reverse- 5 berries and all have stems. eagle's beak comes down on upper side of star point and lower point of same star is embedded in scroll. Point of leaf below right base of I. 13 arrows. On all observed specimens a die crack joins top of ES OF then across tip of wing down through AMERICA and across tail feathers. Two branches from this crack between AM, one to wing, the other across left serif of M to milling. Another crack from milling below tail feathers and still another from edge between I and C to main crack.

1805 Emission Sequence Number for O-111: 3
Top five condition census coins from last 10 years of auction and sale records:
11/13 Heritage (Newman) NGC MS63+
05/15 Stack's-B (Pogue-New York) PCGS MS61
​​​​​​​11/19 Stack's-B (Baltimore) PCGS (S) AU58

​​​​​​​04/19 Heritage (CSNS-Chicago) PCGS AU58 (Queller/Byers)
06/15 Goldberg (Pre-Long Beach) NGC AU58 CAC (ex-Gardner, and also ex-NGC AU55)