1817 O-106 R2 Capped Bust Half Dollar
Obverse: 4
Reverse: C (Third Marriage)
O-106 R2 "Comet Head" Variety is below, O-106a R4? Single Leaf at bottom
The O-106 is generally available in higher grades, with a handful of MS coins up to MS66 topping the census. The later die state with a single leaf below the wing is not as common as the early state, but is the most common of the single leaf varieties (1812, 1813, 1814, 1817). Not positive that it really is an R4 judging by its auction appearances.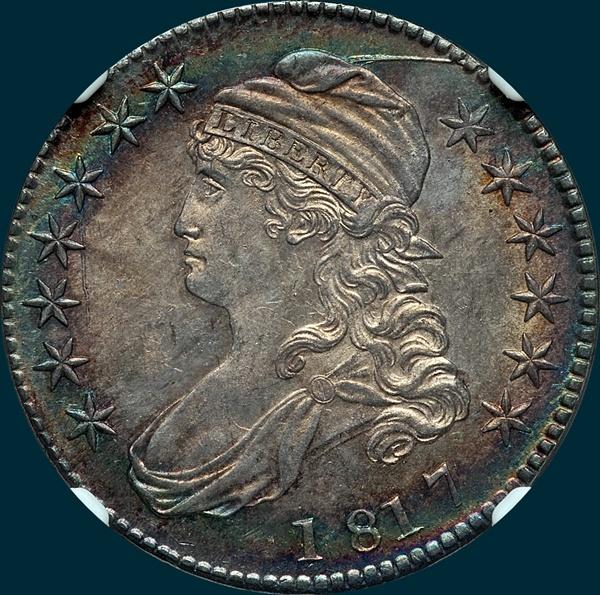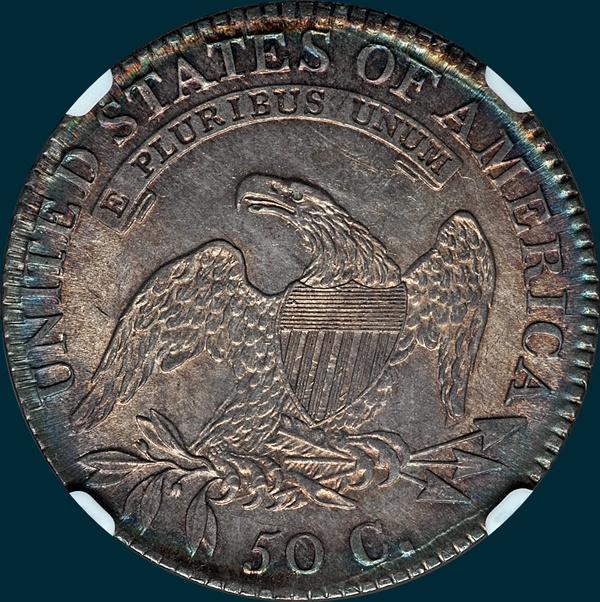 Variety Attribution: Obverse-Date is 8 3/4 mm. rather low and 81 is much closer 18 or 17. Stars are large and sharp. This die easily recognized by heavy defect ridge from top of cap to milling above star 8.Mouth open and upper forecurl forms loop in front of headband. Center dot on neck.
Reverse- 50 C. is 1 1/2 mm. Arrow to A is 3/4 mm. Center dot between crossbars 4 and 5. A long vertical line, probably and engraver's tool mark, extends from a segment of milling up between C and period. Another similar line closes the opening of C. These may not show very well by this late die state, and the one inside C not at all.

O-106a: There is a straight die crack edge to edge at top of OF. Another from milling below 50 C. to edge near arrowheads. Still another top of D ST through UNITED across tip of left wing. There is only a single leaf in place of the normal upper pair of olive leaves. Similar to the 1814 single leaf but not the same. There is a bold horizontal mark from outer loweredge of the single leaf, that appears to be the lower edge of the upper edge.

PCGS Graded VF35. This one looks like it came out of a dank dark cave someplace. This is the Comet Variety as well as the Red Book Single Leaf variety. May be a stepping stone to a better one at another time.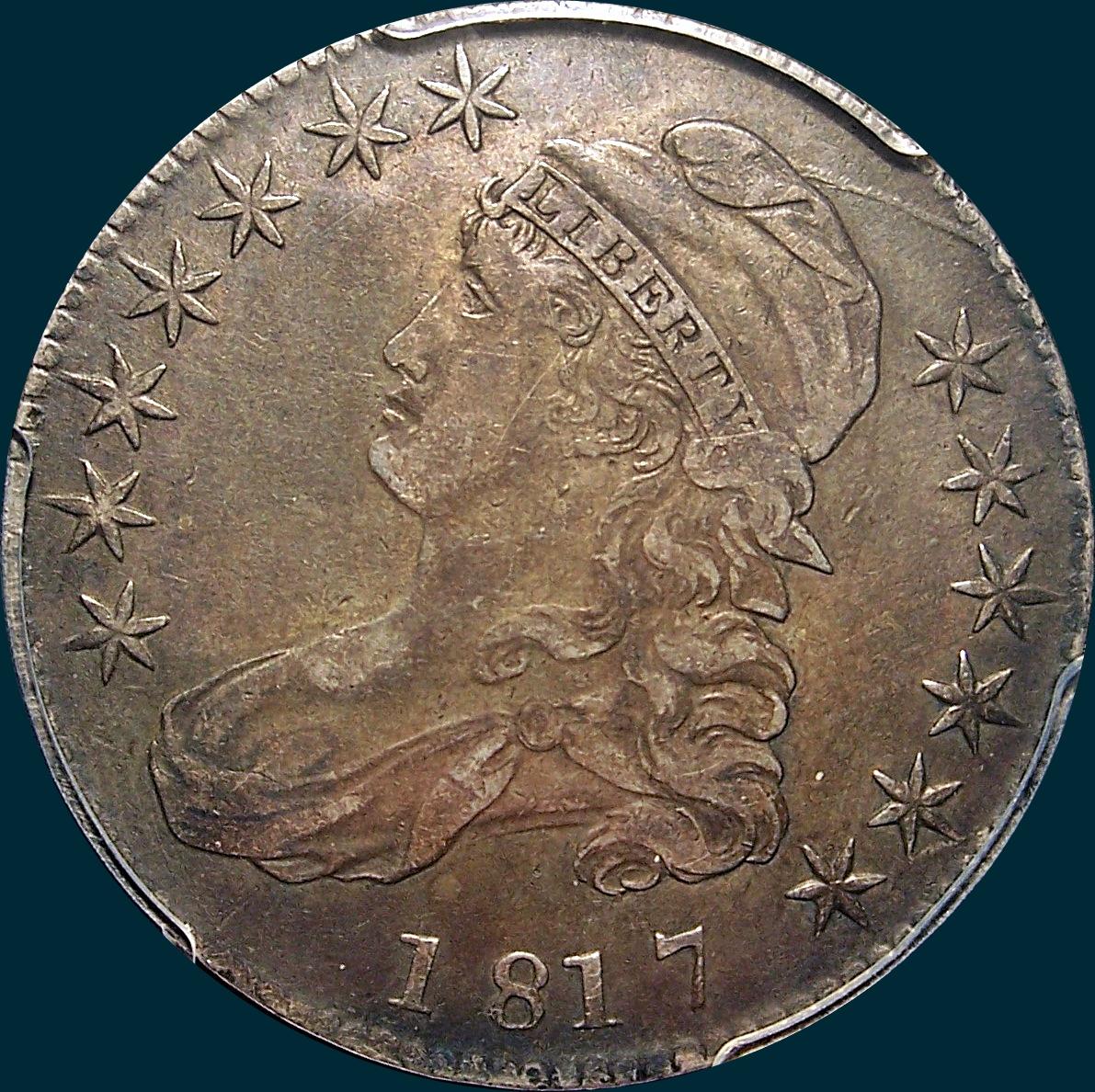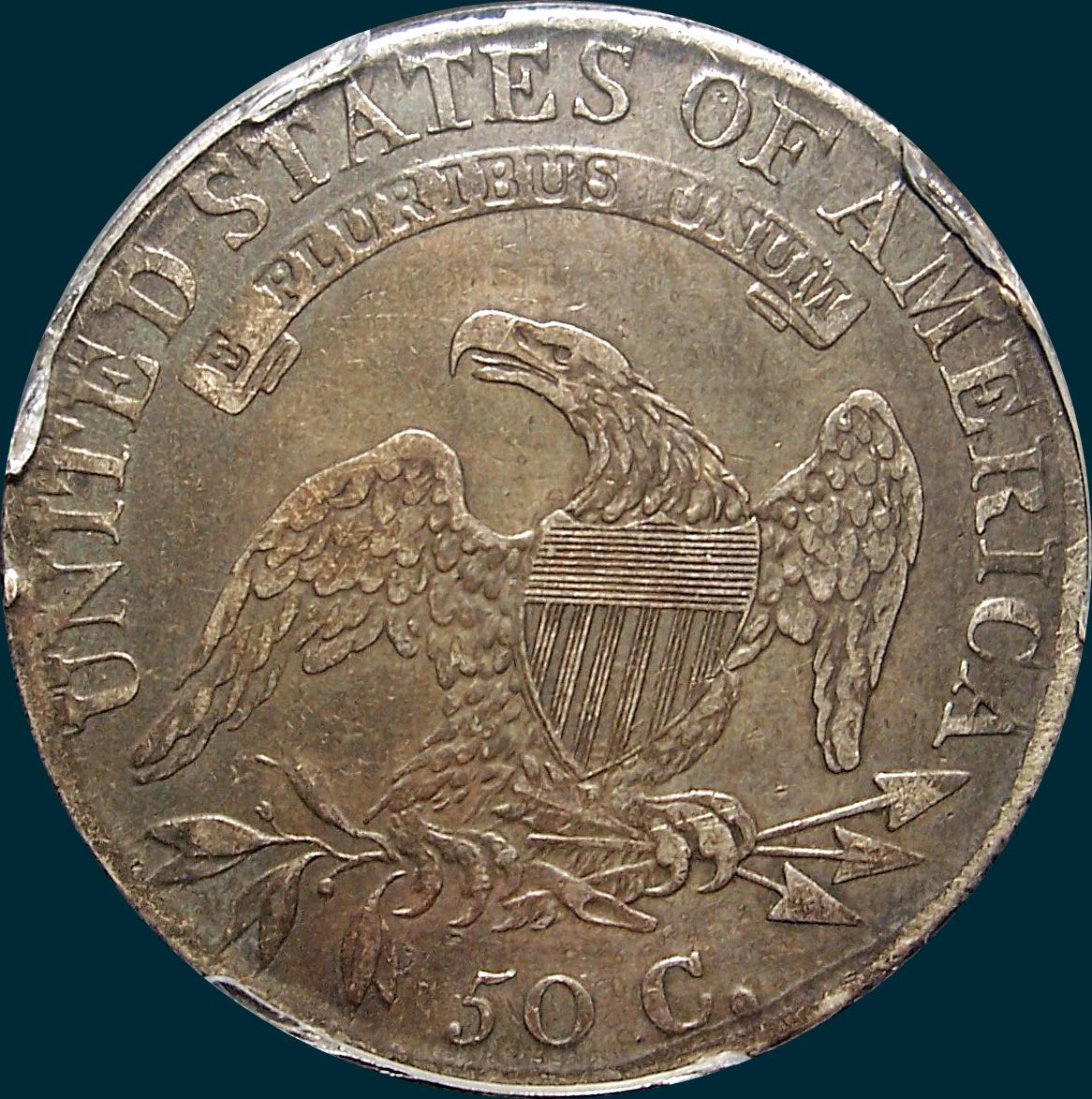 1817 Leaman-Gunnet Emission Sequence Number for O-105: 8
Overall Number: 90
Top five condition census coins from last 10 years of auction and sale records O-106:
04/19 Heritage (CSNS-Chicago) PCGS MS66 (former NGC MS65, Eliasberg)
11/14 Heritage (Newman) NGC MS65+
08/19 Heritage (ANA-Chicago) PCGS MS64+ CAC (former NGC MS65)
09/07 Heritage (Long Beach) NGC MS64
04/12 Heritage (CSNS-Schaumburg) NGC MS63 CAC
Top five condition census coins from last 10 years of auction and sale records O-106a:

05/13 Stack's-B (ANA-New Orleans) PCGS AU55
08/13 Downey MBS #37 (Nomura/Hilgard) PCGS AU55
07/16 Heritage (FUN-Orlando) PCGS AU53
02/18 Heritage (Long Beach) PCGS AU50
01/20 Heritage (Downey MBS 50) PCGS XF45
​​​​​​​