1817 O-105 R4- Capped Bust Half Dollar
Obverse: 3 (Second Marriage)
Reverse: C (Second Marriage)
O-105 R7? no cracks below, and the O-105 'a' Prime R6? state with only some obverse cracks at middle, O-105a R4- is at bottom

This die marriage is very rare in grades above XF. The early die state is also extremely rare to find (no die cracks obverse). Because of the obverse cracks, the obverse typically is very weak, and lower grades have little detail.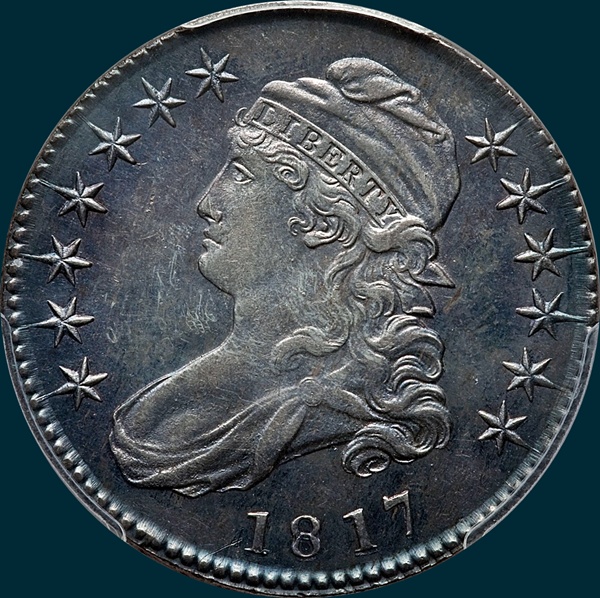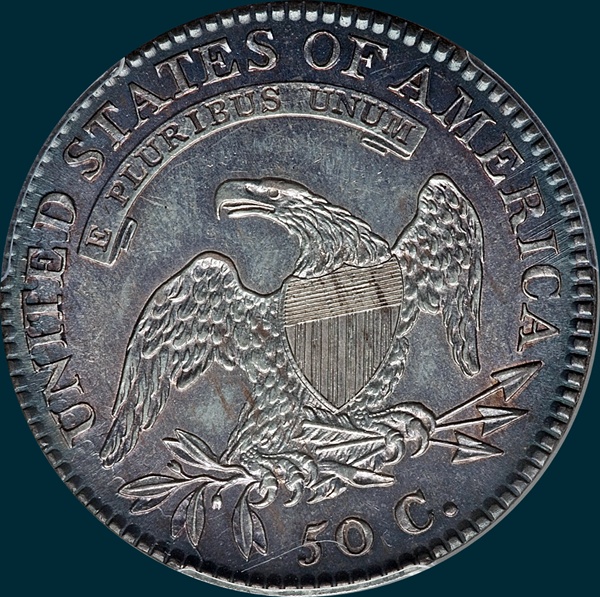 The pic below is the O-105 obverse with some cracks as opposed to no cracks above. the reverse is the same as above with no cracks.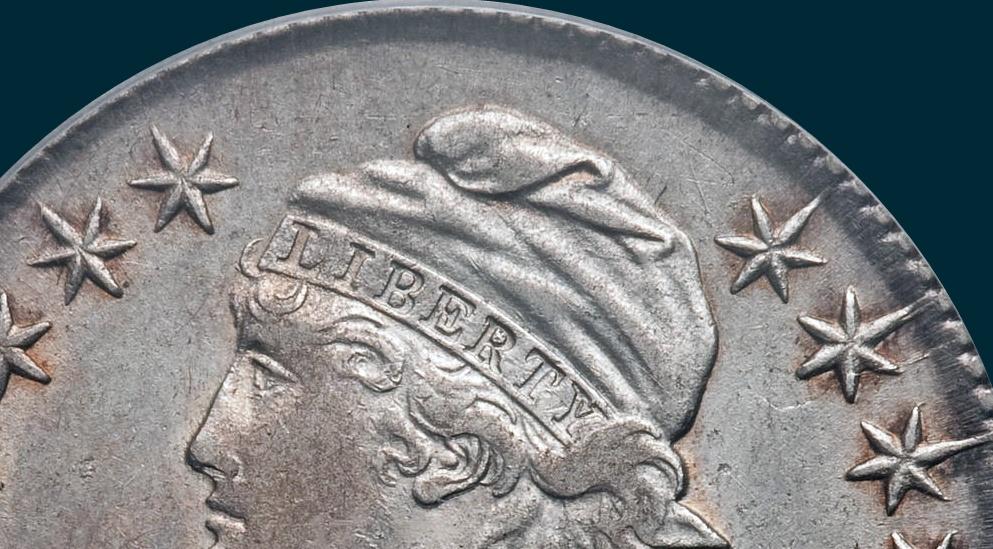 Variety Attribution: Obverse-Stars are sharp and well formed. Date is 8 3/4 mm. Second 1 slants more than other figures. This is the punctuated date without the dot.

O-105a: There is a die crack from edge across star 9 that branches, with one branch curving up across cap and stars 7 and 6 to edge near star 5; the other down toward ribbon ends. In later states another crack develops from 18 up across lower curl to stars 12 and 11. after first using the preceding obverse with the new reverse C, it apparently was discarded because of the extensive die crack and this old obverse 3 brought back into service, whereupon it also quickly began to break up.

Reverse- 50 C. is 1 1/2 mm. Arrow to A is 3/4 mm. Center dot between crossbars 4 and 5. A long vertical line, probably and engraver's tool mark, extends from a segment of milling up between C and period. Another similar line closes the opening of C. These may not show very well by this late die state, and the one inside C not at all.

O-105a: There is a straight die crack edge to edge at top of OF. Another from milling below 50 C. to edge near arrowheads. Still another top of D ST.

PCGS Graded AU53. Neat original piece with many die cracks and all the detail. One of the prizes that I have scored over the years. Really tough to find in higher grades.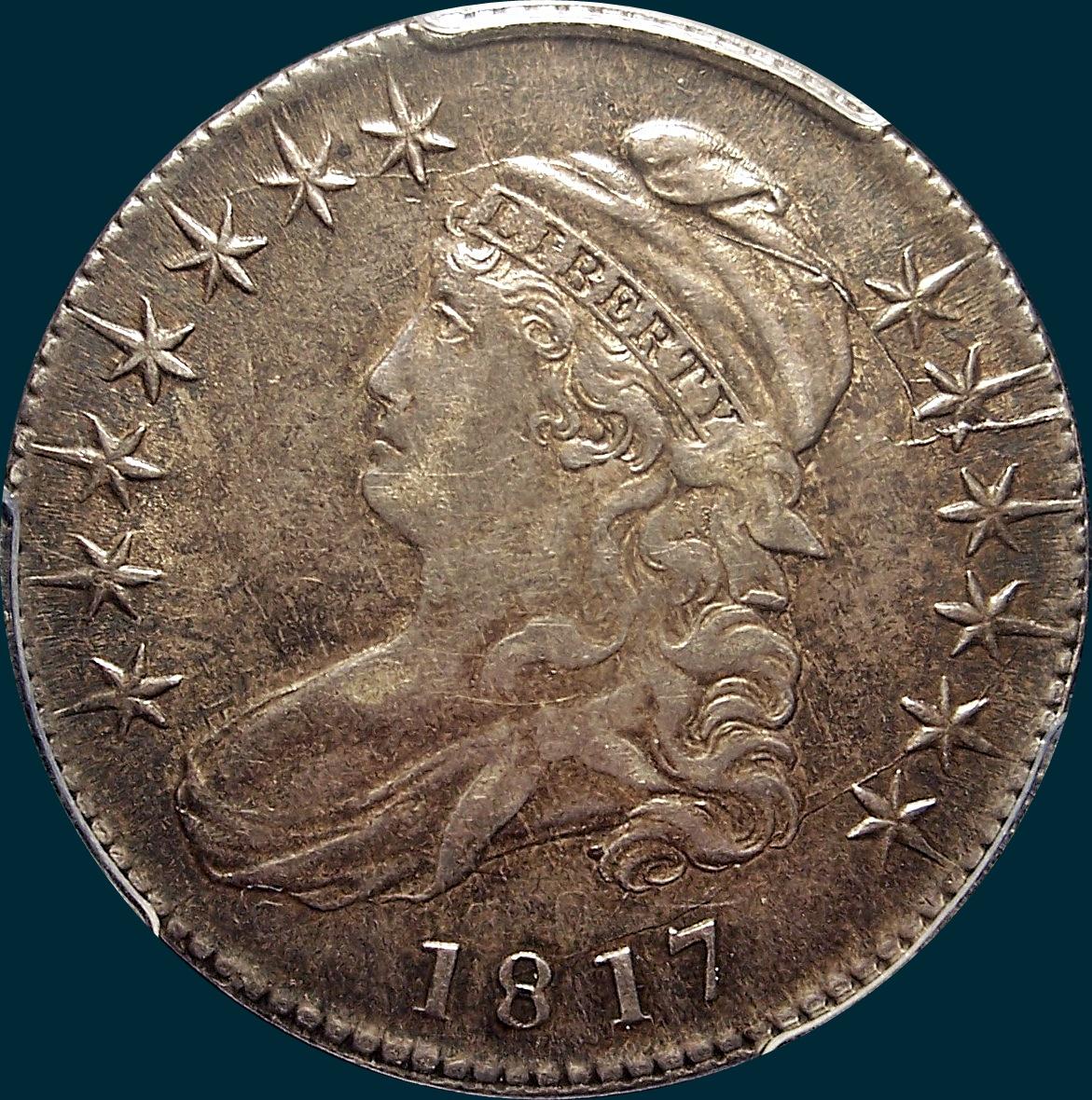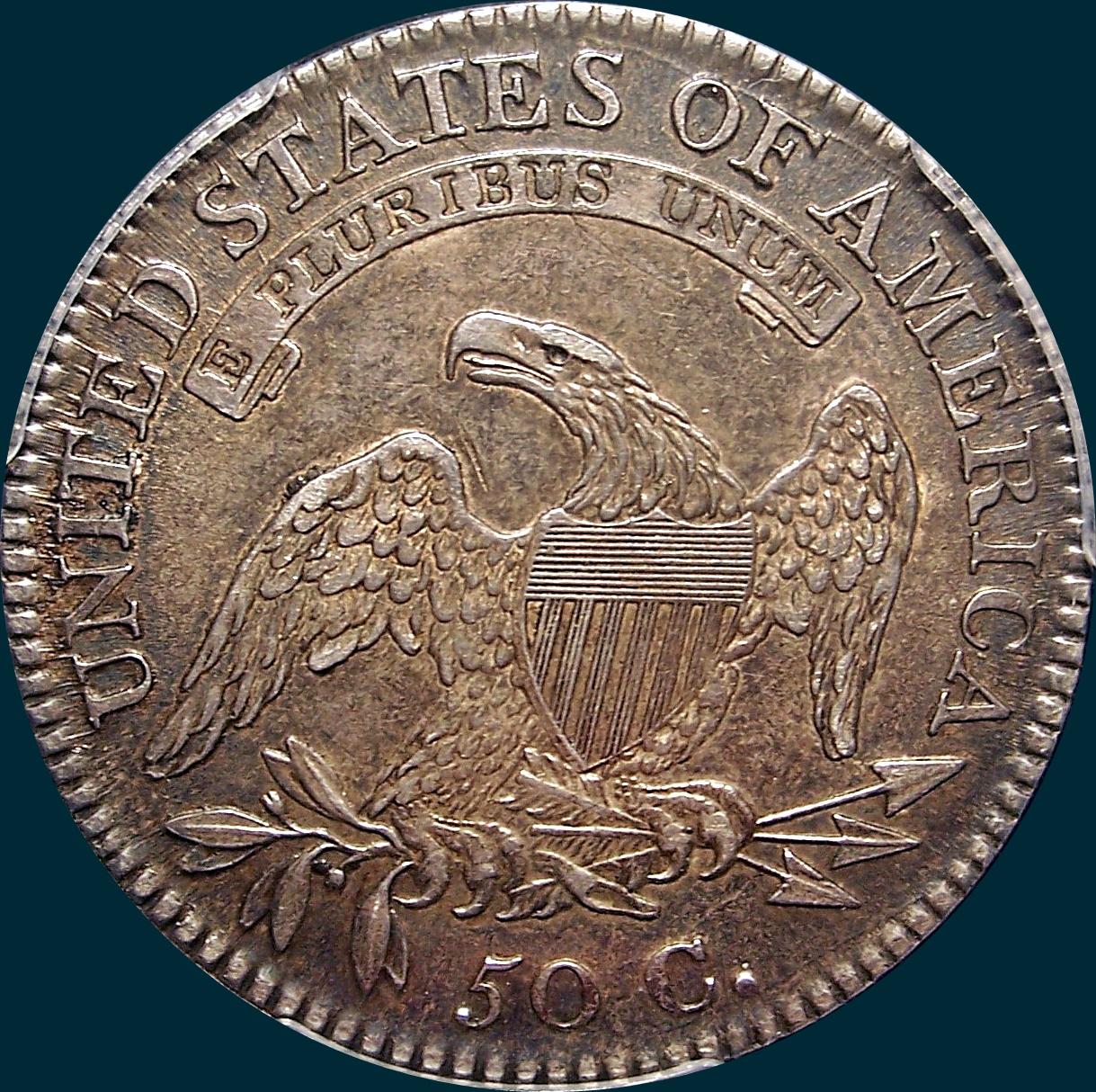 1817 Leaman-Gunnet Emission Sequence Number for O-105: 7
Overall Number: 89
There are only 4-5 known examples (R7?) without any die cracks. Examples with die cracks on the obverse only is considered R6, and is also considered an O-105a prime.
Top five condition census coins from last 10 years of auction and sale records (O-105):
08/17 Heritage (ANA-Denver) PCGS AU55

11/10 Stu Keen FPL XF40 Cleaned
11/15 Stack's-B (Baltimore) PCGS F15
​​​​​​​11/19 Stack's-B (Baltimore) PCGS (S) VG10 CAC

O-105a "Prime", die cracks obverse only:
01/11 Heritage (FUN-Tampa) PCGS AU53 (CAC)
08/09 Downey MBS 34 (Meyer/Bakke) PCGS AU53
Top five condition census coins from last 10 years of auction and sale records O-105a:
04/14 Heritage (CSNS-Chicago) PCGS AU58
08/15 Legend (Regency XIII) PCGS (S) AU55 (Link)
05/10 Downey FPL PCGS AU55 (Frederick)
09/19 Downey MBS 49 PCGS XF40
03/15 Heritage (ANA-Dallas) NGC XF40 (Skidaway)