1826 O-110 R2 Capped Bust Half Dollar
Obverse: 7
Reverse: J

This one is readily available in higher grades up to a pair of MS67's and even a few 66's.

NGC Graded XF45. Nice original coin with borderline AU luster. It is an important coin to have since the Overton 4th edition has an incorrect picture of the reverse for this variety.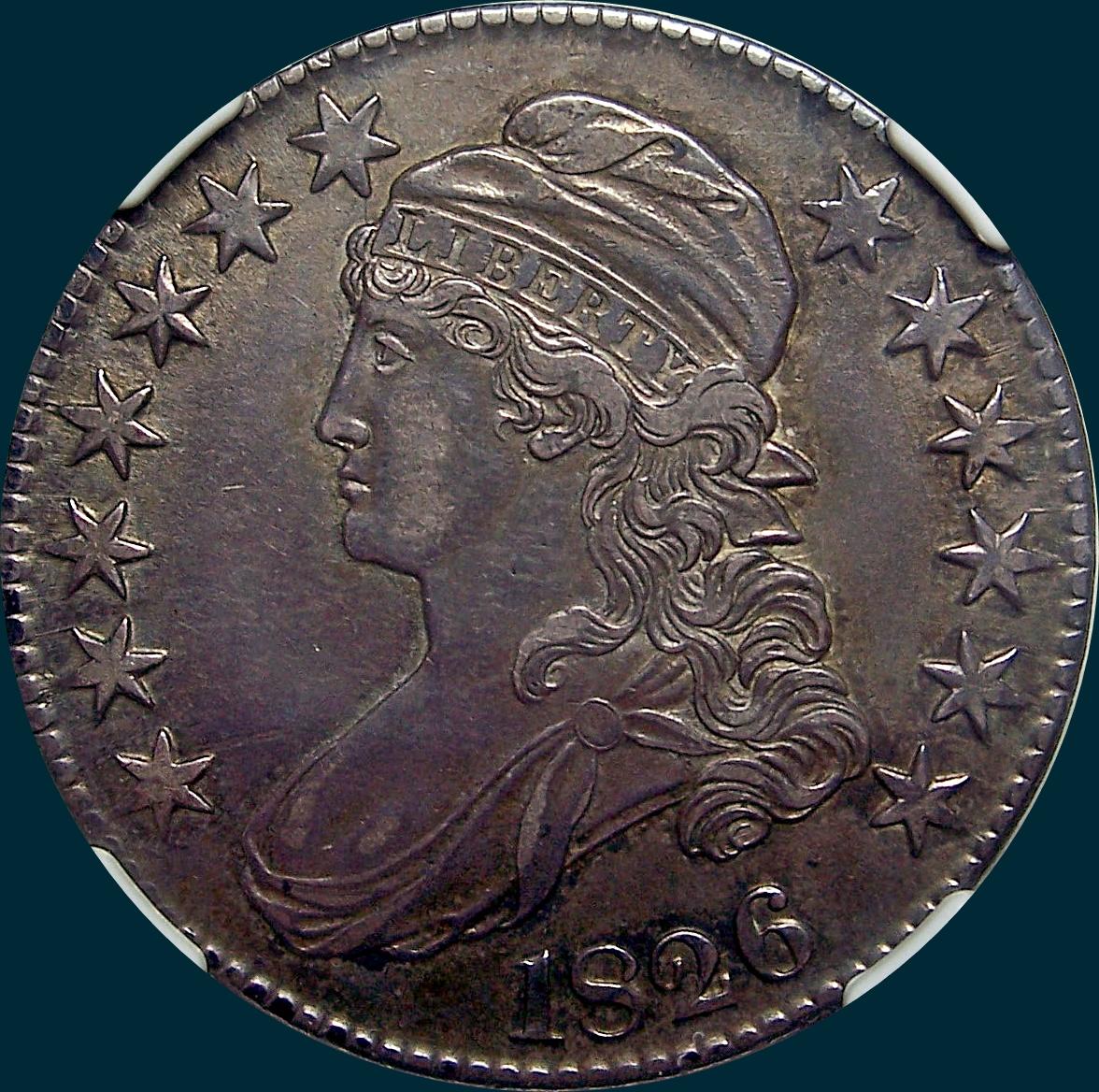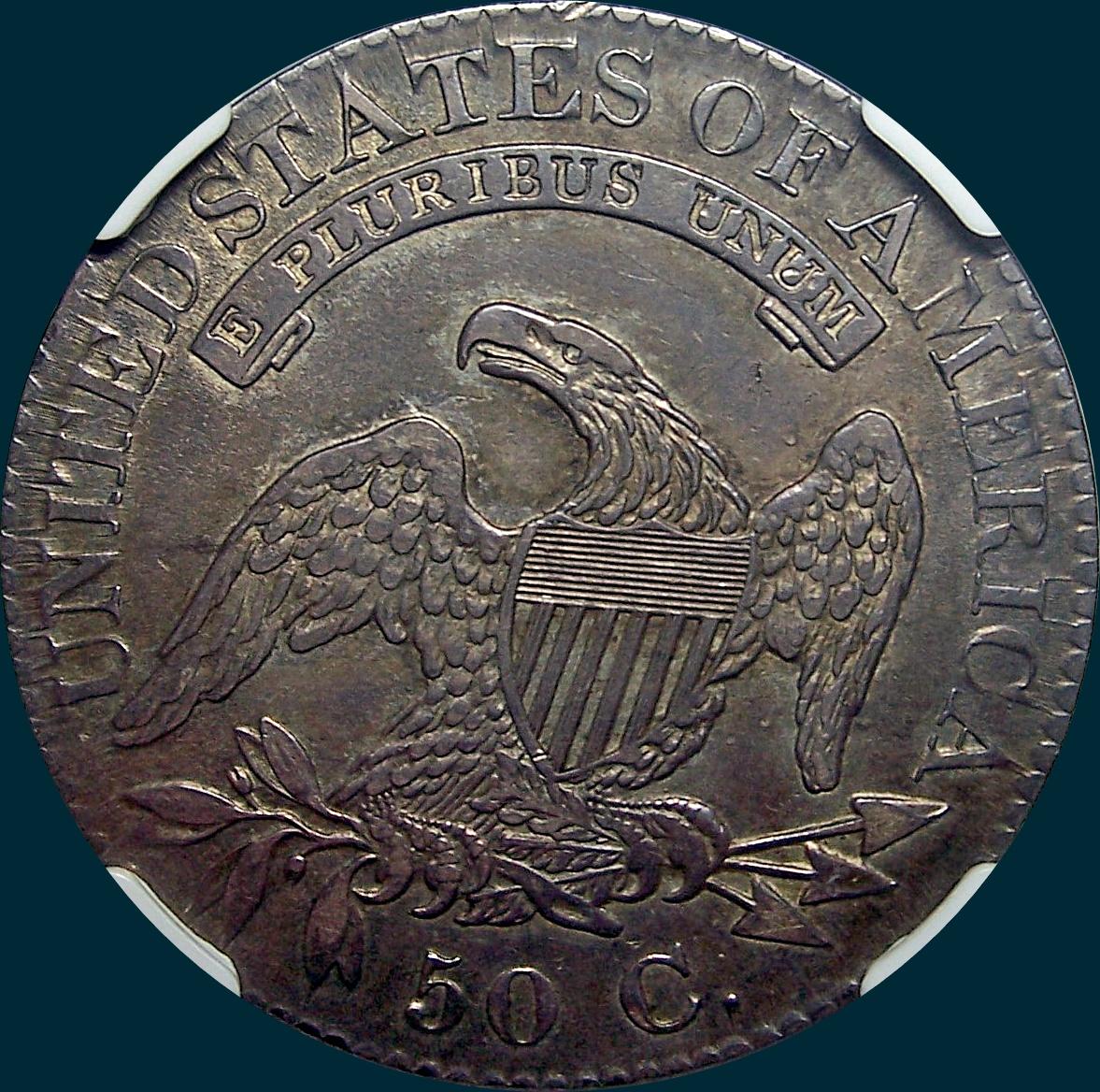 Variety Attribution: Obverse-Stars are large with blunt points. Date is 8 mm.with 82 closer than 18 or 26 and curl of 2 has a blunt end. 8 is recut in upper loop.
Reverse- 50 C. is 2 mm. and well centered. Arrow to A is 1/2 mm. Right sides of T-I in line. Center dot between crossbars 4 and 5. Arrowheads close and attached by small defects.
Notes:
In the 4th edition of the Overton/Parsley book, the picture is not reverse J in the illustration, but is actually reverse K. The above is the actual coin, so it is the proper reverse.
1826 Leaman-Gunnet Emission Sequence Number for O-110: 8
Overall Number: 210
Top five condition census coins from last 10 years of auction and sale records:
​​​​​​​04/20 Heritage (CNST-Dallas) NGC MS67 (Former PCGS MS66 CAC)

08/18 Heritage (AMA-Philly) NGC MS67 ​

08/15 Stack's-B (ANA-Chicago) PCGS MS66 (former NGC MS66)
02/12 Heritage (Long Beach) NGC MS66
11/19 Stack's-B (Baltimore) PCGS (S) MS65 CAC
There are some examples exhibiting the die cracks on the obverse of O-111, and this die state is considered the O-110a, R6?
One crack joins end of bust and all stars on left. Another from drapery to top of 182, then to lower curl and stars 12 through 8. Finally a crack extending edge to edge horizontally across top of cap.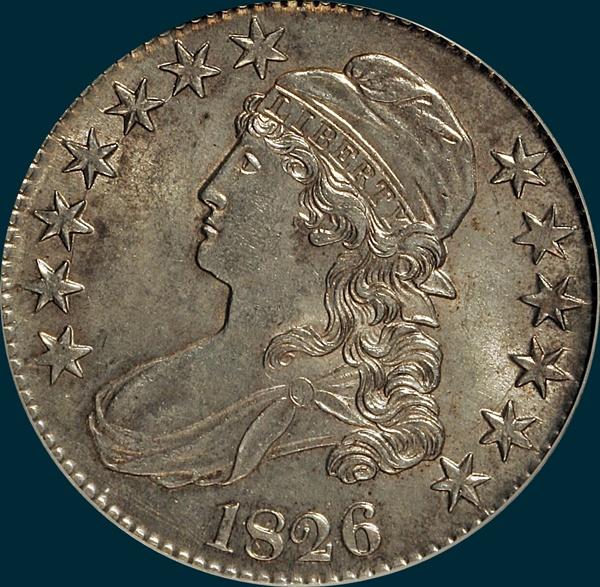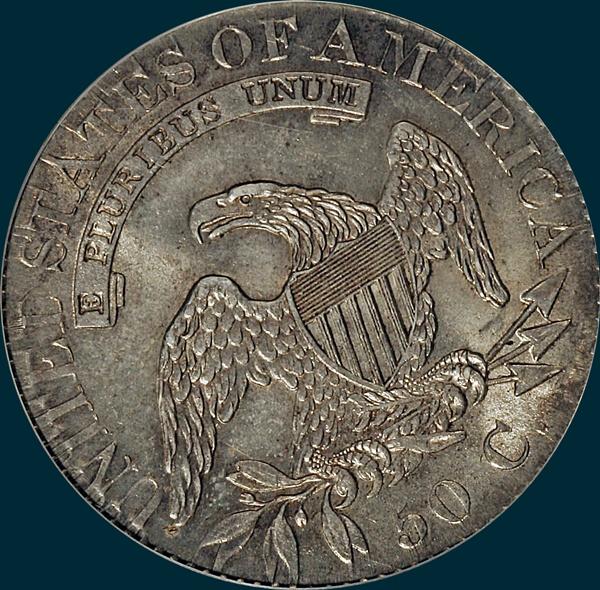 Top five condition census coins from last 10 years of auction and sale records:
05/08 Heritage (Long Beach) PCGS MS63
12/11 Heritage (New York) PCGS AU58
07/13 Heritage (FUN-Orlando) NGC AU55
08/07 Downey MBS 33 (Rutherford) XF40