1828 O-123 R5+, Square Base 2, Small 8's, Large Letters, Capped Bust Half Dollar
Obverse: 13
Reverse: K (Second Marriage)
O-123 R7? Below, O-123a R5+ at bottom

A very rare die marriage that commands a very large premium when it comes up for sale. The early die state is especially rare, and a single MS specimen (64) heads the census (a later die state example).

Variety Attribution O-123: Obverse-Stars are large and close to milling. Star 13 is 1/4 mm. from curl. Date is 8 1/2 mm. Square base 2 small 8's. Mouth is open. A small patch of corrugated die defect marks usually show to left of date.
O-123a: Rim break opposite stars 5 and 6.

O-123: Reverse- 50 C. is 1 1/2 mm. Arrowheads are close. Arrow to A nearly touch. Right sides T-I in line. Top of UN and base of AM very close. Area between olive leaves is flled with unfinished die work.
O-123a: Corrigated imprint under lower left wing to tail feathers.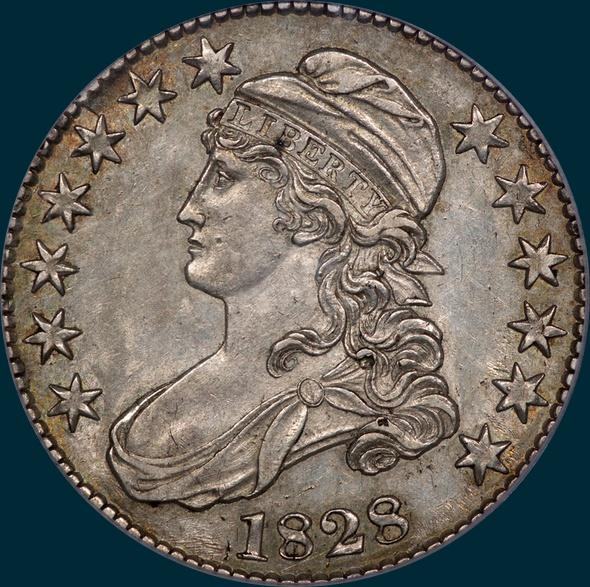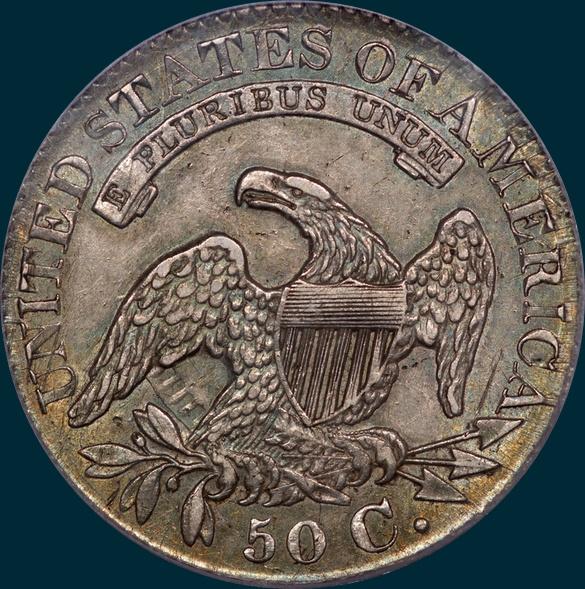 1828 Leaman-Gunnet Emission Sequence Number for O-123: 18
Overall Number: 287
Top five condition census coins from last 10 years of auction and sale records (O-123):
01/13 Downey FPL AU50 (AU58 wiped, PL)
02/18 Heritage (Long Beach) PCGS XF40 Det (Cleaned)
01/17 Downey MBS 44 ANACS XF40 det cleaned
05/10 Downey FPL ANACS XF40 (Meyer)
11/05 Downey FPL XF40 wiped and a dig
Top five condition census coins from last 10 years of auction and sale records (O-123a):

12/12 Teletrade PCGS AU50
04/10 Heritage (Frederick-CSNS) PCGS AU50
​​​​​​​11/19 Stack's-B (Baltimore) PCGS (S) XF45

03/15 Heritage (Dallas) NGC XF45
08/19 Heritage (ANA-Chicago) PCGS XF40