1827 O-113 R4- Capped Bust Half Dollar
Obverse: 9
Reverse: K

Both of the die states are likely low R5's, adding up to an R4-. There are high grade examples out there up to MS64, but the market appearances are rather scarce. AU examples are difficult to come by and require patience.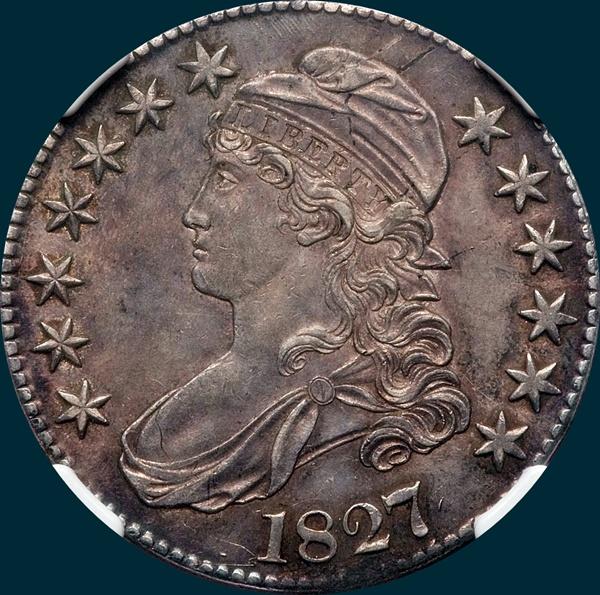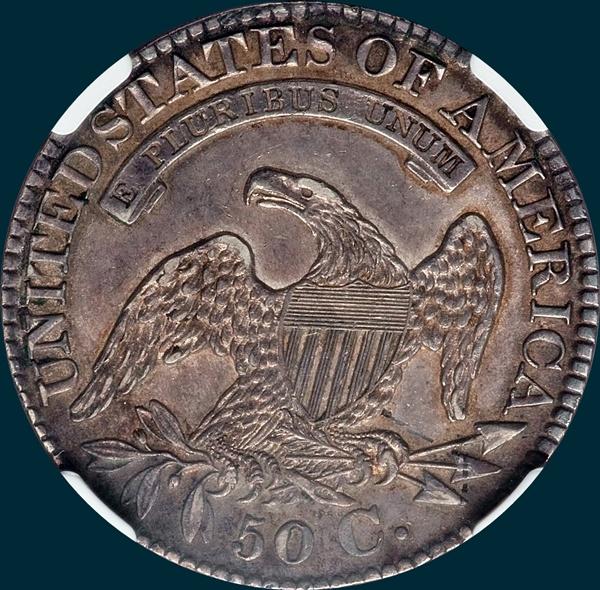 Variety Attribution O-113: Obverse-Star 13 a close 1/4 mm. to Curl. Stars are large and close to milling. Date is 8 mm. Most high grade specimens show a patch of fine lines from milling above front of cap and small defects left of the base of 1, right of 7 and from 2 segments, 1 below and 1 to right of 7.

O-113a: Long die crack from milling below 2, up through tail of 7, inner points of stars 12 and 12, then curving upward just inside of the stars to cap.

Reverse- AT joined at base, ED very close. 50 C. is 1 1/4 mm. and high, with a very large C. Arrow to A is slightly less than 1/2 mm. Right side of T and left side of I in line. A fine extra crossbar shows as a horizontal tool mark to right of the center apex of shield. Several lines of stripes 1 through 5 extend into crossbars with line 1 of stripe 5 penetrating to crossbar 5. First s in STATES is recut over a first attempt that was higher and further to the right.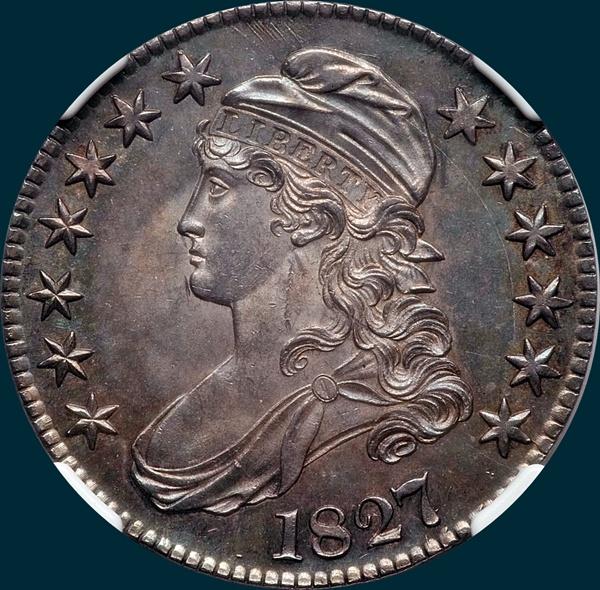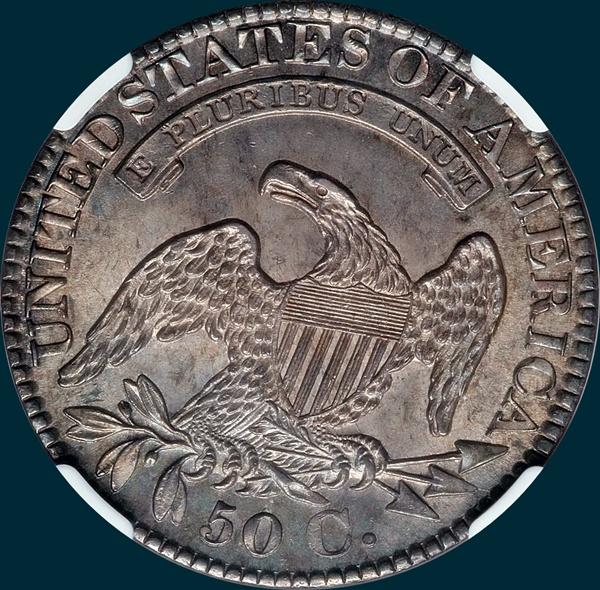 1827 Leaman-Gunnet Emission Sequence Number for O-113: 42
Overall Number: 263
Top five condition census coins from last 10 years of auction and sale records (O-113):
​​​​​​​01/20 Heritage (FUN-Orlando) PCGS (S) AU58 (Link)

01/17 Downey MBS 44 PCGS AU58 CAC (former NGC MS61) (Brown)
03/15 Heritage (Dallas) NGC AU55
11/10 B&M (Baltimore) NGC AU55
08/10 Heritage (Witham-Boston) PCGS AU55

Top five condition census coins from last 10 years of auction and sale records (O-113a):
04/12 Heritage (Chicago) NGC MS64
04/16 Heritage (CSNS-Chicago) PCGS MS63
01/12 Heritage (FUN-Orlando) ANACS MS60
07/11 Heritage (FUN-Orlando) PCGS AU55
01/11 Heritage (FUN-Tampa) PCGS AU55