1795 O-103 R5 Flowing Hair Half Dollar
Obverse: 1 (Fifth Marriage)
Reverse: C (Third Marriage)
O-103 R5 below, O-103a R5 at bottom

It is not likely that each die state is R5 as two R5's would combine to make an R4 for the marriage. There are a handful of AU examples for the die marriage, all of the prime die state. The finest 103a is an XF40. The Hilt collection had examples of both die states when it was sold.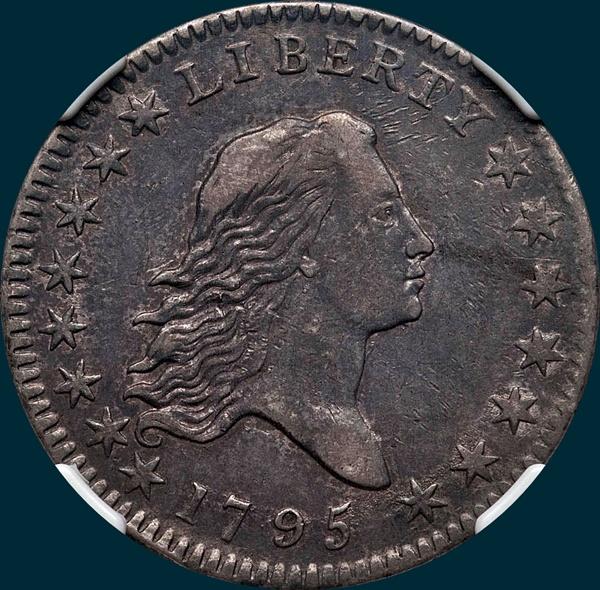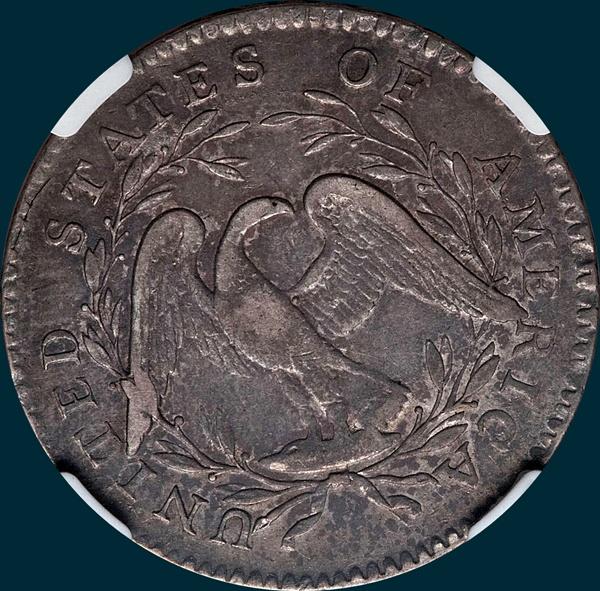 Variety Attribution O-103: Obverse-Star 15 is 1 mm. from bust. Curl about 1/2 mm. from 2 upper points of star 1 and 2 inner points of star 2. date is 8 3/4 mm. rather evenly spaced and well centered. R in LIBERTY is higher than E and T. A fine die crack is usually vible from near end of bust to milling, just left of star 15. Die cracks, one from upper edge through E to head. Another from lower edge up through I and lower curls. A third joins stars 9 and 10 then to edge near star 12.
O-103a: The die crack at right center is nearly smooth, with stars 10 through 13 almost entirely blanked out, due to lack of pressure, caused by heavy break on reverse. this breakage effect also shows at inner points of stars 13, 14, 15 and into the date.

O-103: Reverse- 17 Berries, 10 left, 7 right, 1 above and 1 below wreath under right wing. Point of leaf is between RI, closer to base of R and distant. M is widely recut at left serifs. A small defect line joins ribbon knot to rock above and also shows below right ribbon. A fine die crack from edge through A2. Another from edge through C to wreath. Later specimens show additional cracks from below eagle's head down across right wing to tail feathers, etc.

O-103a: There is now a 10 mm. section broken out of edge at AME. This undoubtedly represents the final use of these two dies, taking place after all of the previous usages of same.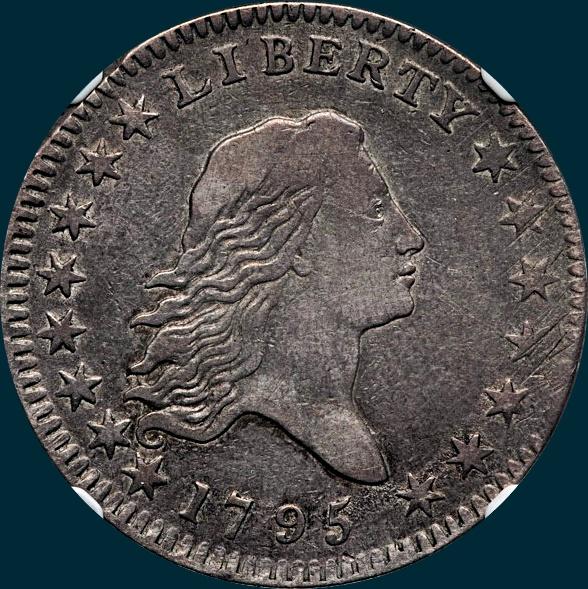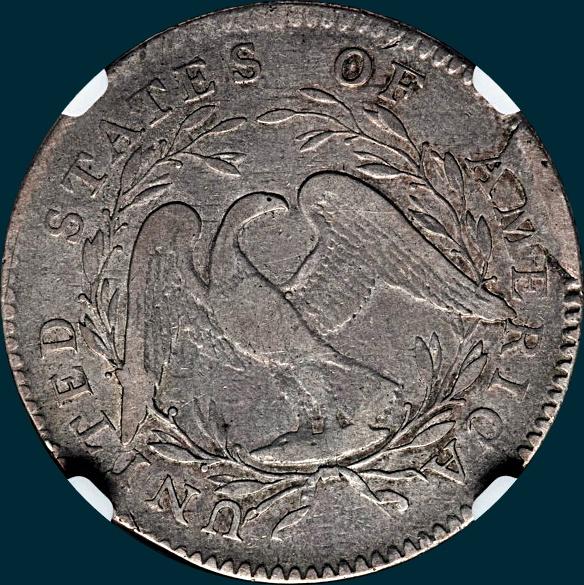 1795 Emission Sequence Number for O-103: 29
Top five condition census coins from last 10 years of auction and sale records (O-103):
04/12 Heritage (Chicago) NGC AU58
07/08 Superior (Elite-Baltimore) NGC AU58
05/07 Heritage (CSNS-St Louis) NGC AU58
02/07 Heritage (Long Beach) NGC AU58 (adj marks obv, faint hairlines obv)
04/15 Heritage (CSNS-Chicago) NGC AU50 (Hilt)
Top five condition census coins from last 10 years of auction and sale records (O-103a):

01/17 Heritage (FUN-Ft Lauderdale) NGC VF30 (Hilt)
08/09 Heritage (Los Angeles) PCGS VF30
​​​​​​​11/19 Stack's-B (Nov Baltimore) PCGS (S) VF detail (Damage)

09/18 Heritage (Long Beach) PCGS VG10 (Lake Goodwin)