1818 O-104 R3 Capped Bust Half Dollar
Obverse: 3
Reverse: C
1818 O-104 R4 (Prime)- Pics needed! O-104a R3 is below, O-104 'b' R6 at bottom
It would seem to me like the prime die state is much tougher than an R4, with the late die state perhaps being more common than an R6. Overall the R3 seems correct, but the neat cracks make it a favorite of collectors. There are MS coins in all states, with a 67 104a leading the pack.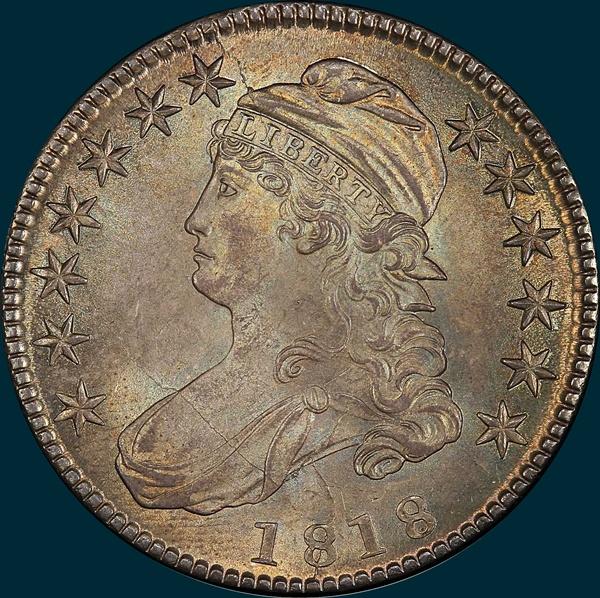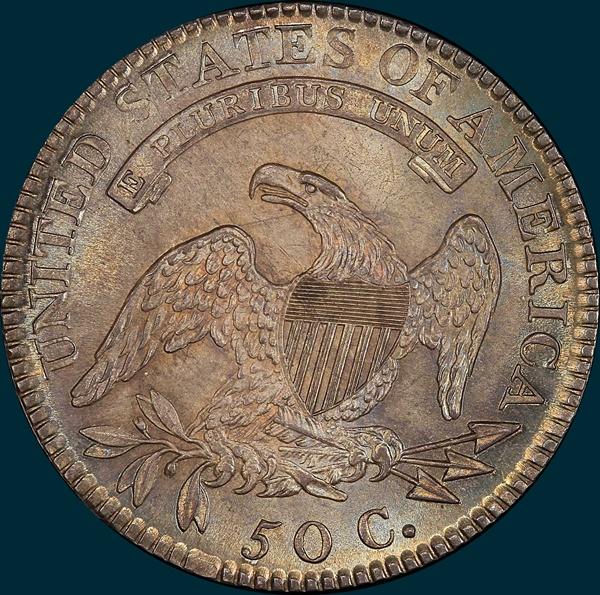 Variety Attribution O-104: Obverse-Mouth open. Date is 9 1/2 mm. and low. 81 slightly closer than either 18. Tiny center dot on neck.
O-104a: Die crack from star 4 down across two points of star 3, the field and bust, then turns along the lower edge of bust to a point above 8, where it divides, one branch turning up into the drapery, the other turning down through first 8 to edge. Another crack from edge to cap just above star 7. In later die states these cracks become much heavier, with the one above star 7 a heavy ridge. A broken lump at branch of crack on lower edge of drapery, also a new crack from edge to drapery just left of first 1.
O-104 'b': Heavy crack at star 7, with an additional crack from star 8 through star 13.

Reverse- 50 C. is 1 1/2 mm and rather low. Arrow to A is 3/4 mm. Arrowheads are close and connected by small die defects. There is a triple segment in milling below the lowest pair of leaves and a small die dot in field below RI.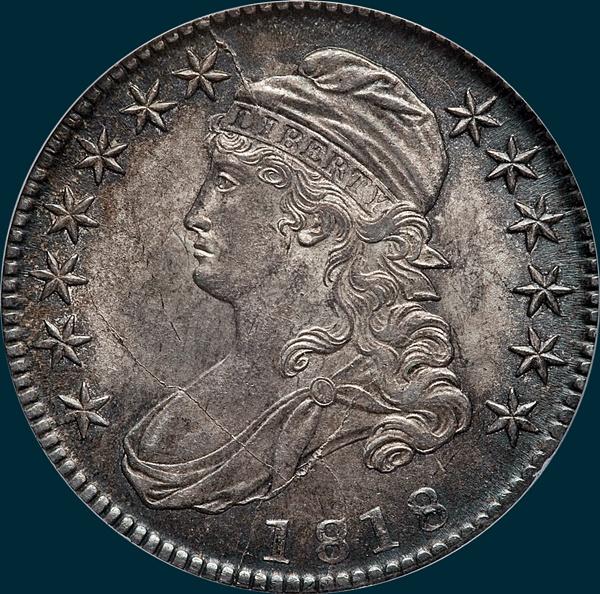 1818 Leaman-Gunnet Emission Sequence Number for O-104: 2
Overall Number: 97
Top five condition census coins from last 10 years of auction and sale records (O-104):
04/07 Coin Galleries Mail Bid AU50 (hidden scratch down left wing)
12/06 Coin Galleries Mail Bid AU50
Top five condition census coins from last 10 years of auction and sale records (O-104a):
09/15 Stack's-B (Pogue Part II) PCGS MS67 (former NGC MS67 (Kaufman))
09/15 Stack's-B (Pogue Part II) PCGS MS66+ (Eliasberg)
11/10 B&M (Baltimore) PCGS MS65
08/13 Stack's-B (ANA-Chicago) NGC MS64
12/19 Heritage (Dec Signature) NGC MS63
Top five condition census coins from last 10 years of auction and sale records (O-104 'b'):
04/10 Heritage (Frederick-CSNS) PCGS MS62
10/16 Heritage (Dallas) NGC MS61
04/12 Heritage (Chicago) PCGS AU58 CAC
12/11 Heritage (New York) NGC AU55
12/19 Heritage (Dec Signature) PCGS AU53 CAC (Meyer)