1818 O-105 R3 Capped Bust Half Dollar
Obverse: 4 (Second Marriage)
Reverse: C (Third Marriage)
O-105 R3 below, O-105a R4? at bottom. The O-105 and the O-106 die marriages were both intermingled during the minting process, as both shared an obverse die, and both have the same prime and 'a' die state characteristics.
This is one of those Overton numbers that just does not appear very often. Only 7 problem free examples can be confirmed to have appeared above the level of XF the past 10 years. There are a few MS coins out there, but none have appeared since 2001. On my list of toughest R3's for sure. The late die state hardly ever appears, and I have only counted 7 for the last 10 years, and maybe 9 total. Update 8/31/2016: The Eliasberg NGC MS65 specimen has resurfaced and is in the October Heritage Dallas sale.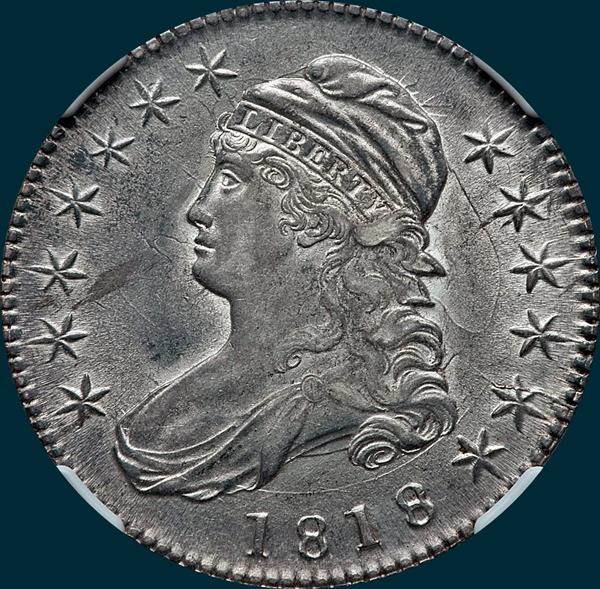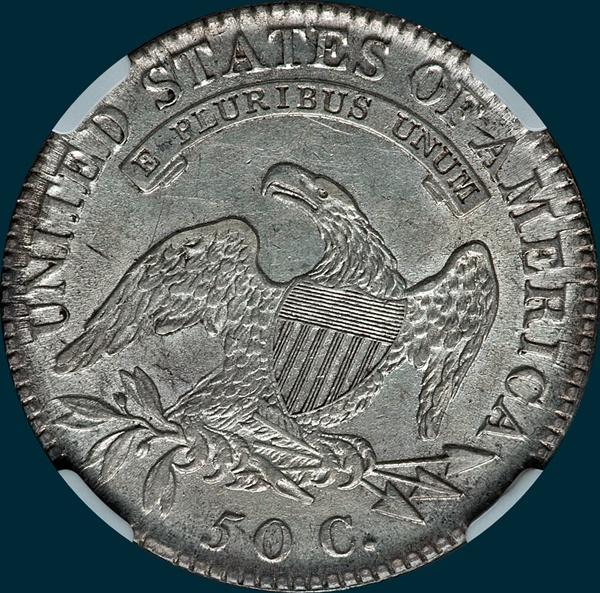 Variety Attribution O-105: Obverse-Date is 10 mm. with very small 8's and 81 is a shade closer than either18. Most specimens show a die crack from edge through upper points of star 12 into field. The stars on left have points of varying lengths.

O-105a: Another crack from the crack at star 12 that curves up through star 11, across points of star 10 to cap and head band at LI in LIBERTY.
Reverse- 50 C. is 1 1/2 mm and rather low. Arrow to A is 3/4 mm. Arrowheads are close and connected by small die defects. There is a triple segment in milling below the lowest pair of leaves and a small die dot in field below RI.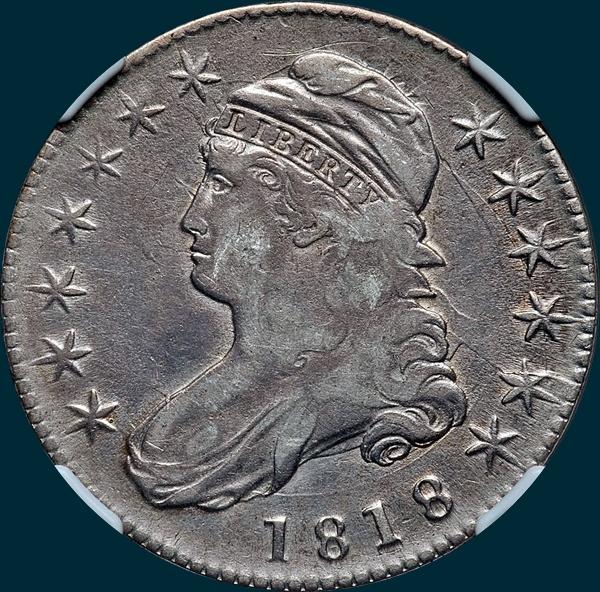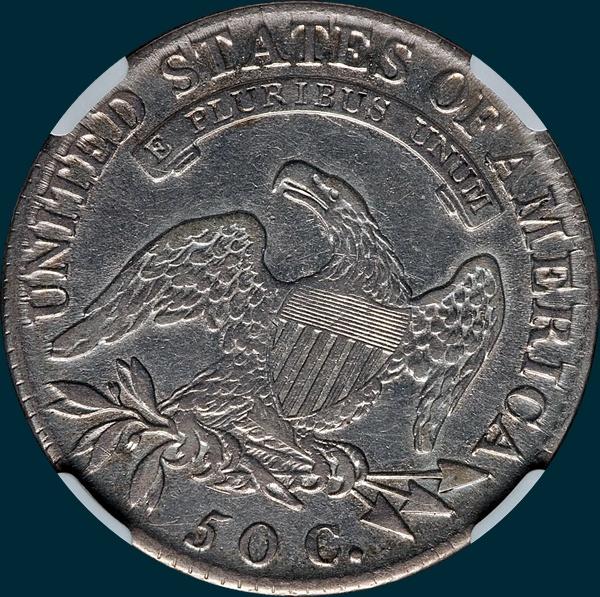 1818 Leaman-Gunnet Emission Sequence Number for O-105: 7
Overall Number: 102
Top five condition census coins from last 10 years of auction and sale records (O-105):
10/15 Heritage (Dallas) NGC MS65 (Eliasberg)
03/15 Heritage (Dallas) NGC AU58
08/15 Heritage (ANA-Chicago) PCGS AU55
01/17 Downey MBS 44 PCGS AU53 CAC

04/10 Heritage (Frederick-CSNS) PCGS AU50 (described as 105a, but is in fact a 105, as it is missing the last crack)
Top five condition census coins from last 10 years of auction and sale records (O-105a):
11/09 Stu Keen FLP PCGS AU55
09/09 B&M (Rarities-Philly) PCGS AU55
03/08 Stack's (Gaziano-New York) PCGS AU55
01/09 Stack's (Orlando) ANACS AU50 (Meyer coin?)
01/11 Heritage (internet) NGC VF det cleaned