1808 O-106 R2 Capped Bust Half Dollar
Obverse: 6
Reverse: F
O-106 R2 below and O-106a R2 at bottom
There have only been 4 problem free AU appearances for O-106 (prime state) the last ten years. This was updated 05/03/2016, and I have not seen any new AU appearances so the 5 was reduced to 4. Keep your eyes peeled!
This die state (a) of O-106 has had only 3 problem free MS and 6 problem free AU appearances in the market the last 10 years, combined with only 5 AU early die state appearances making this one particularly tough in higher grades.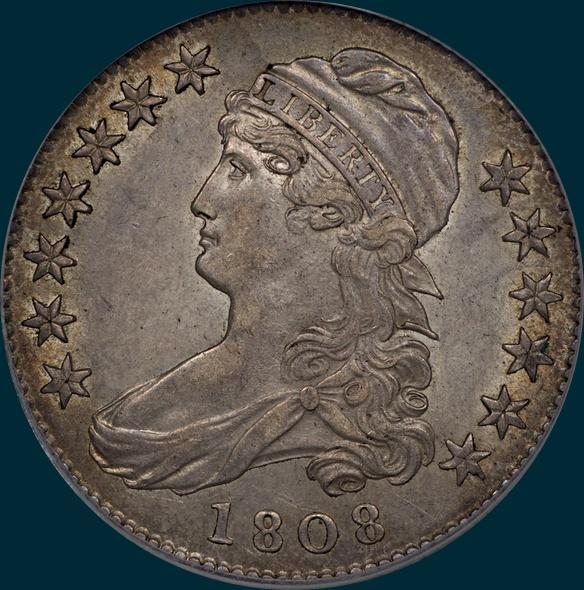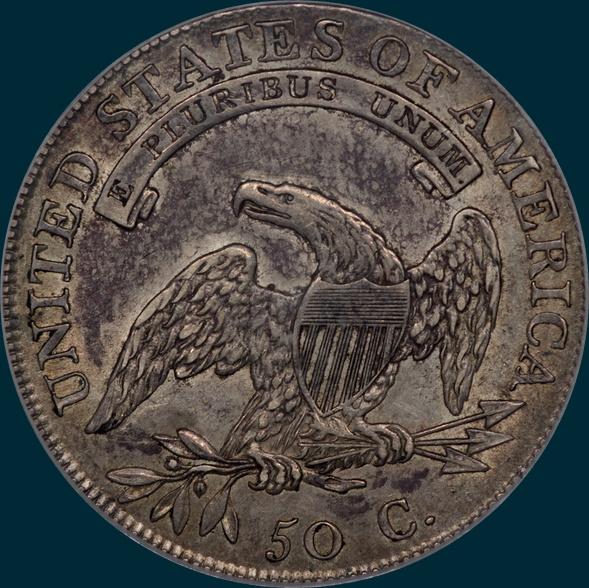 Variety Attribution: Obverse-Stars Large and well formed. Date is 9 mm. high and leaning sharply to the left. 1 is higher and wider than 808. L has distinct crossbars in bottom. Stars 5 and 6 closer than 6 and 7.
O-106a: Die crack spans obverse from left of 1 in a semi circle across bust, emerging from front of cap to milling. Another through star 9 joins first crack in curls below ear. A fine crack at top of first eight extends along top of 1 across bust to star 2. Die shows signs of bulging.


Reverse-50 C. is 2 1/4 mm. and low. Arrow to A is 1/2 mm. A center dot at upper edge of left wing near body. AM nearly touch at base. Right sides of T and I are in line. Arrowheads lightly joined.

O-106a: Late states show a crack through 5 to stem.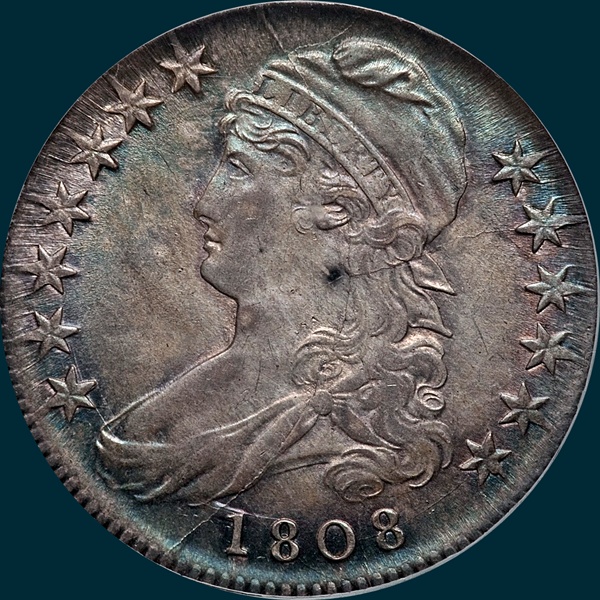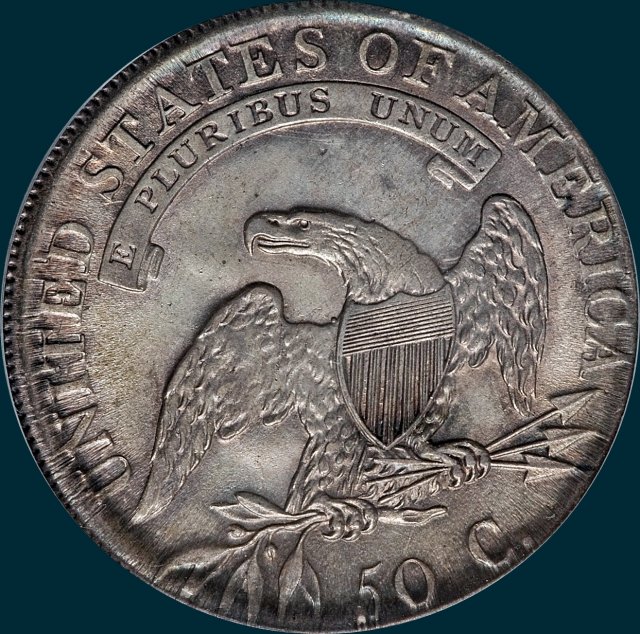 1808 Leaman-Gunnet Emission Sequence Number for O-106: 10
Overall Number: 14
Top five condition census coins from last 10 years of auction and sale records O-106:
03/12 Stack's-B (Baltimore) NGC AU58 CAC
04/10 Heritage (CSNS-Frederick) NGC AU58
01/14 Downey MBS 38 (Davignon) PCGS AU53
01/18 Heritage (FUN-Tampa) PCGS AU50
06/16 Heritage (Long Beach) PCGS XF40
Top five condition census coins from last 10 years of auction and sale records O-106a:
02/13 Goldberg (Pre-Long Beach) PCGS MS66 CAC (Ex Dawson)
12/10 Heritage (Houston) PCGS MS63
​​​​​​​01/19 Heritage (FUN-Orlandeo) NGC MS61
08/19 Heritage (ANA-Chicago) NGC AU58 ​​​​​​​

08/17 Heritage (ANA-Denver) PCGS AU58