1811 O-112 R4- Small 8 Capped Bust Half Dollar
Obverse: 10
Reverse: J
O-112 R4- is below, O-112a R5 at bottom

The later die state is much tougher than the early state, and there are very few examples showing up in grades above XF. A few MS63's head up the census.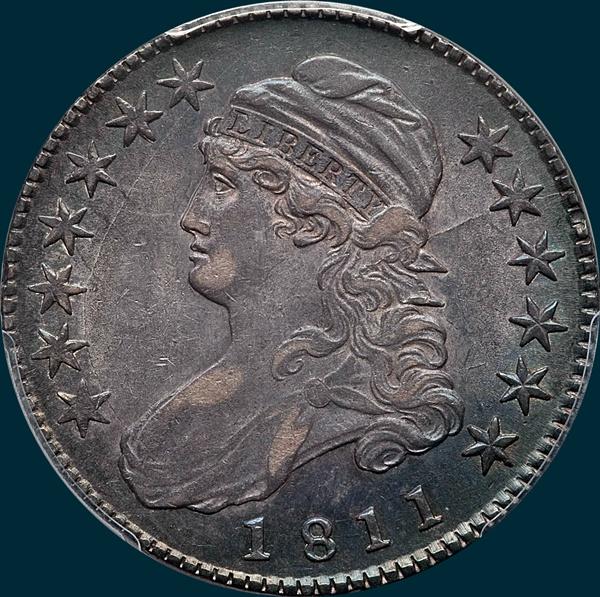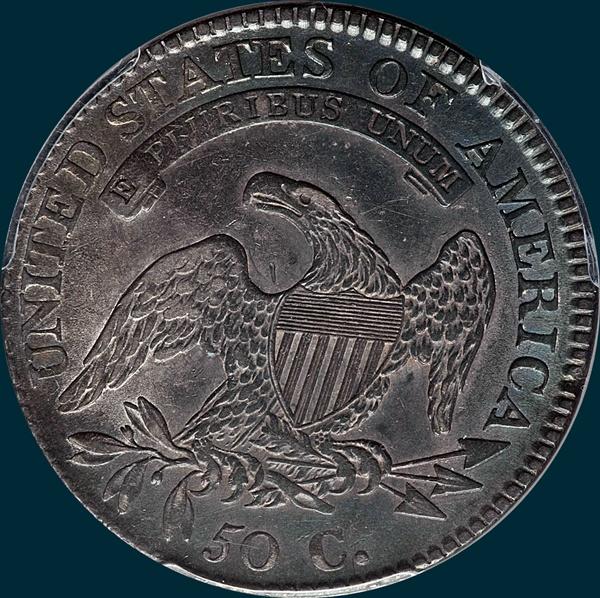 Variety Attribution O-112: Obverse-Stars are large and well formed. Date is 9 3/4 mm. Tiny die defect dots to each side of the first 1. A die crack from center of 181 up across end of bust, inner points of stars 1-2-3 upward across two points of star 7 to edge above. Another from top of 11 through star 13 to edge at star 12. Plus the one from esge through star 9 across ribbon ends and hair. Star 6 has 2 extra points at lower right.
O-112a: All die cracks are more pronounced and there is a new one from headband along the front and across peak of cap to milling. Another small one upward from the crack at star 9, to star 8 and above it. Still another from drapery circles above date and between curl and star 13.


O-112: Reverse-50 C. is 1 3/4 mm. and low, with bottom of 5 somewhat broken. Arrow to A is 1/2 mm. Right side of T and left side of I in line. Center dot between crossbars 4 and 5. Center arrohead recut. AM nearly touch.

O-112a: Crack top of D and STATES. Another faint one from lower tip of right wing down through arrowheads, 50 C. and olive leaves to U.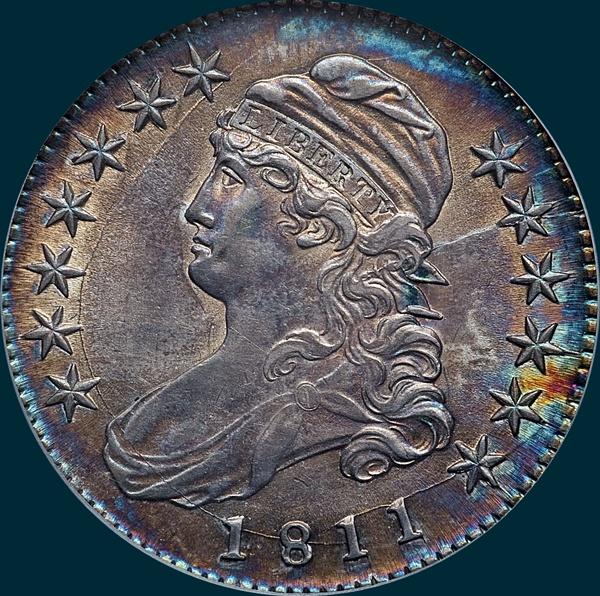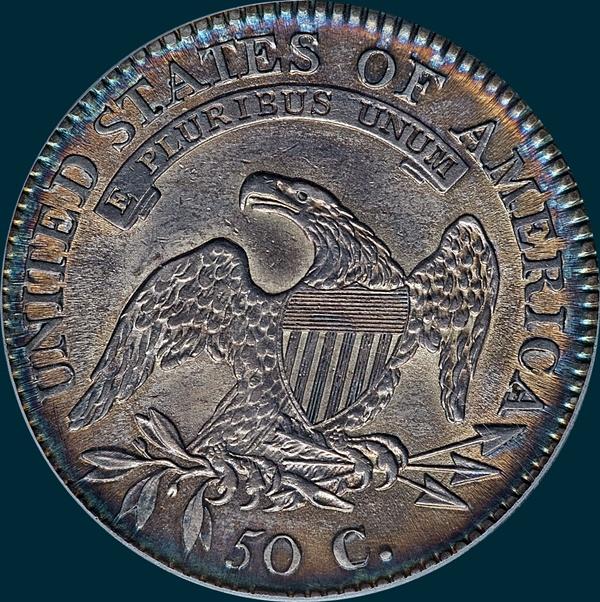 1811 Leaman-Gunnet Emission Sequence Number for O-112: 8
Overall Number: 47
Top five condition census coins from last 10 years of auction and sale records (O-112):
11/09 Private Treaty PCGS MS63 (Ex-Farley)

07/08 Downey FPL (ANA-Meyer) PCGS MS61
10/15 Heritage (New York) PCGS AU58 (former NGC AU58)
02/18 Heritage (Long Beach) PCGS AU55
05/18 Heritage (Long Beach) PCGS AU53

Top five condition census coins from last 10 years of auction and sale records (O-112a):
02/18 Heritage (Long Beach) PCGS AU53 CAC
01/18 Heritage (FUN-Tampa) PCGS AU53
02/15 Heritage (Long Beach) PCGS AU53
11/09 Stack's (74th Anniv) PCGS AU53
07/09 Stack's (SS NY-Los Angeles) PCGS AU53 CAC (Meyer)