1795 O-106 R6 Flowing Hair Half Dollar
Obverse: 1 (Third Marriage)
Reverse: D


A very rare die marriage with perhaps 25 or so examples known. The finest of which have not been seen in over 20 years, a pair of AU50's, one of which is the Overton coin.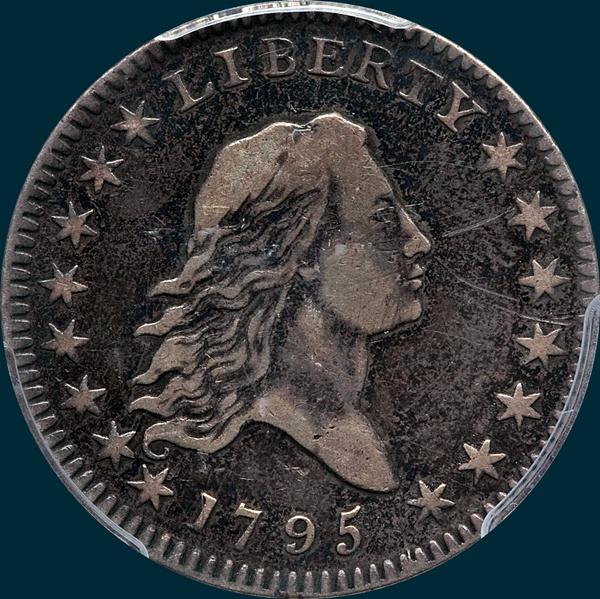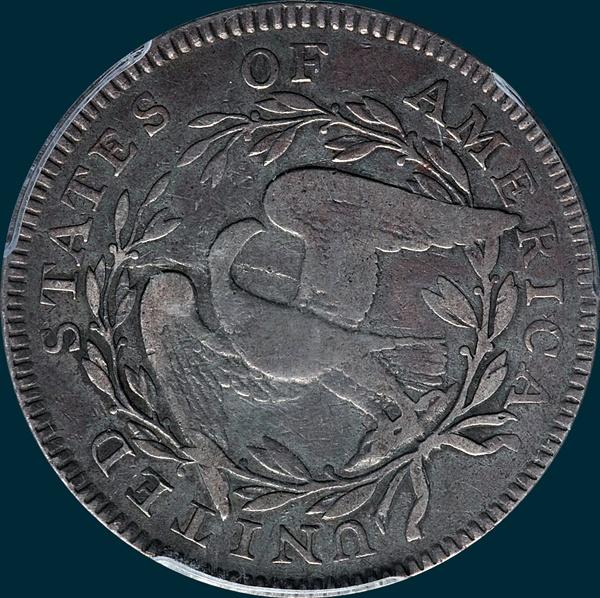 Variety Attribution: Obverse-Obverse-Star 15 is 1 mm. from bust. Curl about 1/2 mm. from 2 upper points of star 1 and 2 inner points of star 2. date is 8 3/4 mm. rather evenly spaced and well centered. R in LIBERTY is higher than E and T. A fine die crack is usually vible from near end of bust to milling, just left of star 15. More die cracks, one from upper edge through E to head. Another from lower edge up through I and lower curls. A third joins stars 9 and 10 then to edge near star 12. Cracks are usually more pronounced than on the O-102a.

Reverse- 19 Berries, 9 left and 10 right, the only such division in 1795. Four berries below right wing, two inside and two outside, one of those outside has no stem and is merely a small bump near stem of leaf. Point of leaf is centered below RI and distant. A die break from edge at I in AMERICA, crosses right wing, neck of eagle and through A in STATES to edge. the center portion of the break from lower edge of right wing to tip of leaf below R1 is very light.
1795 Emission Sequence Number for O-106: 30
Top five condition census coins from last 10 years of auction and sale records:
06/16 Heritage (Long Beach) PCGS VF30
04/19 heritage (CSNS-Chicago) PCGS (S) VF25
08/10 Stack's (Johnson-Blue -Boston) PCGS VF25 (Reiver)
02/18 Heritage (Long Beach) PCGS VF20
01/20 Heritage (Downey MBS 50) PCGS F12 CAC