1824 O-113 R1 Capped Bust Half Dollar
Obverse: 11
Reverse: L
O-113 R1 below, O-113a (Pics needed, and no sales records are known)
Common marriage that is available in all grades up through MS66.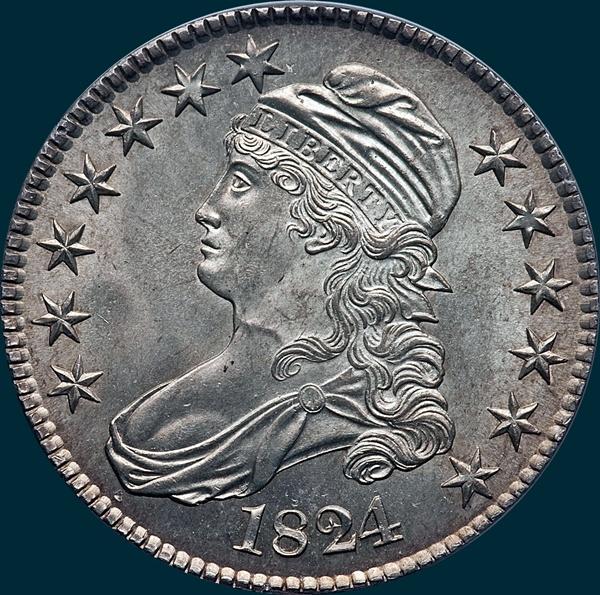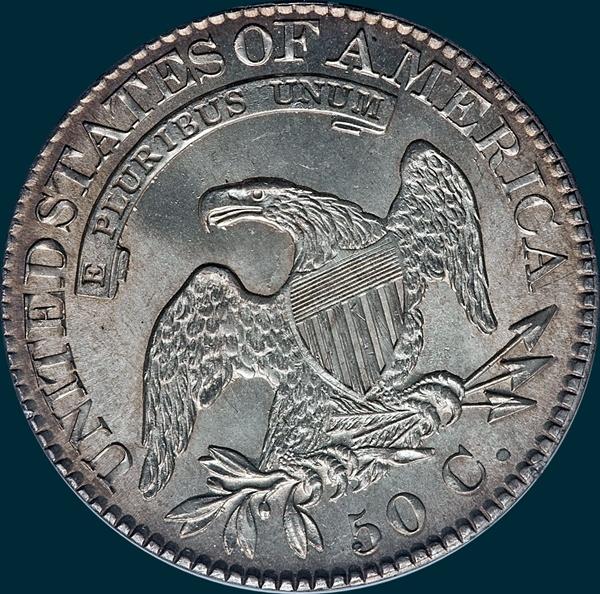 Variety Attribution: Obverse-Star 7 is extra large and point is very close above front of cap. Date is a close 7 1/2 mm. arge and rather high with point of 4 and serif of 2 nearly touching. Mouth is open. Most show a die swelling on neck from curl to front of throat. Prime die state has a die line through upcurl of 2.
O-113: Reverse- 50 C. is 1 3/4 mm. Arrow to A is 1 1/4 mm. A sharp irregular break abive left wing. Very large letters in legend with top of UNITED nearly against milling. RI nearly touch at base and R is lower.
O-113a: Defect above left wing has been removed by lapping of die. (no current records of this exist)

1824 Leaman-Gunnet Emission Sequence Number for O-113: 14
Overall Number: 180
Top five condition census coins from last 10 years of auction and sale records (O-113 prime with die line through 2):
12/17 Legend (Regency XXIV) PCGS MS65
07/10 Private Treaty PCGS MS65
10/16 Heritage (Dallas) PCGS MS64 CAC
10/14 Heritage (New York) PCGS MS64 CAC
01/18 Heritage (FUN-Tampa) NGC MS63 CAC
Top five condition census coins from last 10 years of auction and sale records (O-113):
02/08 Heritage (Long Beach) PCGS MS65
03/07 Heritage (ANA-Charlotte) NGC MS62
03/09 Heritage (Baltimore) NGC MS61
08/11 Heritage (Chicago) NGC MS60 det cleaned
11/13 Heritage (New York) ANACS AU58