1824 O-101 R2 1824/1 Capped Bust Half Dollar
Obverse: 1
Reverse: A
O-101 R2 below, O-101a R2 at bottom

It is likely that the later die state is more scarce than the early state, and both combined equal an R2. There are a few gems at the top of the census along with a decent supply of AU's and other MS grades.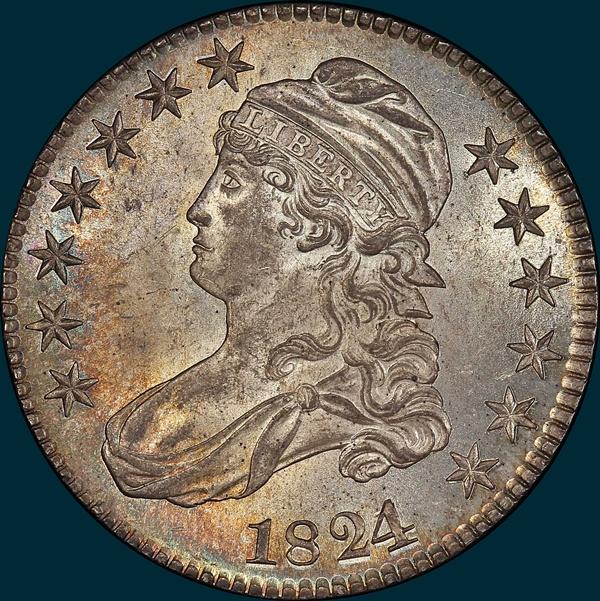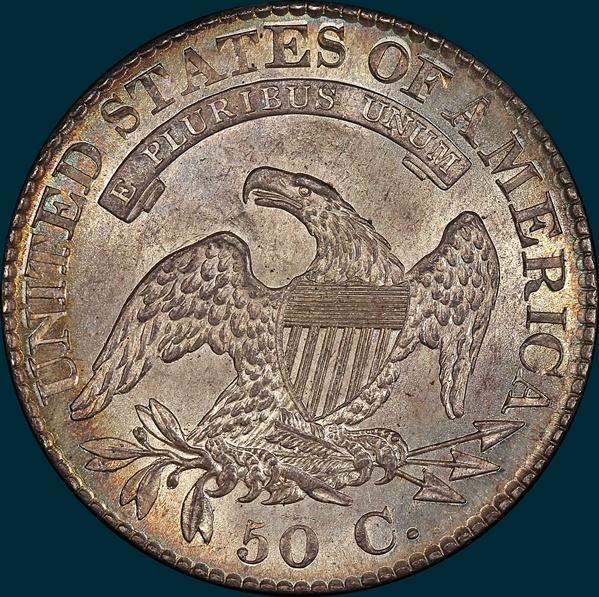 Variety Attribution: Obverse-1824 over 1. 1 shows near top of 4 on each side. Stars large and sharp. Date is a close 7 3/4 mm. with large 4 over 1. Serif of the overcut 1 shows at left and edge of stand at right of the top of 4. 2 and 4 nearly touch and are much closer than 182. This is the only 24 over 1 found, although two other varieties are often mistaken for over 1, but are actually over miscut 4's.

O-101: Reverse- 50 C. is 2 mm. and well centered. Arrow to A is 1/4 mm. Left sides T-I in line. The curved top of 5 is higher than 0. Center dot between crossbars 4 and 5. Top of U higher than N in UNITED.
O-101a: Die crack from edge below U joining top of UNITED. Another top of ERICA and one at top of TES OF A.
Notes:
According to Edgar Souders, he estimates that the projected mintage for this overdate is approximately 412,347. This includes both O-101 and O-102. Get his book Bust Half Fever and read all about overdates and how he came up with the number!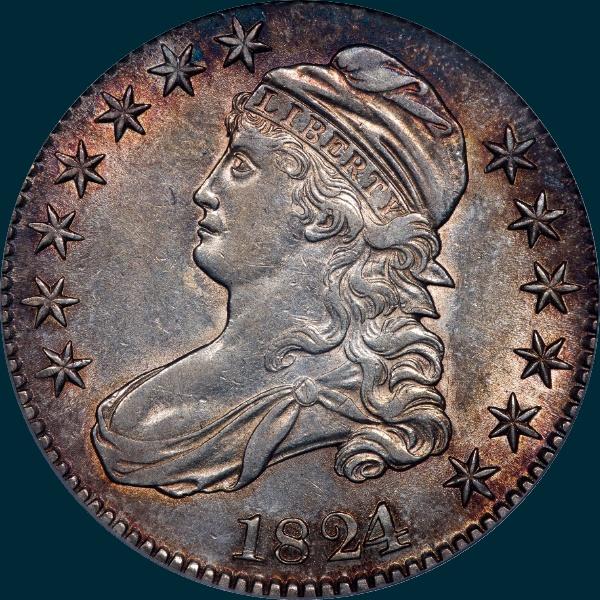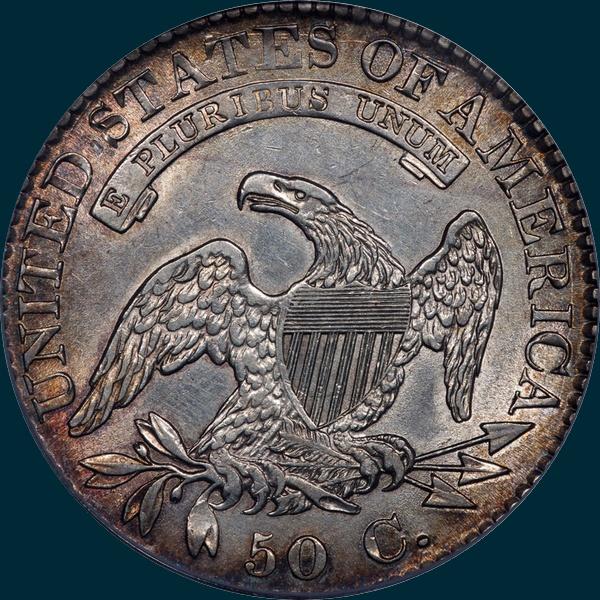 1824 Leaman-Gunnet Emission Sequence Number for O-101: 4
Overall Number: 170
Top five condition census coins from last 10 years of auction and sale records (O-101):

05/16 Legend (Regency XVII-New Orleans) PCGS MS65 CAC
01/16 Stack's-B (Pogue Part 3) PCGS MS65
​​​​​​​09/19 Heritage (Legend Regency XXXIV) PCGS (S) MS64

09/19 Downey MBS 49 PCGS MS64 (Link)
​09/18 Legend (Regency-XXVIII) PCGS MS64+ CAC
Top five condition census coins from last 10 years of auction and sale records (O-101a):
11/10 B&M (Baltimore) NGC MS65
01/17 Heritage (FUN-Lauderdale) NGC MS64+
12/10 Heritage (Houston) NGC MS64
06/10 Heritage (Long Beach) NGC MS64
04/09 Alpine Numismatics FPL PCGS MS64