1834 O-107 R1 Large Date, Small Letters, Capped Bust Half Dollar
Obverse: 7
Reverse: G

A common die marriage, but MS examples do not appear very often on the market, with a group of MS65's that have been out of circulation for 10 years at the top of the census. AU's are readily available.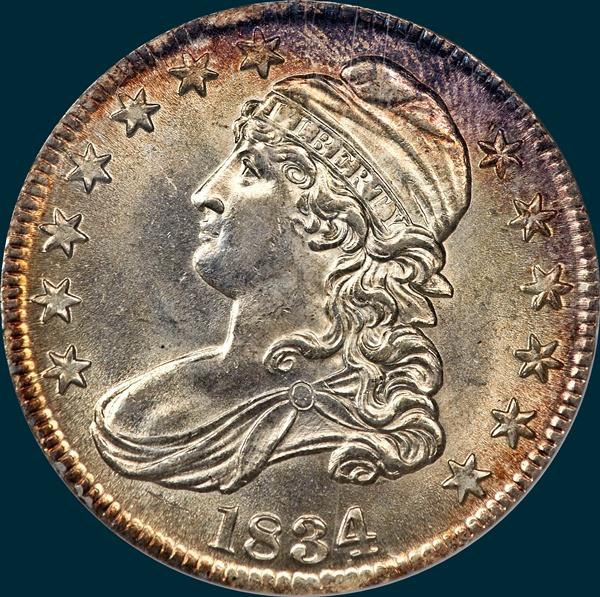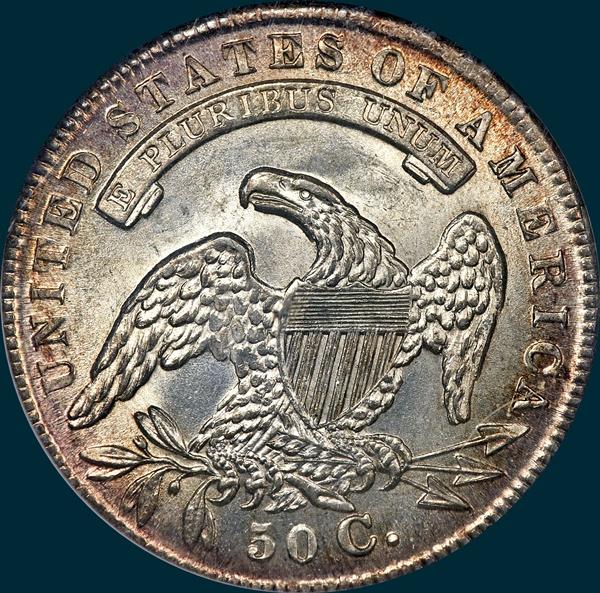 Variety Attribution: Obverse-Stars on left very close to milling. Stars 8 and 13 each 1/2 mm. from cap and curl. Star 10 recut at lowest points. Date is 7 3/4 mm. A thick curled upper lip. There is a small lump die breakin top of I in LIBERTY.
Reverse- 50 C. is 1 mm. and high, with top of C. very close to stem. 5 higher than 0 and tipped sharply to left. Arrow to A is 1/2 mm. I is centered under left side of T.The M in AMERICA appears to have been originally from the same punch as was used on Rev. F (O-106). But now it has been recut with a straighter and heavier stand at left. Part of the thin curved portion of the first cutting is still visible. Many stripe lines penetrate far into crossbars.
1834 Leaman-Gunnet Emission Sequence Number for O-107: 7
Overall Number: 403
Top five condition census coins from last 10 years of auction and sale records:
​12/19 Heritage (Dec Signature) NGC MS65
06/18 Heritage (Long Beach) NGC MS63
03/16 Heritage (ANA-Dallas) NGC MS63
06/20 Heritage (Long Beach) PCGS (S) MS62
08/16 Heritage (ANA-Anaheim) PCGS MS62 Gold CAC