1811 O-107 R4 Small 8 Capped Bust Half Dollar
Obverse: 4 (Second Marriage)
Reverse: E (Second Marriage)
This one does have a decent group of high grade examples including an MS66, but finding problem free examples in lower grades is difficult. This die marriage does boast a quantity of slightly off-center struck examples as well.


PCGS Graded XF45. Struck slightly off center (which I believe several of this marriage have been). Luster very subdued. from Bowers:
This is a very nice piece with fully original toning in a mostly pearl-gray shade. There are also mottled charcoal highlights here and there around the obverse border and, on the same side, more subtle reddish-apricot undertones that come into view at direct angles. The strike is impressively bold for the type, this despite that it is just a tad off center with incomplete denticulation around the rims. Worthy of a solid bid.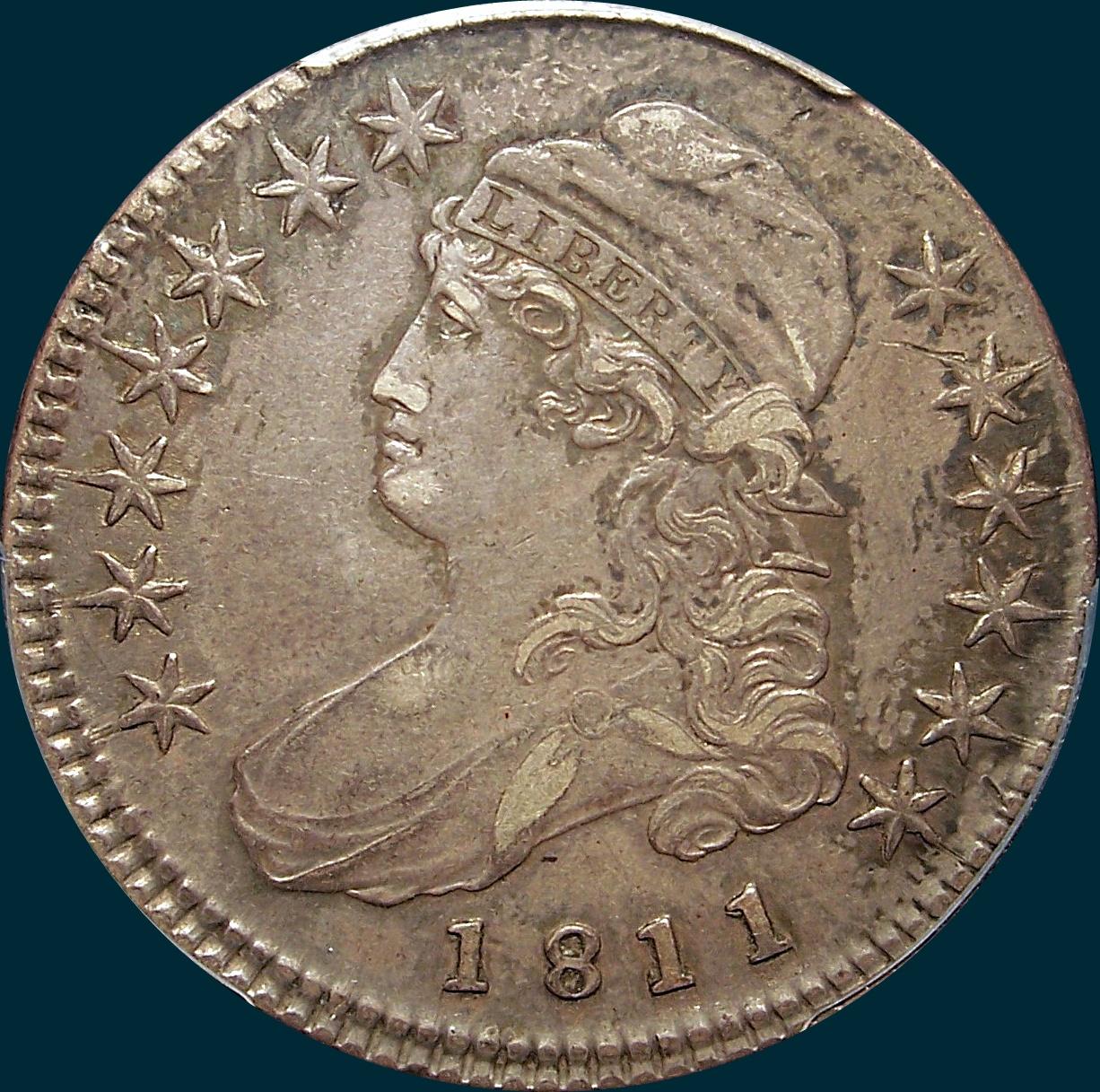 Variety Attribution: Obverse-Stars are large. Star 13 is 1/2 mm. from curl Date is 9 1/2 mm. 81 slightly closer than 18 or 11. Tiny center dot on neck. At this stage the last 1 shows clear recutting at upper serif and the 8 also shows slight recutting. Most specimens show a fine crack from edge to curl between date and star 13.

Reverse-50 C. is 1 3/4 mm. Arrow to A is 3/4 mm. Center dot on crossbar 4. A die line slants down into right wing from crossbar 2. A die crack from edge joins two lower arrowheads and circles ledt across 50 C., olive leaves and legend clear around to AM. Most specimens show die lines in field between eagles neck and left wing. There is an additional crack from edge to tip of left wing. Later die states show other cracks. One from top of shield across eagle's neck into field. Another from edge at ER to right wing. The crack around legend gets sharper and heavier.


1811 Leaman-Gunnet Emission Sequence Number for O-107: 13
Overall Number: 52
Top five condition census coins from last 10 years of auction and sale records:
04/09 Heritage (CSNS-Cincinnati) NGC MS66 (Ex-Kaufman/Eliasberg)
05/17 Legend (Regency 31 Vegas) PCGS MS64+ CAC (former PCGS MS64)
01/09 B&M (Rarities-Orlando) NGC MS63
09/07 Heritage (Long Beach) PCGS MS63
08/16 Stack's-B (ANA-Anaheim) PCGS MS62