1828 O-107 R2, Curl Base Knob 2, Capped Bust Half Dollar
Obverse: 4
Reverse: F (Third Marriage)

O-107 R2 is below, O-107a R7? is at bottom

This is the second marriage for this Type, being more common than the O-106. Though readily available, there is a higher demand, especially since the O-106 is borderline rare. The late die state with a crack through the second 8 in the date is extremely rare. Examples survive problem free in all grades to MS66. This marriage sometimes will command a premium, especially for eye appealing specimens.
PCGS Graded AU55. A truly crusty original from the Mike King collection. Has some "chunks" at the rim below the date to really give it some character. Bowers notes: Deeply toned in charcoal-gray and, on the obverse only, steel-gray patination. There are no outwardly distracting abrasions, and the surfaces actually present as remarkably smooth for having seen light circulation. A sharply defined representative of this scarce die pairing.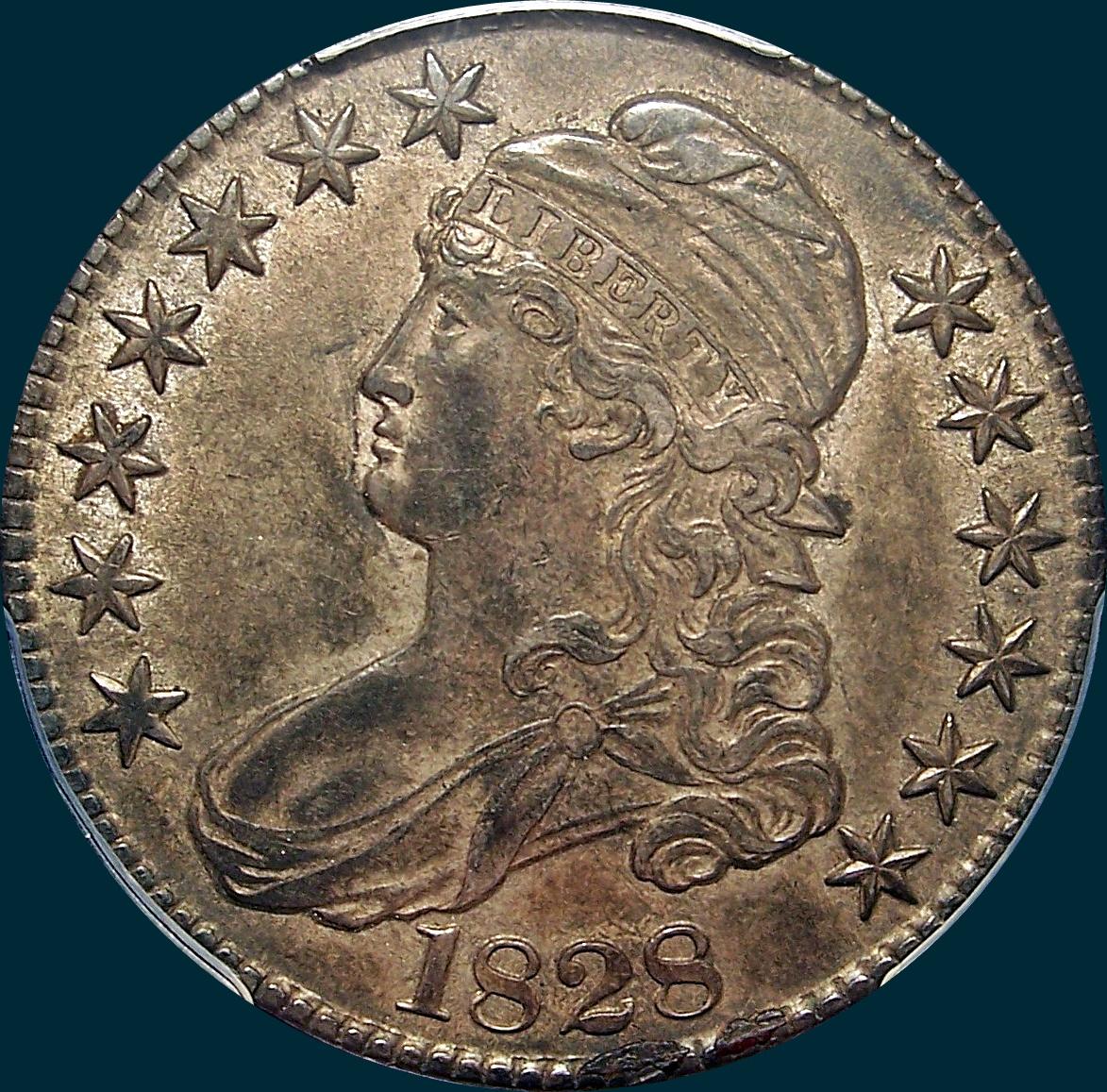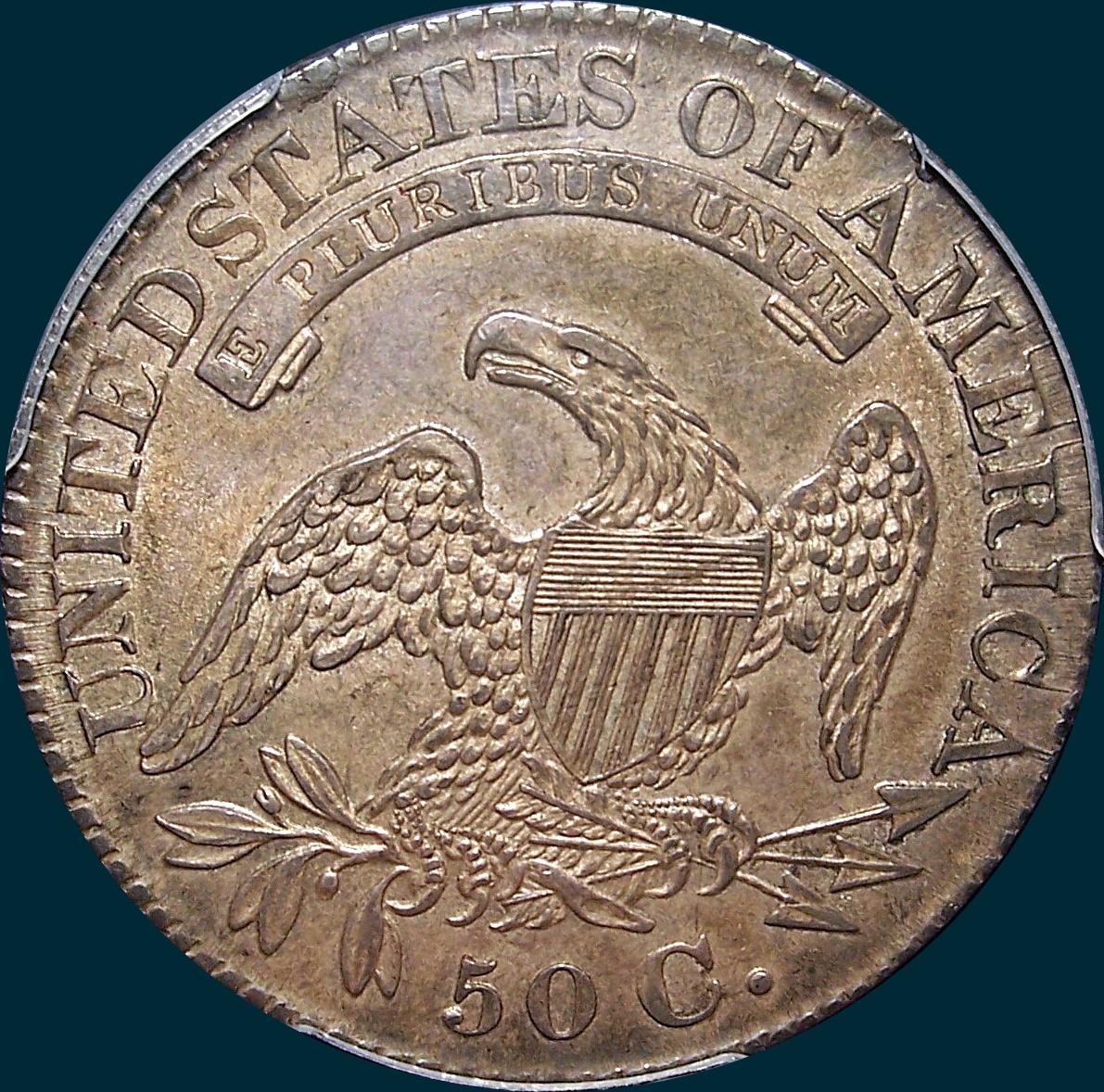 And a couple of shots focusing on the area below the date. These clumps appear to be metal, on top of the milling, and there also appears to be a die line or crack at the tip of the curled base of 2.



Variety Attribution: Obverse-Star 13 is very close to curl. Star 1 is 3/4 mm. from Drapery, serif of 1 only 1/4 mm. from drapery. Date is 8 1/2 mm, with large 8's. A horizontal die line is 2 mm. long in field above cap. Outer point of Star 13 is at the upper half of a dentil, where on O-106 it points in between 2 dentils. See images on the O-106 page.
O-107a: Die crack from milling up through last 8 to curl. Another crack from first crack at lower circle of 8, across end of bust upwardinto field opposite nose. The horizontal die line above cap has been removed.
Reverse- 50 C. is 1 1/4 mm. Arrow to A is 1 1/4 mm. Right side of T, left side of I in line. the center line of stripe 2 and first 2 lines of stripe 6 extend distinctly to crossbar 2. A few other lines penetrate weakly. A fine die crack at top of UNITED. U in UNITED recut and very close, 1/4 mm., to left wing.
Images courtesy of Dennis Villanucci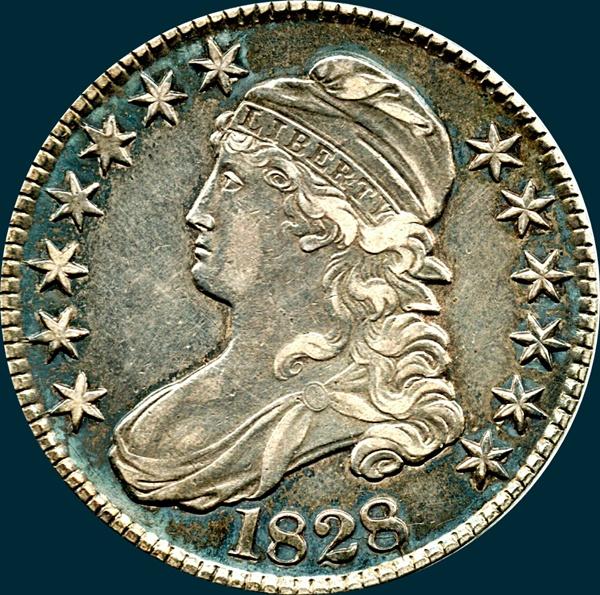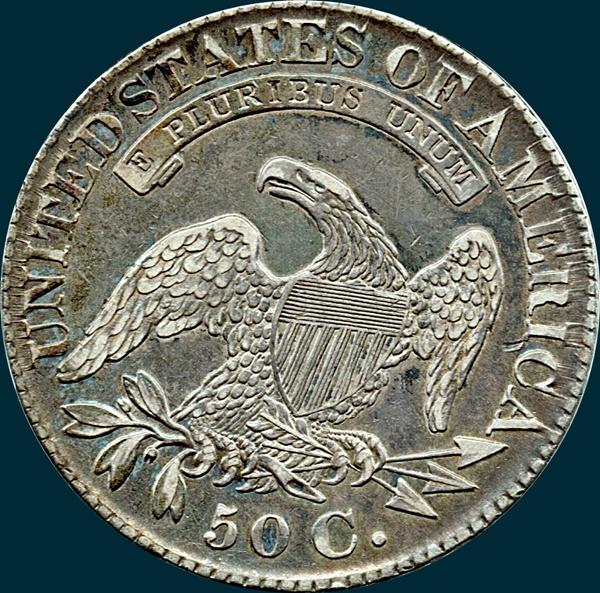 1828 Leaman-Gunnet Emission Sequence Number for O-107: 5
Overall Number: 274
Top five condition census coins from last 10 years of auction and sale records O-107:
01/20 Heritage (FUN-Orlando) PCGS (S) MS65 (Friend)
​09/18 Legend (Regency-XXVIII) PCGS MS65 CAC (Kaufman)
​01/19 Heritage (FUN-Orlando) PCGS MS63
02/17 Heritage (Long Beach) PCGS MS63 (Link)
01/17 Downey MBS 44 PCGS MS63
Top five condition census coins from last 10 years of auction and sale records O-107a:
11/19 Stack's-B (Baltimore) ANACS AU55 (Older holder)
02/18 Heritage (Long Beach) PCGS XF40 det (cleaned)
01/13 Downey FPL F12
No other appearances last 10 years