1807 O-107 R4+ Draped Bust Half Dollar
Obverse: 4 (Second Marriage)
Reverse: E
O-107 R4+ is below, O-107a R4+ is at bottom.

It is likely that they are combined an R4+ with the O-107 and 107a each being an R5, combining to be R4+. By my count though, I see maybe 13 examples. Period! The finest being a cleaned MS60 details example. Both die states hardly ever appear. Going out on a limb, I would not be surprised if this one is an R6!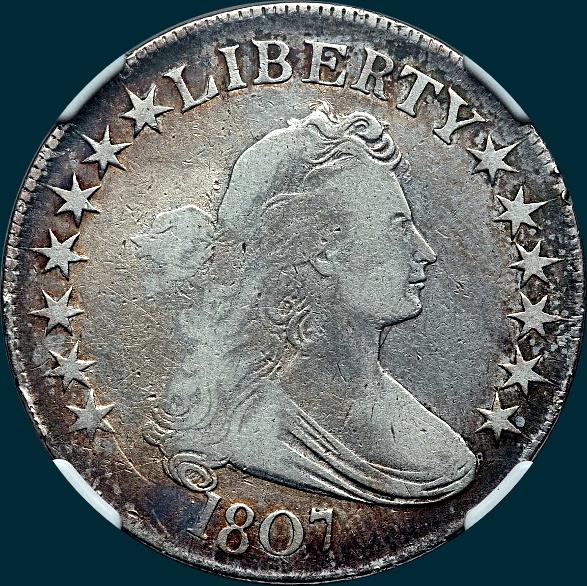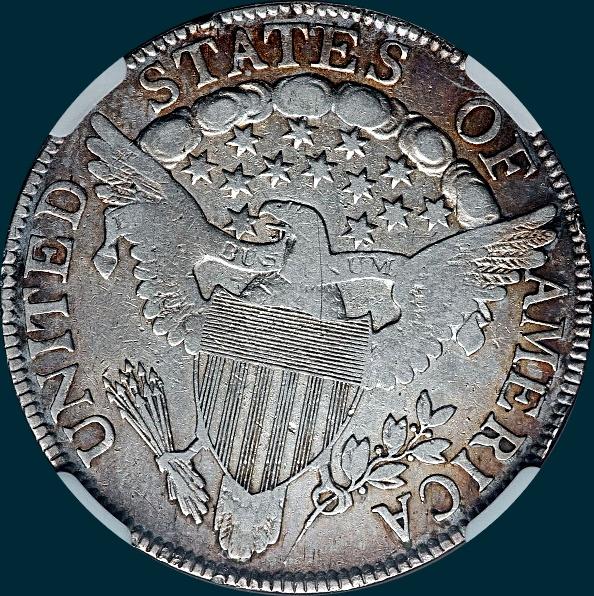 Variety Attribution: Obverse-Close date is 7 1/4 mm., 1 solidly joined to curl and 8 is low. Stars 7 and 13 each are 1/2 mm. from L and bust. In addiction to the die crack joining stars on the left, one joins base of date and to milling at left, a short vertical crack joins the end of same to the extended crack from stars. Another from outer point of star 7 to top of LIB. Still another from B to forward wave of hair.
O-107:
Reverse- 5 berries, the two lowest ones below the branch do not have stems, the other three have stems. Star and beak joined directly at the two points. Leaf points to right end of base of I. AME joined at base and left base of A embedded in third feather. A long die defect line curves downward from end of olive stem to milling just right of tail feathers.
O-107a: Die crack encircling most of the reverse.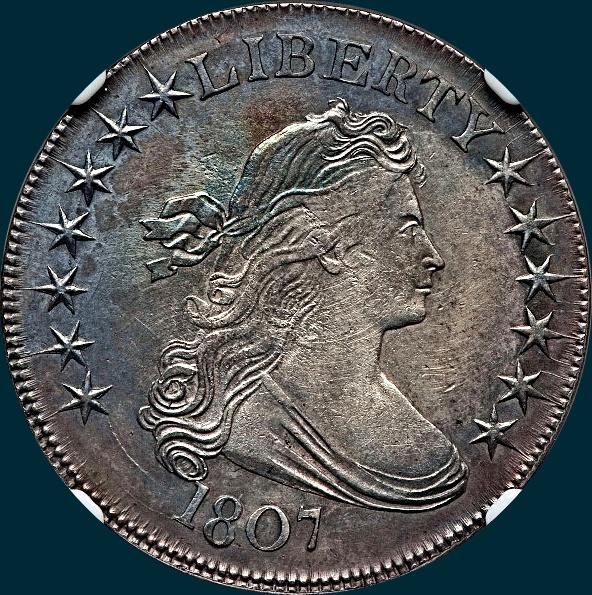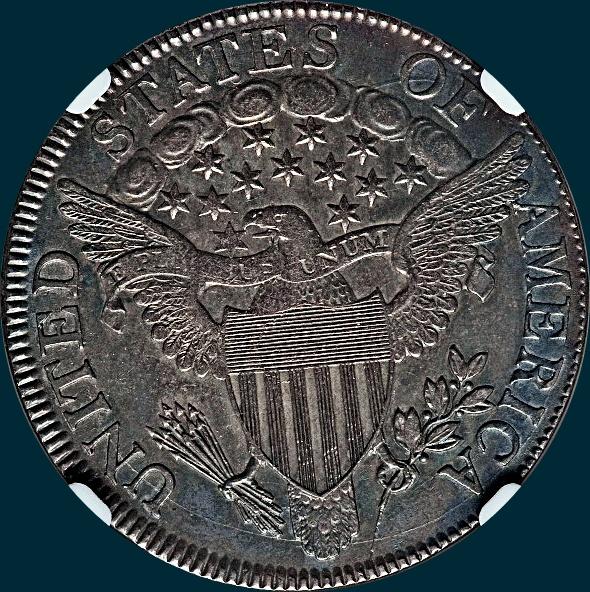 1807 Leaman-Gunnet Emission Sequence Number for O-107: 5
Top five condition census coins from last 10 years of auction and sale records (O-107):
01/13 Downey FPL PCGS F12 (ex Frederick/Meyer)
03/11 Heritage (ANA-Sacratomato) NGC VG08
09/07 Goldberg (Pre-Long Beach) VG08 (few light scratches, tiny edge bruise)
01/06 Heritage (Reiver-Dallas) NGC G04
Top five condition census coins from last 10 years of auction and sale records (O-107a):
06/15 Heritage (Long Beach) PCGS MS60 det (cleaned) (Ex-NGC Unc Det cleaned)
01/08 Heritage (FUN-Orlando) NGC AU55
03/18 Stacks-B (Baltimore) NGC AU Det (Cleaned, Sutton Court)
04/19 Heritage (CSNS-Chicago) NGC VF25
11/19 Stack's-B (Baltimore) PCGS (S) G04