1827 O-103 R4 7 over 6 Capped Bust Half Dollar
Obverse: 1 (Third Marriage)
Reverse: C (Third Marriage (Used on 1827 on O-119, and in 1826 on O-103)

This marriage is rather tough but can be cherried from someone who does not spot it as an overdate. Though there are some higher grade examples, it does not appear often and many have problems.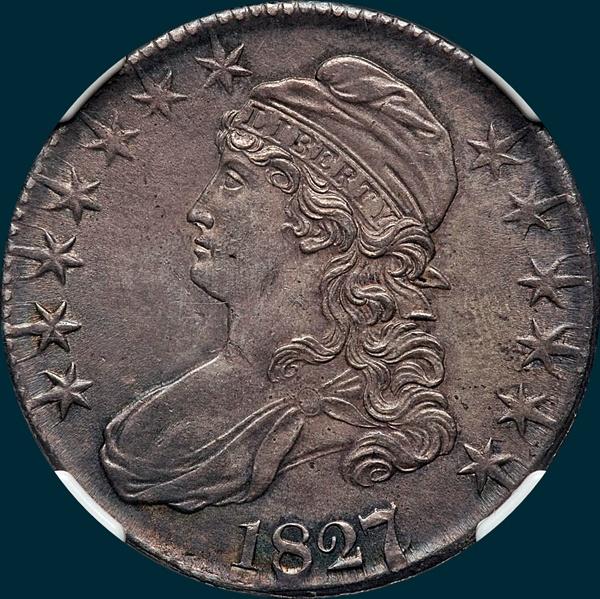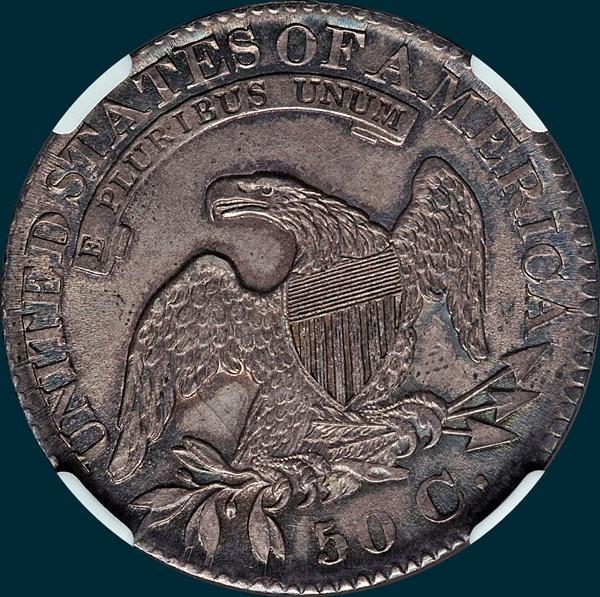 Variety Attribution: Obverse- 1827/6. Stars are mostly sharp and slightly drawn to edge. Date is 8 mm.and low. Traces of 6 are visible on each side of the stand of 7, at under side of crossbar and upper right serif of 7. 8 and 7 are also joined to rim. Mouth appears a bit more open.A small portion of the curved top of the 6 shows distinctly at top center of the crossbar of 7. There is a trace of milling.
Reverse- 50 C. is 1 1/2 mm. rather low, with a large C. and the 5 shows recutting at upright. Arrow to A is 1/2 mm. Right side I centered under T.. Line 1 of stripe 2 is solid to second crossbar and center line of stripe 4 is visible to crossbar 4.
Notes:
According to Edgar Souders, he estimates that the projected mintage for this overdate is approximately 350,642. Get his book Bust Half Fever and read all about overdates and how he came up with the number! The varieties that this number includes are O-101, O-102, and O-103.
1827 Leaman-Gunnet Emission Sequence Number for O-103: 6
Overall Number: 227
Top five condition census coins from last 10 years of auction and sale records:
01/17 Heritage (FUN-Lauderdale) NGC MS66 (former PCGS MS64 CAC)
02/16 Heritage (Long Beach) PCGS MS64
08/11 Downey FPL (ANA-Solomon) PCGS MS64
08/18 Heritage (ANA-Philly) PCGS MS63 CAC

01/18 Downey MBS 46 (FUN-Tampa) PCGS MS63 CAC (Hilgard, Prouty, Graham)