1823 O-111 R2 Capped Bust Half Dollar
Obverse: 9
Reverse: J

O-111 R3 is below, O-111a R2 at bottom

O-111's are known for their double profiles. This marriage may be a bit tough above XF, but there is a decent group of MS examples including a few MS65's. Problem free AU's do not appear very frequently.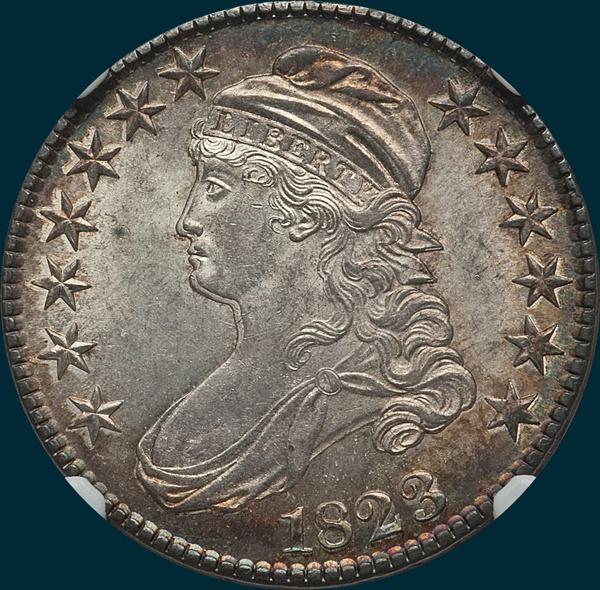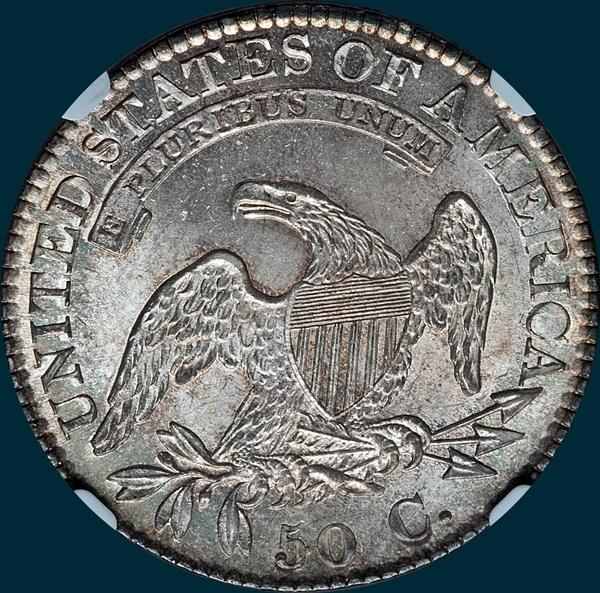 Variety Attribution: Obverse-Star 7 has a small spike protruding left from the lower point. Date is 8 mm., large and well formed, with the 23 larger and lower than 18.

O-111a: There is a die crack beginning at first four stars, gradually extends to milling by star 5 and down across bust to 1. Later states also show a crack from star 9 down across curls to 18. The small die line at star 7 is not visible on some in this later die state.

Reverse- 50C is 2 mm. 5 has a curved top and is higher than 0. Arrowheads are close. Arrow to A just miss touching, There is a fine straight die line across inside of C. I centered under left side of T.

O-111a: There are two die cracks beginning near A2 encircling the reverse, crossing below the lowest pair of leaves and thence to the milling.

PCGS Graded AU58. Antique gray coating of toning, with minimal wear. Luster is subdued. Neat double profile.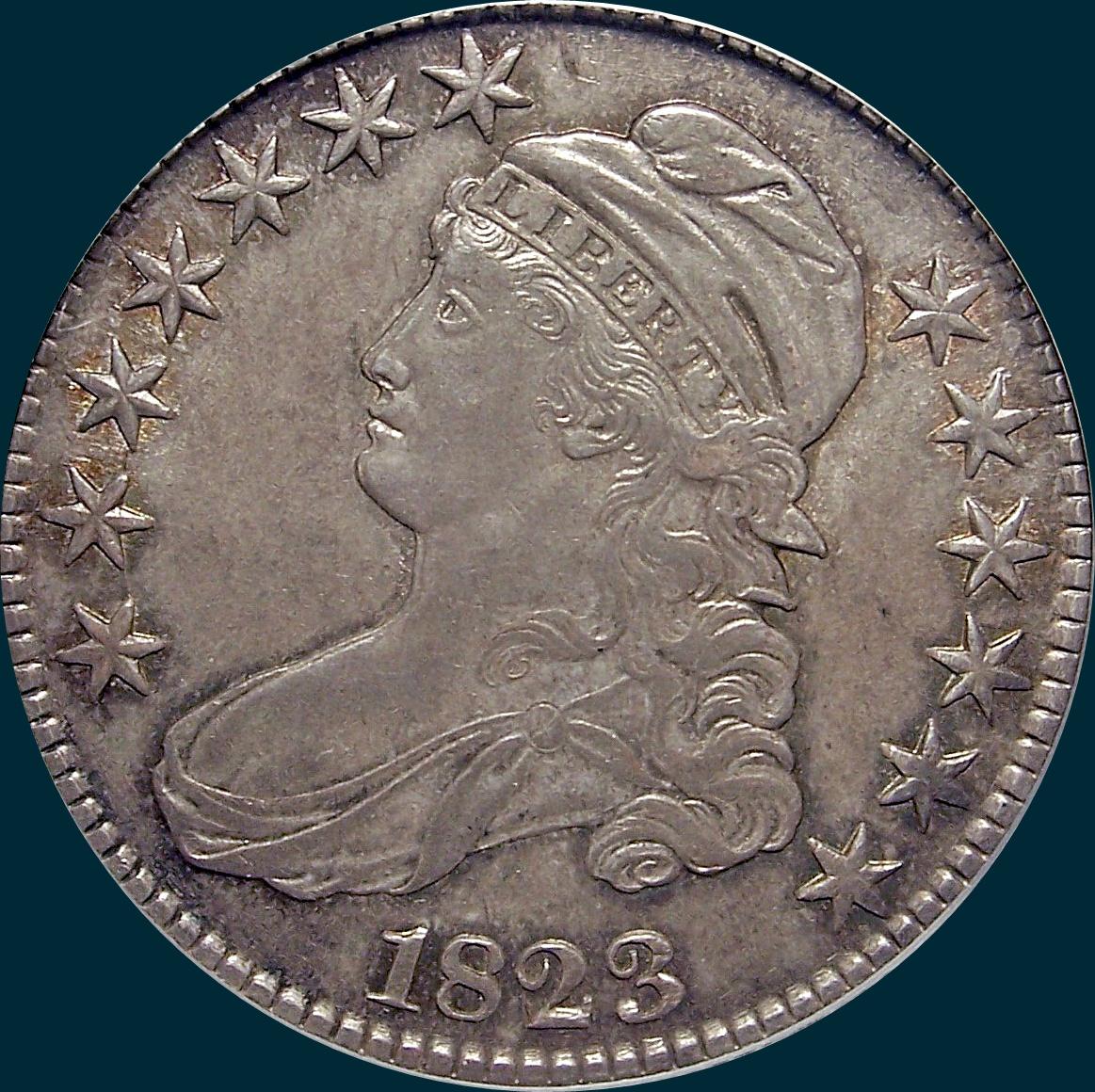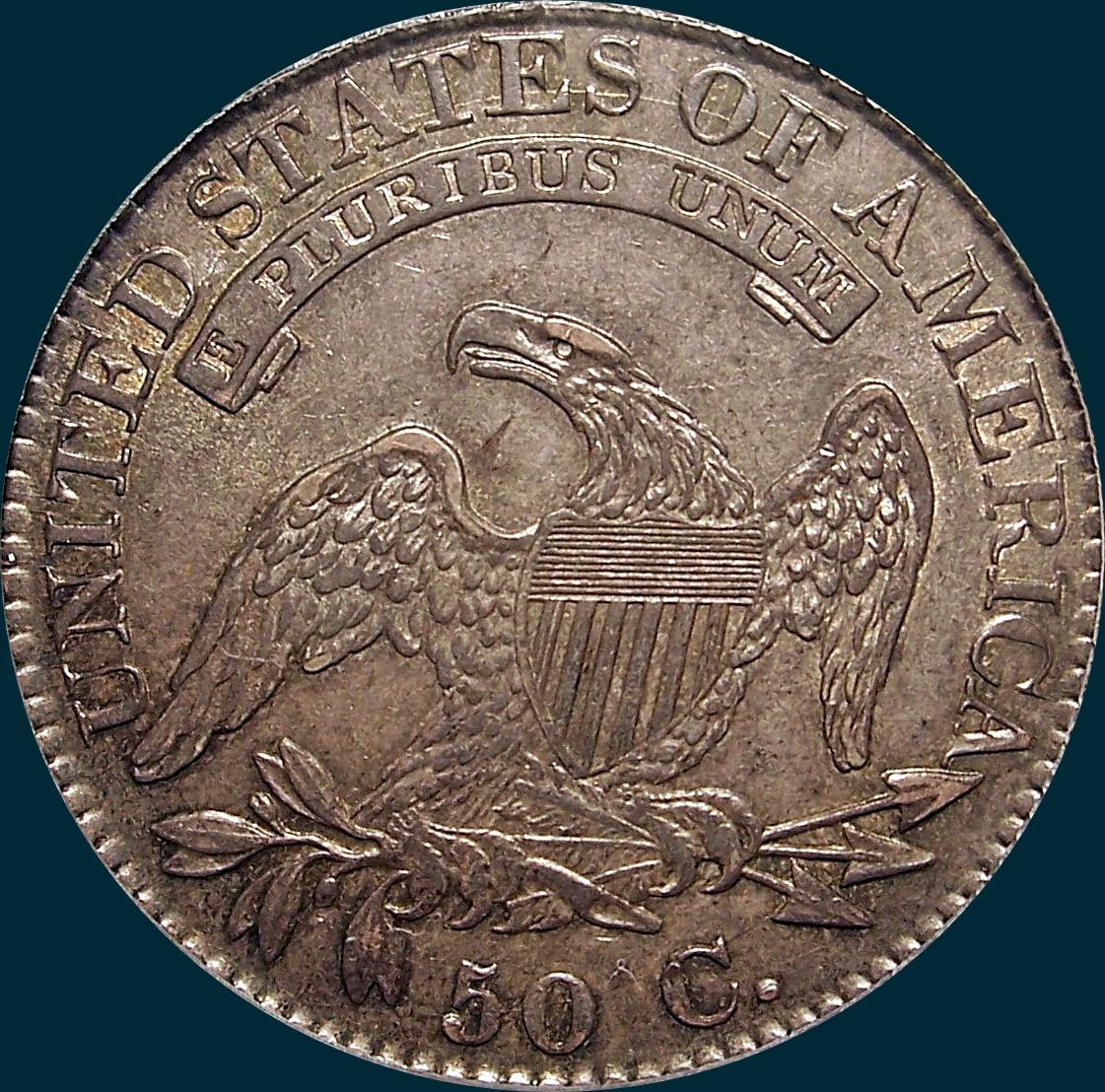 1823 Leaman-Gunnet Emission Sequence Number for O-111: 9
Overall Number: 162
Top five condition census coins from last 10 years of auction and sale records O-111:
06/08 Heritage (FUN-W. Palm beach) NGC MS65
​​​​​​​12/19 Heritage (Dec Signature) PCGS (S) MS64+ CAC
11/13 Heritage (Newman) NGC MS64+
01/08 Heritage (FUN-Orlando) NGC MS64
08/19 Heritage (ANA-Chicago) NGC MS63
Top five condition census coins from last 10 years of auction and sale records O-111a:
​​​​​​​07/19 Heritage (FUN-Orlando) PCGS (S) MS64+ CAC
06/14 Heritage (Long Beach) PCGS MS64 CAC
07/16 Heritage (FUN-Orlando) PCGS MS63
03/18 Stacks-B (Baltimore) PCGS MS62
08/16 Stack's-B (ANA-Anaheim) PCGS AU58