1812 O-110 R1 Capped Bust Half Dollar
Obverse: 8
Reverse: I
O-110 R1 (Prime) is below, O-110a R1 is middle, and O-110b (Single Leaf) R6 is at bottom.
The O-110 in its prime state is a pretty common die marriage, yet the 110 seems to appear far less frequently than the R1 rating suggests. The cherry so to speak, is the 110b single leaf, which there may be only 12 or so known examples. The single leaf is a Redbook variety and as such atracks more than just Bust Half collectors.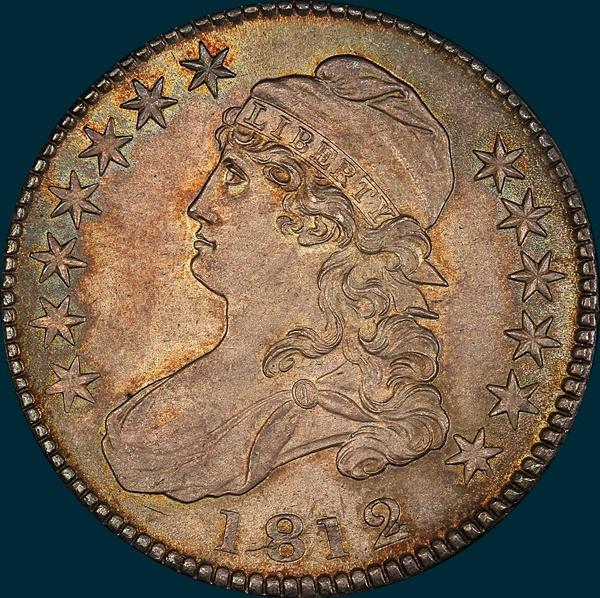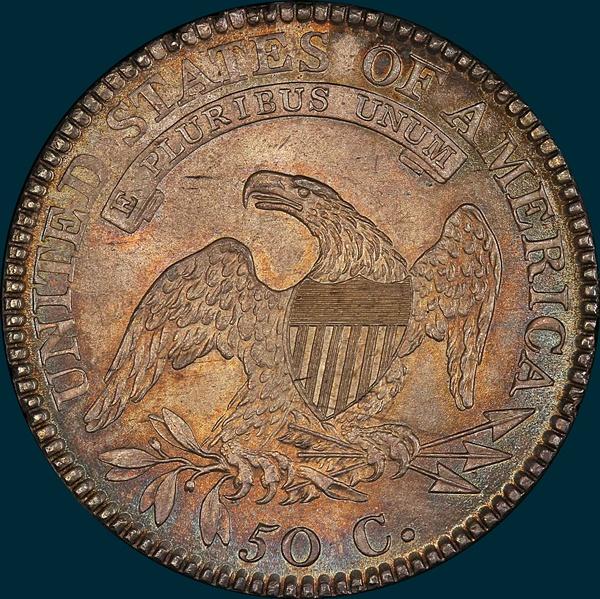 Variety Attribution O-110: Date is 9 1/4 mm. 81 much closer than 18 and 12, and second 1 slants more to left than other figures. A horizontal bar below end of bust is faint but visible on most specimens. Some show a fine vertical crack from milling crossing this bar and into drapery.
O-110a: Some late die state specimens show all stars drawn to edge and light milling.
O-110b: Die crack from edge, 3 mm left of first one in date, extends into drapery 5 mm where it expands into two cracks, one right in drapery and one left, crossing bosoms. Lapping lines show in field between bust and date and behind cap. Liberty partially obliterated by lapping.


O-110: Reverse- 50 C. is 2 mm. and set low. Arrowheads separated. Arrow to A is alightly over 1/2 mm. ME nearly touch at base. Left of I under left of T. Small center dot between crossbars 4 and 5.

O-110a: Die crack from milling below olive leaves alone base of UNITED STAT then to scroll later extending to edge at R in AMERICA. Late states show light milling.
O-110b: The die has been lapped removing all but a short tip of the lower leaf of the upper pair. Tail feathers are goine as well as almost all feathers along right side of the shield. upper two arrow shafts are separated from the claws by 2-3 mm. End of olive stem missing.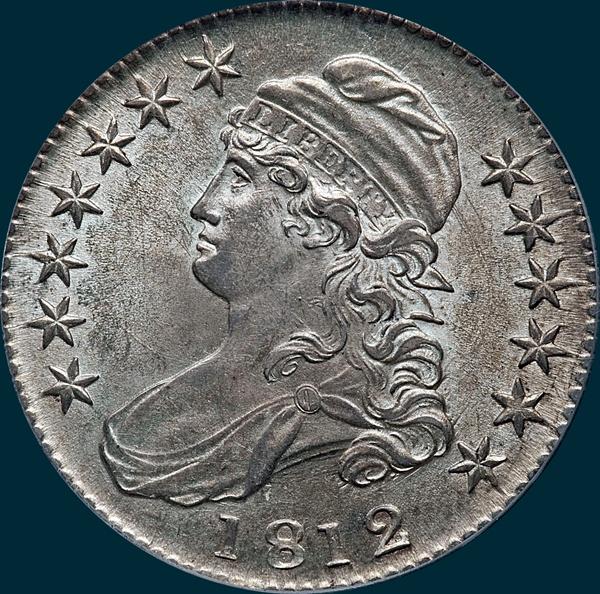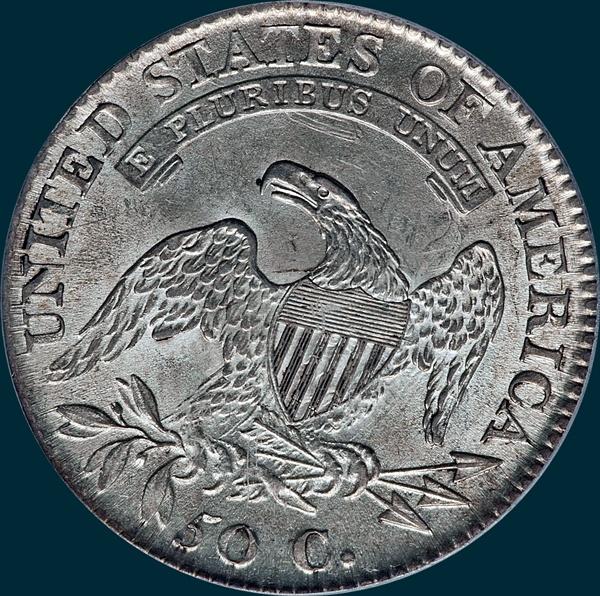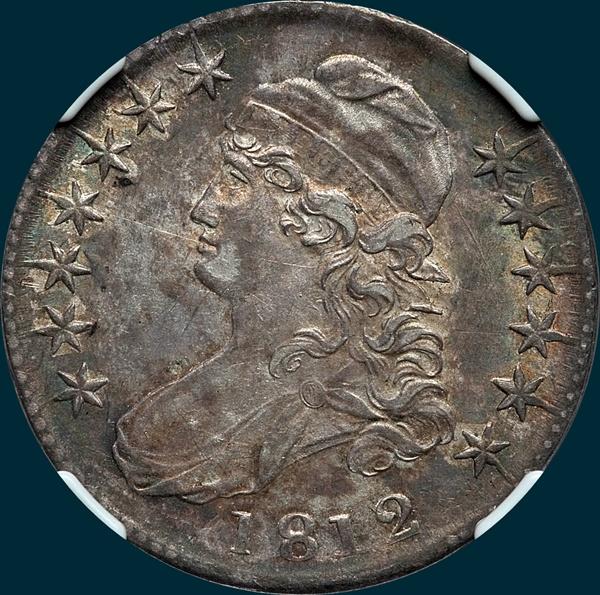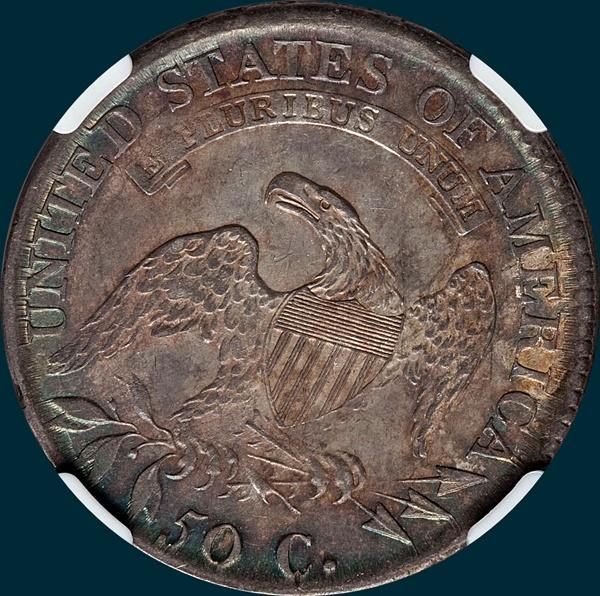 1812 Leaman-Gunnet Emission Sequence Number for O-110: 3
Overall Number: 55
Top five condition census coins from last 10 years of auction and sale records (O-110):
09/15 Stack's-B (Pogue Part II) PCGS MS67 (Eliasberg)
09/18 Goldberg (Pre-Long Beach) NGC MS66
11/18 Heritage (Dallas) PCGS (S) MS64+
​08/18 Downey MBS47 (ANA-Philly) PCGS MS64 CAC (Cape Cod)
03/12 Heritage (New York) PCGS MS64
Top five condition census coins from last 10 years of auction and sale records (O-110a):
08/16 Stack's-B (ANA-Anaheim) NGC MS65
06/10 Heritage (Long Beach) NGC MS64
01/11 Heritage (FUN-Tampa) PCGS MS62
​​​​​​​01/19 Heritage (FUN-Orlando) NGC AU58
05/12 Heritage (Long Beach) NGC AU58
Top five condition census coins from last 10 years of auction and sale records (O-110b-Single Leaf):
02/18 Heritage (Long Beach) PCGS AU53 (Former NGC AU55)
08/18 Downey MBS47 (ANA-Philly) NGC VF35
11/19 Stack's-B (Baltimore) PCGS (S) VF25
01/18 Heritage (FUN-Tampa) PCGS VF25
01/20 Heritage (Downey MBS 50) PCGS VF details Damaged