1834 O-103 R2 Large Date, Large Letters Capped Bust Half Dollar
Obverse: 3
Reverse: C

A common die marriage with examples available up to MS65.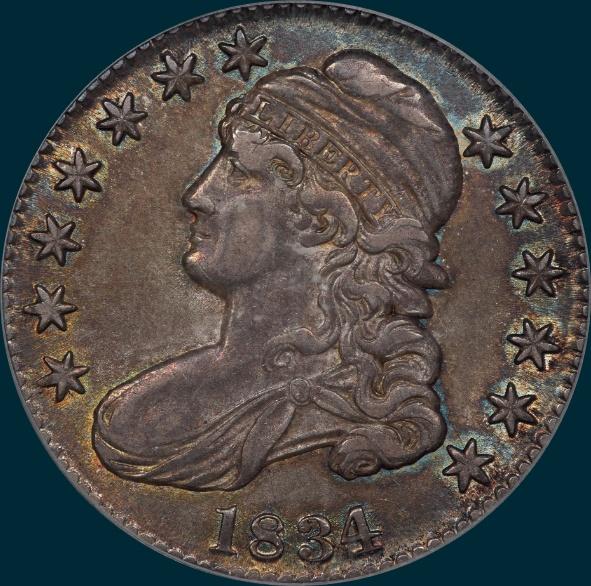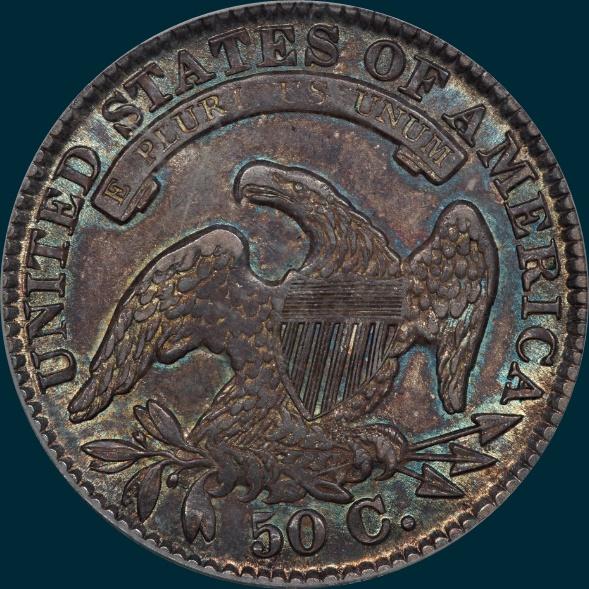 Variety Attribution: Obverse-Stars are sharp and star 8 only 1/4 mm. from cap. Date is 7 3/4 mm. and low. with a tall slender and open 3. 1 is much higher than8 and 34 is closer than 183. mouth is firmly closed.
Reverse- 50 C. is 1 1/4 mm. and high. The C only about 1/4 mm. from end of olive stem. 50 i svery close, about 1/4 mm. and the large slender 5 is higher than 0 and tipped more to left. Arrow to A is 1/2 mm. Ledt side of T and right side of I in line. The eagle's left tail feather completely crosses all three olive leaf stems.
1834 Leaman-Gunnet Emission Sequence Number for O-103: 2
Overall Number: 398
Top five condition census coins from last 10 years of auction and sale records:

04/15 Heritage (CSNS-Chicago) NGC MS65+

11/13 Hertiage (Newman) NGC MS65 CAC

03/10 Heritage (Ft Worth) NGC MS65

11/13 Hertiage (Newman) NGC MS64+

06/11 Heritage (Long Beach) PCGS MS64