1813 O-108 R2 Capped Bust Half Dollar
Obverse: 6
Reverse G
O-108 R3 is Below, O-108a R2 is at Bottom
Another somewhat difficult die marriage to obtain in higher grades. It seems to pop up in bursts then not appear again for a long time. There may only be a very small handful of mint state examples and relatively few AU's surviving, with a couple MS63's being at the top.
Only 6 AU examples have surfaced for the O-108 die state the past 10 years, with just 2 MS examples appearing.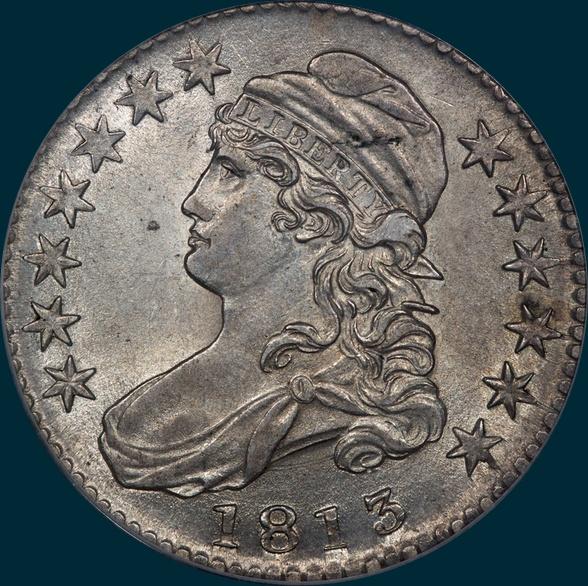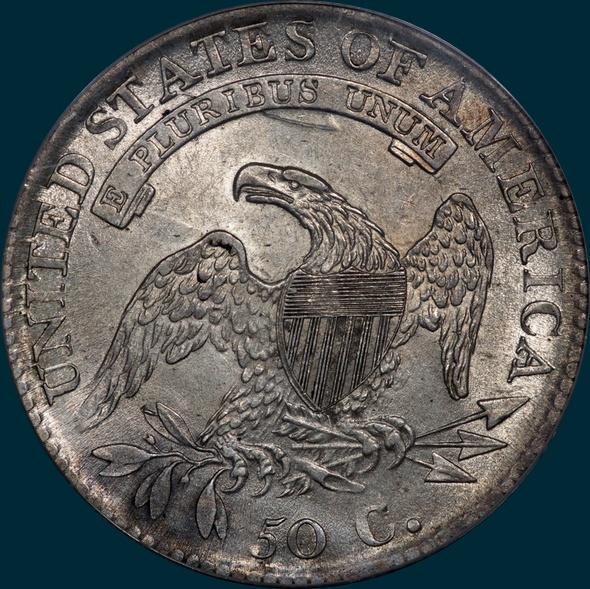 Variety Attribution: Obverse-Stars are usually part to all flat. Milling narrow and often incomplete. Many specimens of this and the following variety show rim damage in minting, especially on the reverse and adjacent to AMERICA. Date is 9 3/4 mm with a broad 8 and the second 1 lower than the other figures. Tiny center dot.

O-108a: There are obverse die cracks, left of date joining all stars on left, and another fine crack through 813 to star 13.

Reverse-50 C. is 1 3/4 mm. Arrow to A is 3/4 mm. A large center dot fills the space between crossbars 4 and 5. AM are separated and level at bases. D-D and T-I are in line at their right sides.

PCGS Graded AU55. From Sheridan Downey Mail Bid 37, Ex Steve Nomura collection. As he describes:
The last in a nice run of high grade 1813's. This example features even, original, medium grey toning, somewhat lighter than the plate suggests. The distinct double profile is a reasonably common feature on 1813's. This is a handsome coin with luster and subtle iridescence coalescing to enhance the eye appeal.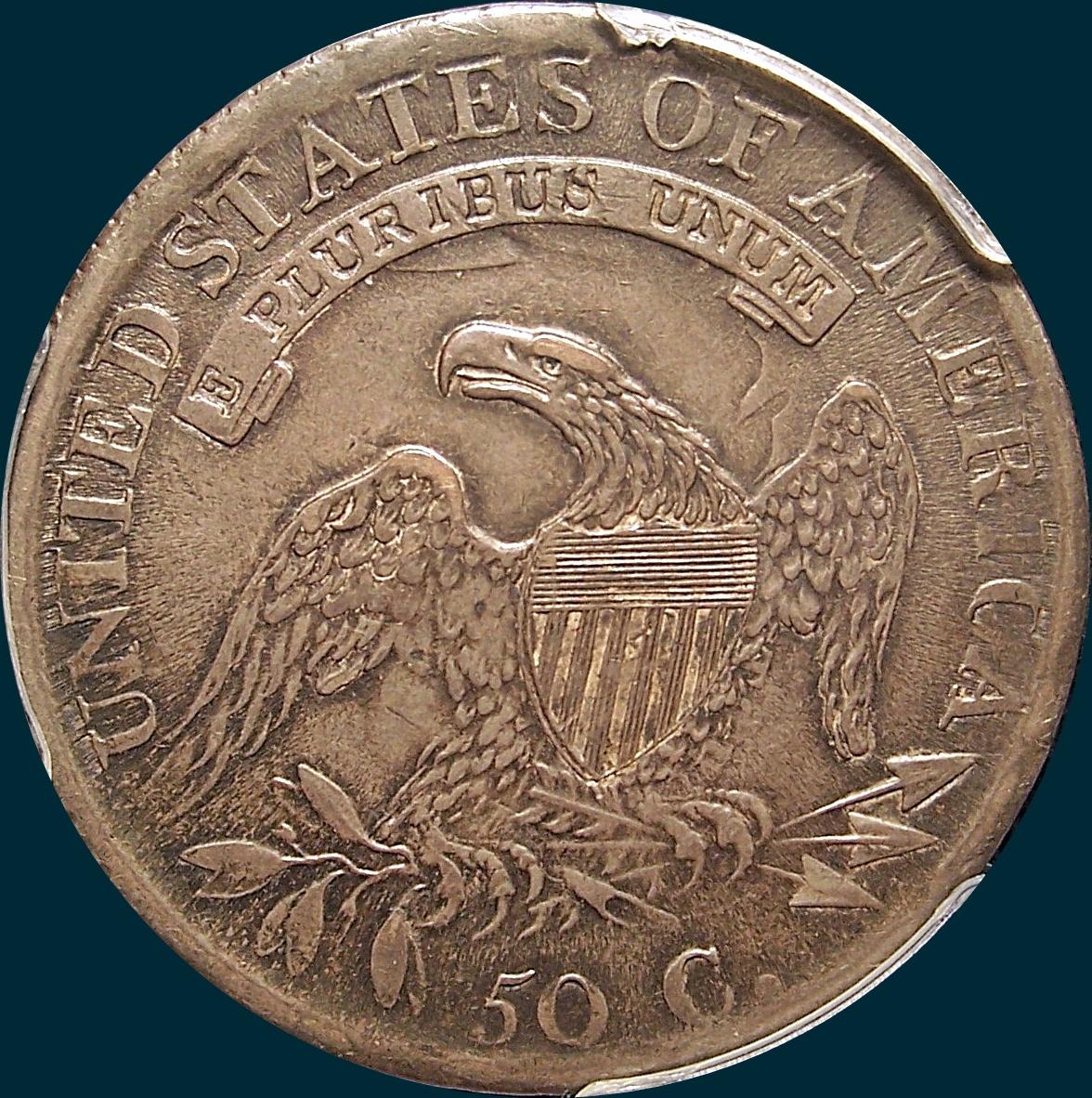 1813 Leaman-Gunnet Emission Sequence Number for O-108: 5
Overall Number: 67
Top five condition census coins from last 10 years of auction and sale records O-108:
06/20 Heritage (Long Beach) NGC MS63 (former NGC MS61 fattie)
06/16 Heritage (Long Beach) PCGS MS62
02/18 Heritage (Long Beach) PCGS AU58
09/17 Downey FPL PCGS AU58
01/15 Downey MBS 40 (Davignon-FUN) PCGS AU58 CAC
Top five condition census coins from last 10 years of auction and sale records O-108a:
08/16 Heritage (ANA-Anaheim) PCGS MS64
04/10 Alpine Numismatics FPL PCGS MS63
05/16 Goldberg (Pre-Long Beach) PCGS MS62
08/17 Heritage (ANA-Denver) PCGS AU55
01/17 Downey MBS 44 PCGS AU55 CAC