1806 O-114 R4 Draped Bust Half Dollar
Obverse: 9
Reverse: J
TY/TY
O-114 R5 below, O-114a R4 at bottom

Tougher die marriage with a prominent TY recut, which is the first of several die pairings with this obverse die. Neat die break on the later die state's reverse. There are 3-4 MS examples as well as a handful of AU's available. The finest being an MS63 in each die state.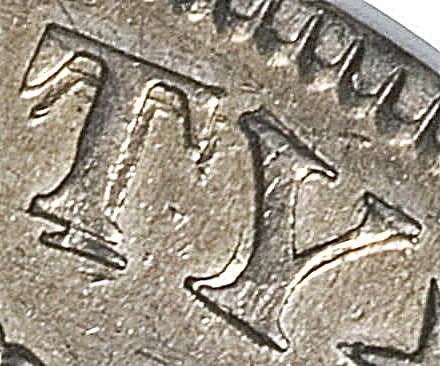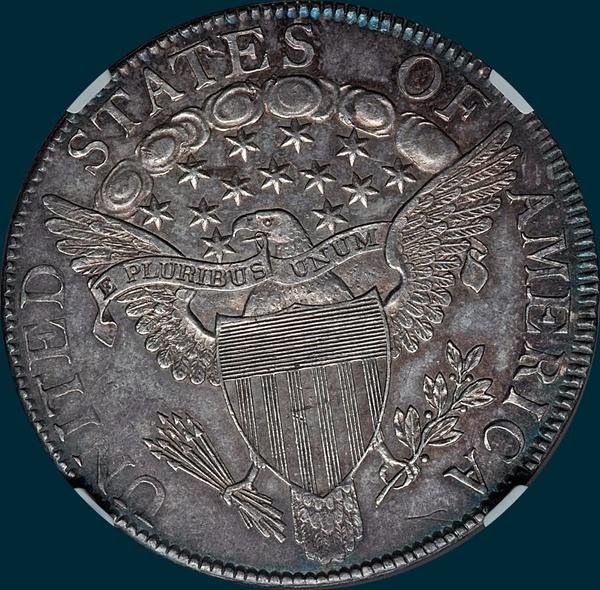 Variety Attribution: Obverse-Stars are large with sharp points. S7 is 1 1/4 mm. from base of L. Star 8 is slightly over 1/2 mm. from top of Y. Date large, a close 8 mm. and high, 1 nearly touches curl and there is a small lump die defect just right of the tip of 6. T is broadly recut, with serifs, stand and base of first T showing clearly. Y shows recutting at both upper serifs and along left side. There is a center dot in hair below and to left of ear.

O-114: Reverse-5 berries, 3 are below the branch and the lowest one has a short stem, middle one touches leaf above upper one has a thick stem. Leaf points toward right base of I and about 1/2 mm. distant. Lower right serif of F missing. Letters of legend large and close to milling, ME very close at base. Star point attached to point of eagles beak.

O-114a: There is a heavy die crack from milling opposite second feather of left wing crosses entire reverse and through E in AMERICA to edge. Another crack from at left wing tip through D in UNITED and into field.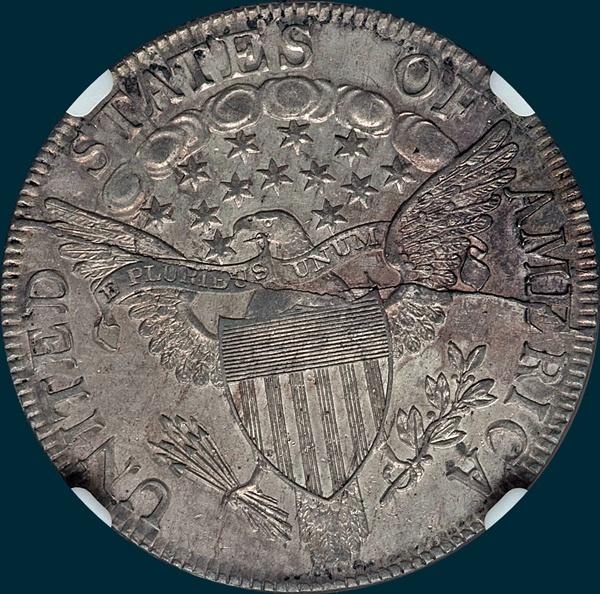 1806 Leaman-Gunnet Emission Sequence Number for O-114: 16
Top five condition census coins from last 10 years of auction and sale records (O-114):
01/15 Heritage (FUN-Orlando) NGC MS63
01/17 Heritage (FUN-Ft Lauderdale) NGC AU55
​03/18 Stacks-B (Baltimore) NGC AU Det (Cleaned, Sutton Court)
01/10 Heritage (FUN-Orlando) PCGS AU50 det (altered surfaces)
01/20 Heritage (FUN-Orlando) PCGS (S) XF40
Top five condition census coins from last 10 years of auction and sale records (O-114a):
11/13 Heritage (Newman) PCGS MS63
08/09 B&M (ANA-Los Angeles) NGC MS62
01/13 Heritage (FUN-Orlando) PCGS AU53
06/10 Stacks (Slade-Baltimore) PCGS AU53
01/11 Heritage (FUN-Tampa) ANACS AU50