1834 O-111 R1 Small Date, Small Letters Capped Bust Half Dollar
Obverse: 10
Reverse: K
Child's head variety.

Common marriage with several high grade examples leading the census.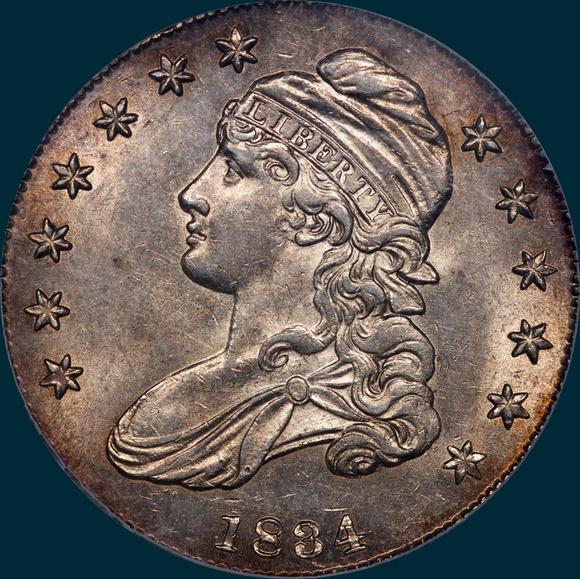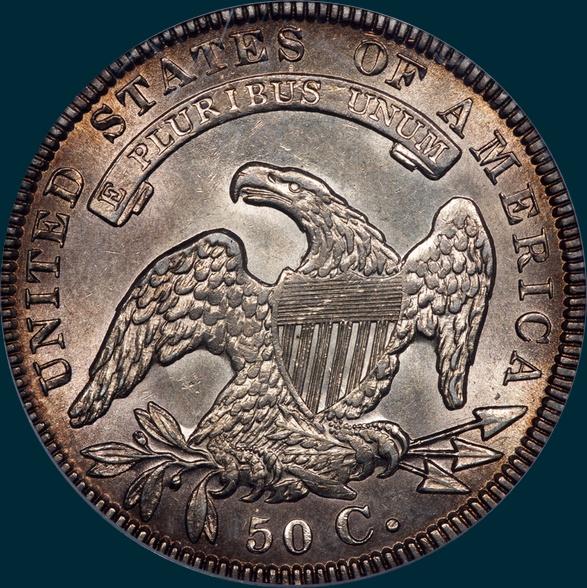 Variety Attribution: Obverse-Stars are small, sharp and distant from milling.. Stars 6, and 7 are recut at upper points. Date is 6 3/4 mm. sharply struck, and low. 18 leans to right and 34 leans to left giving a caved in appearance to the top of the date. The face is noticeable for its round cheeked, wide-eyed appearance. Mouth is slightly open.
Reverse- 50 C. is 1 1/4 mm. and high, with top of C. only 1/4 mm. from stem. The well formed 5 is considerably higher than 0. Arrow to A is 1 1/4 mm. I is under right side of T. A defect line usually visible through lower part of stripe 4. line 3 of stripe 3 and lines 1 and 2 of stripe 6 extend to crossbar 2. Second T in states is cocked to the left.
1834 Leaman-Gunnet Emission Sequence Number for O-111: 14
Top five condition census coins from last 10 years of auction and sale records:
04/09 Heritage (CSNS-Cincinnati) NGC MS66
05/19 Legend (Regency 32) PCGS (S) MS64 CAC
09/16 Heritage (Long Beach) PCGS MS64
08/16 Downey MBS 43 (ANA-Anaheim) PCGS MS64
11/13 Heritage (Newman) NGC MS64 CAC