1795 O-115 R5 Flowing Hair Half Dollar
Obverse: 8
Reverse: L

Tnis one is likely a true R5 with but a single MS example and 3 AU examples in the condition census, though all three of the AU's have issues of some sort. Very tough above Fine.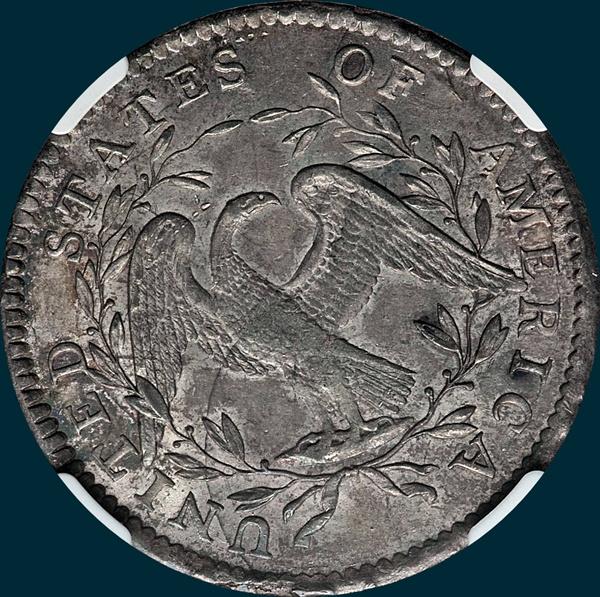 1795 Emission Sequence Number for O-115: 10

Variety Attribution: Obverse-Star 1 extends entirely through a tight lower curl. Star 2 touches second curl above end. Star 15 1/4 mm. from end of bust. Date is 8 3/4 mm., well centered and evenly spaced. On all observed specimens a rough lumpy die break below star 1, runs up between milling and stars on left. Some show a faint crack at top of LIBERTY. Star 6 shows signs of recutting.

Reverse- 16 Berries, 8 left and 8 right. Four berries below right wing, three above and one below wreath. Leaf solidly attached to left base of D. Base of E in AMERICA joined to wing tip. AM joined at base. point of leaf below right base of R. A curved die defect is to right of OF. A fine die crack joins letters of MERICA at top.

Top five condition census coins from last 10 years of auction and sale records :
10/12 Heritage (ANA-Dallas) NGC MS62
​01/19 Heritage (FUN-Orlando) PCGS (S) AU55 (Friend)
03/10 B&M (Baltimore) PCGS AU55 not sold (Extensive adjustment marks)
04/20 Heritage (CNST-Dallas) PCGS (S) AU53 (adj marks obv)
08/10 Heritage (Witham-Boston) PCGS XF45 (Meyer)