1811 O-103 R3 Large 8 Capped Bust Half Dollar
Obverse: 2
Reverse: B
O-103 R3 at top (Die crack must go all the way to through the clasp from the edge through 1), O-103a R3 at bottom

Somewhat tougher in grades over XF, but mainly because this is one of only two Overon varieties that represent the Large 8 type for 1811. There are a couple of gems at the top of the census and problem free examples can be obtained with patience in any grade.

PCGS Graded XF45. Former ANACS XF45. Cool heavily toned dove gray coin. I think that the luster has been toned-out. Intermediate Die state so I am listing it as an O-103. The necessary crack only goes from the edge to the upper serif of 1. A multitude of die clashes are present.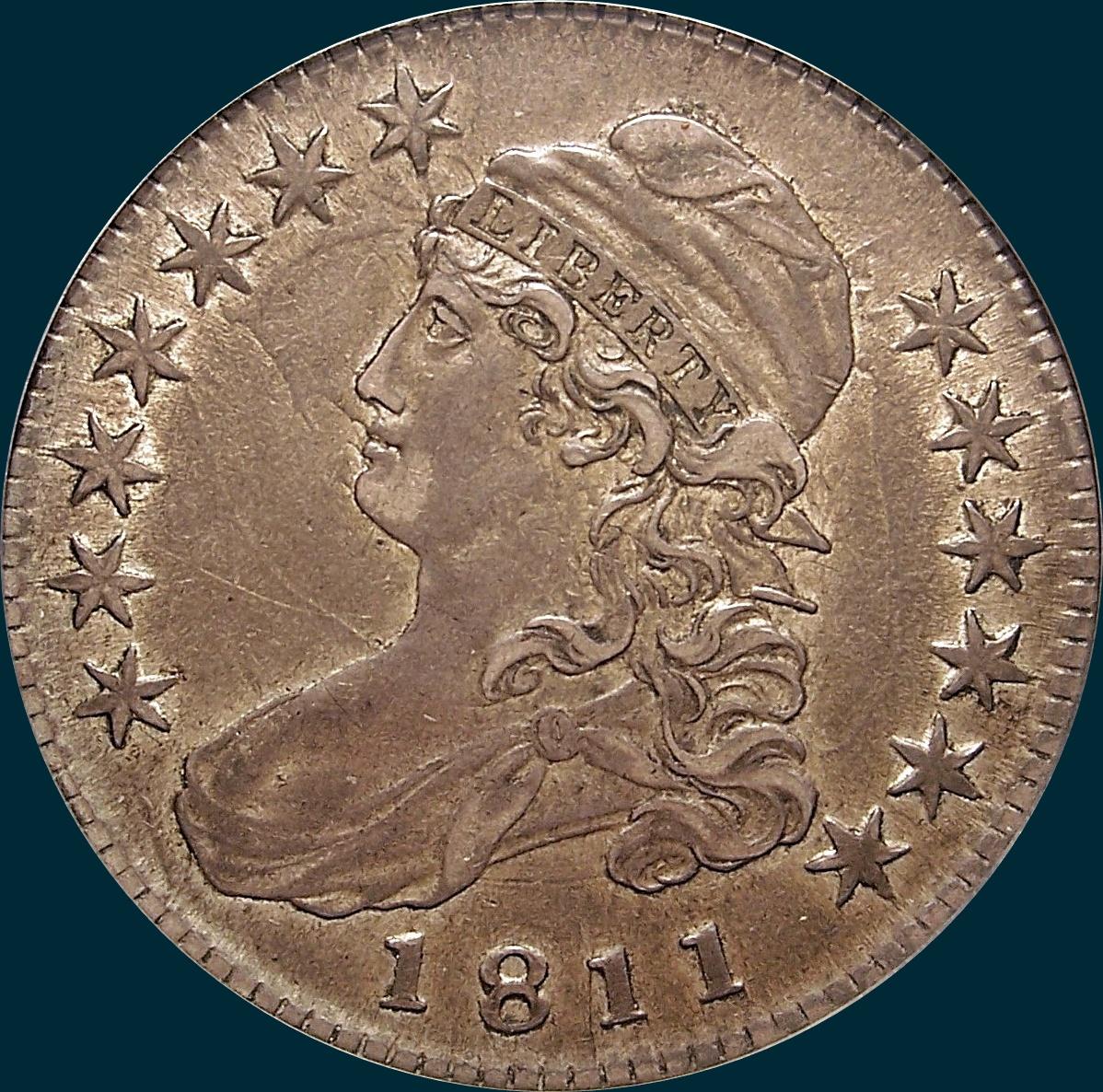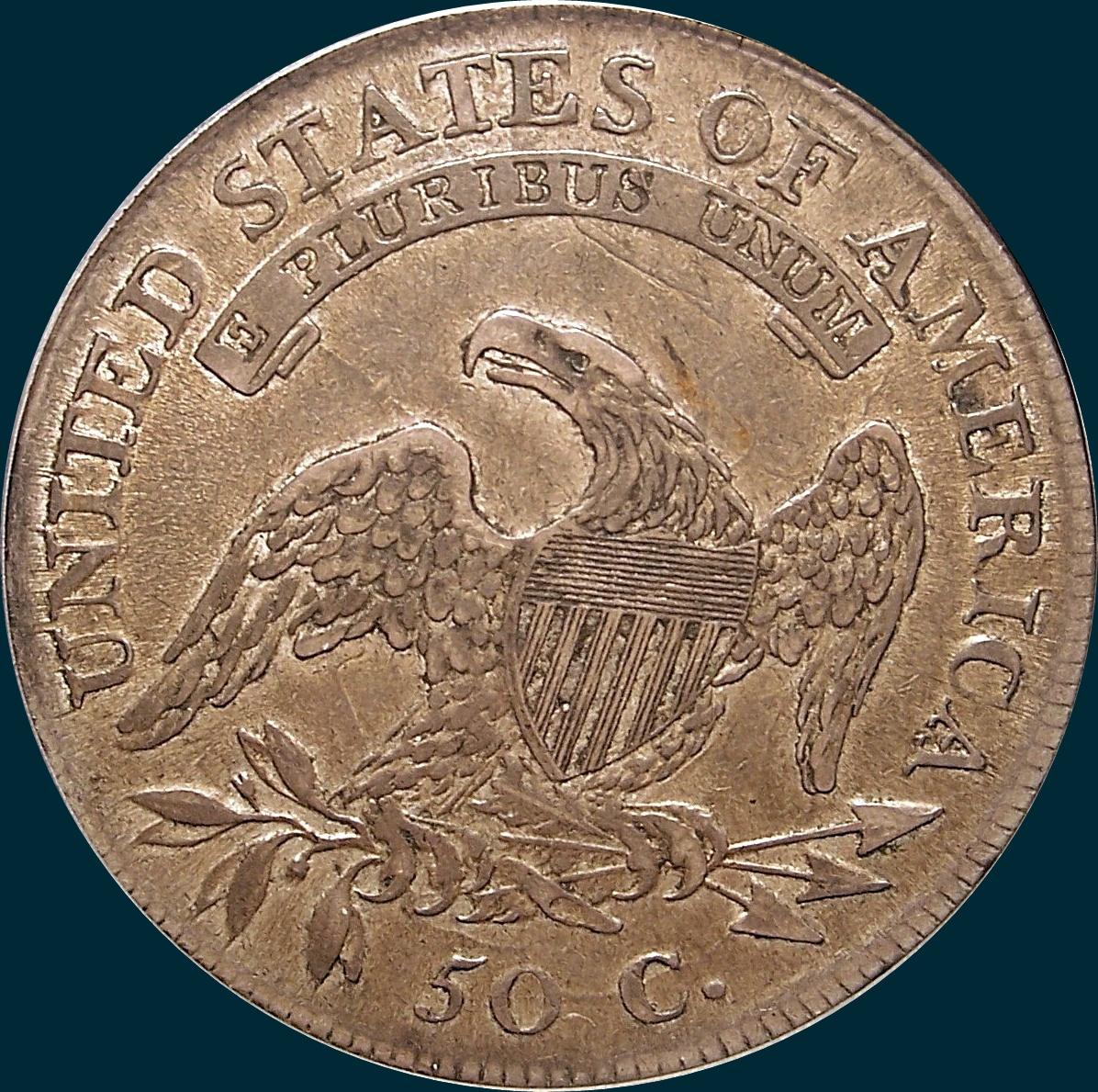 Variety Attribution: Obverse- Stars are large. Star 13 is 1/2 mm. from curl. There are fine die lines from milling below end of bust. Date is 9 3/4 mm. and pretty well centered. A tiny sharp center dot on neck. This variety exhibits many clash marks on both the obverse and reverse.
O-103a: There is a sharp vertical die crack from milling that runs up along the left side of the second 1, touching the upper serif and up across clasp in deapery to curl and ear.

Reverse-50. C. is 1 3/4 mm. Center dot between crossbars 4 and 5. Arrowheads flat and separated. Arrow to A is 3/4 mm. I under right side of T. Besides the lines from crossbars 1 and 3, there is a small spike from right corner of shield.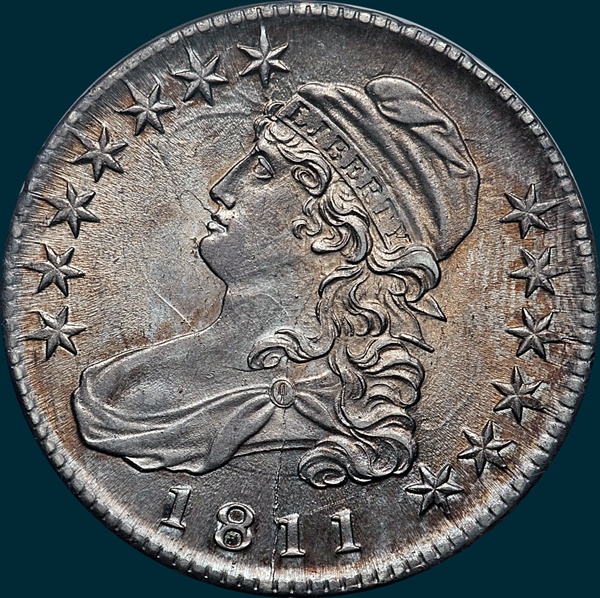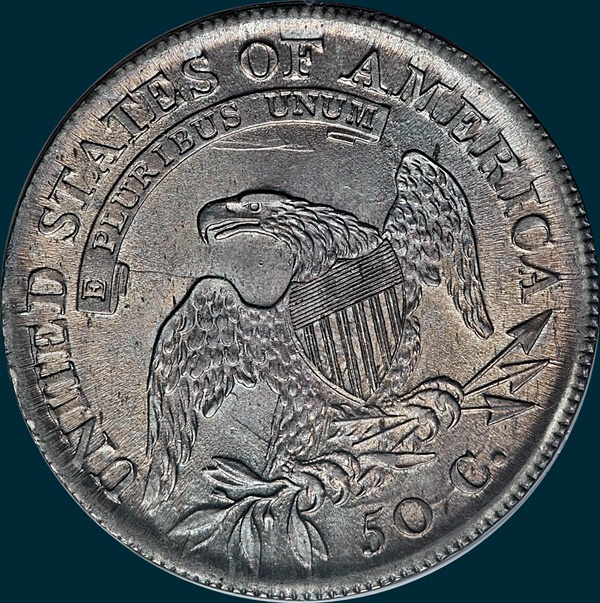 1811 Leaman-Gunnet Emission Sequence Number for O-101: 5
Overall Number: 44
Top five condition census coins from last 10 years of auction and sale records (O-103):
09/18 Legend (Regency-XXVIII) PCGS MS64 (Link)
08/15 Downey MBS 41 PCGS MS63
11/13 Heritage (Newman) NGC MS63
07/08 B&M (Rarities-Baltimore PCGS MS62
09/10 Heritage (Long Beach) PCGS MS60 Details
Top five condition census coins from last 10 years of auction and sale records (O-103a):
10/08 Heritage (Dallas) NGC MS66 (ex-PCGS Rattler MS63)
09/09 Alpine Numismatics FPL PCGS MS63
08/16 Heritage (ANA-Anaheim) PCGS MS62 CAC
08/11 Heritage (Chicago) PCGS MS62
04/18 Heritage (CSNS Chicago) PCGS AU58