1806 O-115 R1 (Prime) Draped Bust Half Dollar
Obverse: 9 (Second Marriage)
Reverse: K (Also used on O-130, which is Unique. It is unknown whether O-130 was struck prior to O-115 or not)
O-115 Prime R? die state is below (regular O-115 has cracks and is R1), O-115a R2 is at bottom. There are several high grade specimens reported with an MS65 as finest. Look for eye appealing problem free examples if you can.

Prime state without obverse cracks: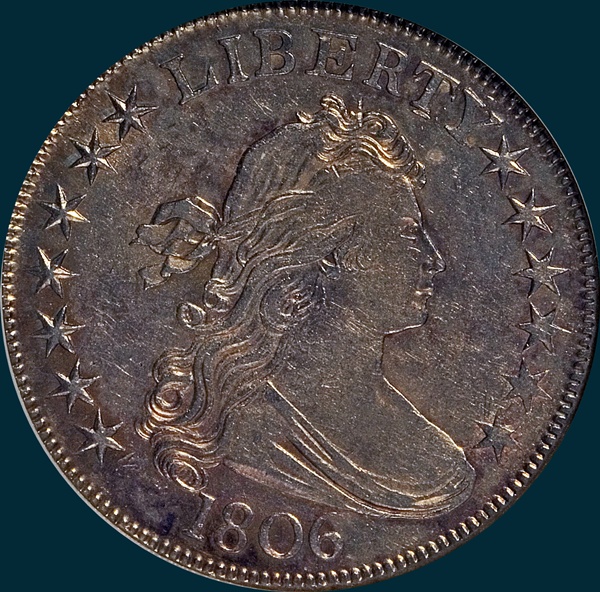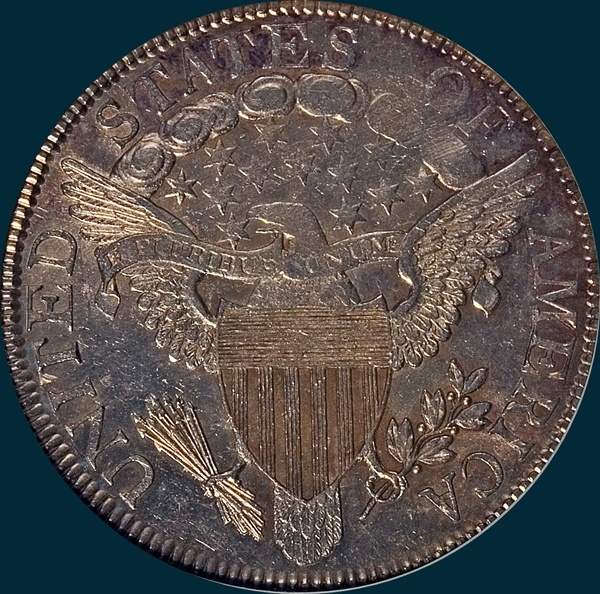 Variety Attribution: Obverse-O-115:Stars are large with sharp points. S7 is 1 1/4 mm. from base of L. Star 8 is slightly over 1/2 mm. from top of Y. Date large, a close 8 mm. and high, 1 nearly touches curl and there is a small lump die defect just right of the tip of 6. T is broadly recut, with serifs, stand and base of first T showing clearly. Y shows recutting at both upper serifs and along left side. There is a center dot in hair below and to left of ear. Most specimens in this die marriage show a crack at base of date and left through several stars.

O-115a: This crack becomes sharper, branching into two cracks at left.In the later stages with the progressive breaking of the die small lumps develop at bottom of 806 and at stars 1 and 2. The crack gradually extends to right of date and to left through all stars. A new crack appears at top of LIBER.


Reverse-O-115: 5 berries and the lower one has no stem. Star point attached solid to beak and lower point of same star is buried in scroll. Point of leaf close to base of I at center. Right base of F missing. Base of first T in states recut. ME joined at base.

O-115a: In the later stages, a fine crack begins at top of STATES and progresses downward joining UNITED and to edge below eagle's tail feathers.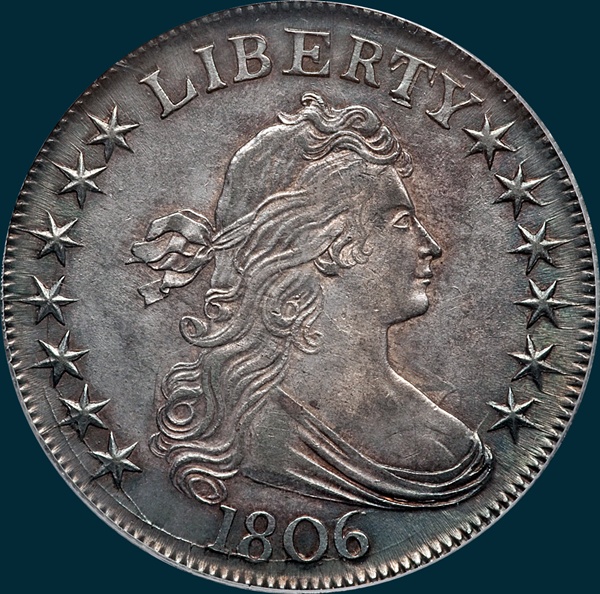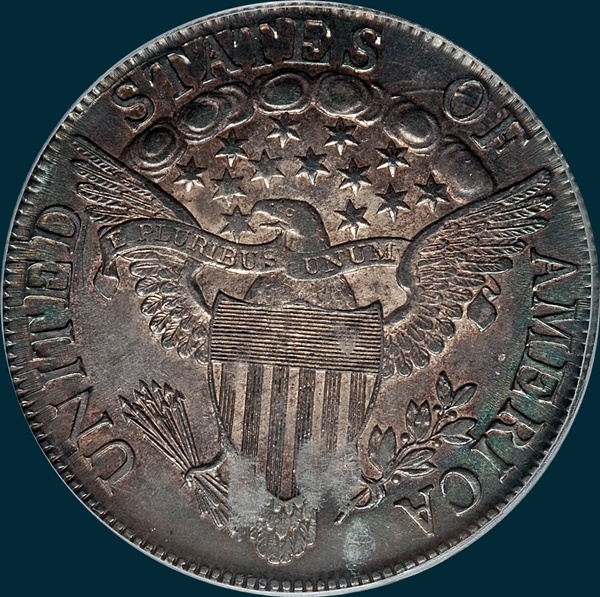 1806 Leaman-Gunnet Emission Sequence Number for O-115: 17
Top five condition census coins from last 10 years of auction and sale records (O-115):
04/15 Heritage (CSNS-Chicago) PCGS MS65 CAC
08/07 B&M (Rarities-Milwaukee) PCGS MS63
08/06 ANR (Old West/Franklinton) PCGS MS63
10/12 Heritage (Dallas) PCGS MS62
04/06 Heritage (ANA-Atlanta) ANACS MS60 details (cleaned)
Top five condition census coins from last 10 years of auction and sale records (O-115a):
09/14 Heritage (Houston) PCGS MS63
08/09 Heritage (Los Angeles) PCGS MS63 CAC
​​​​​​​09/18 Goldberg (Pre-Long Beach) PCGS MS62

01/17 Heritage (FUN-Ft Lauderdale) PCGS (S) MS62
01/08 Heritage (FUN-Orlando) NGC AU58