1820 O-103 R1 Small Date Capped Bust Half Dollar
Obverse: 3
Reverse: C

O-103 R1 is below, O-103a R2 at bottom

Another single die marriage Redbook variety, somewhat common yet nearly impossible over MS.62
PCGS Graded AU50. Gray dirt coin with decent luster. From Sheridan Downey. Thin pin scratch on the cheek is hardly noticeable in hand.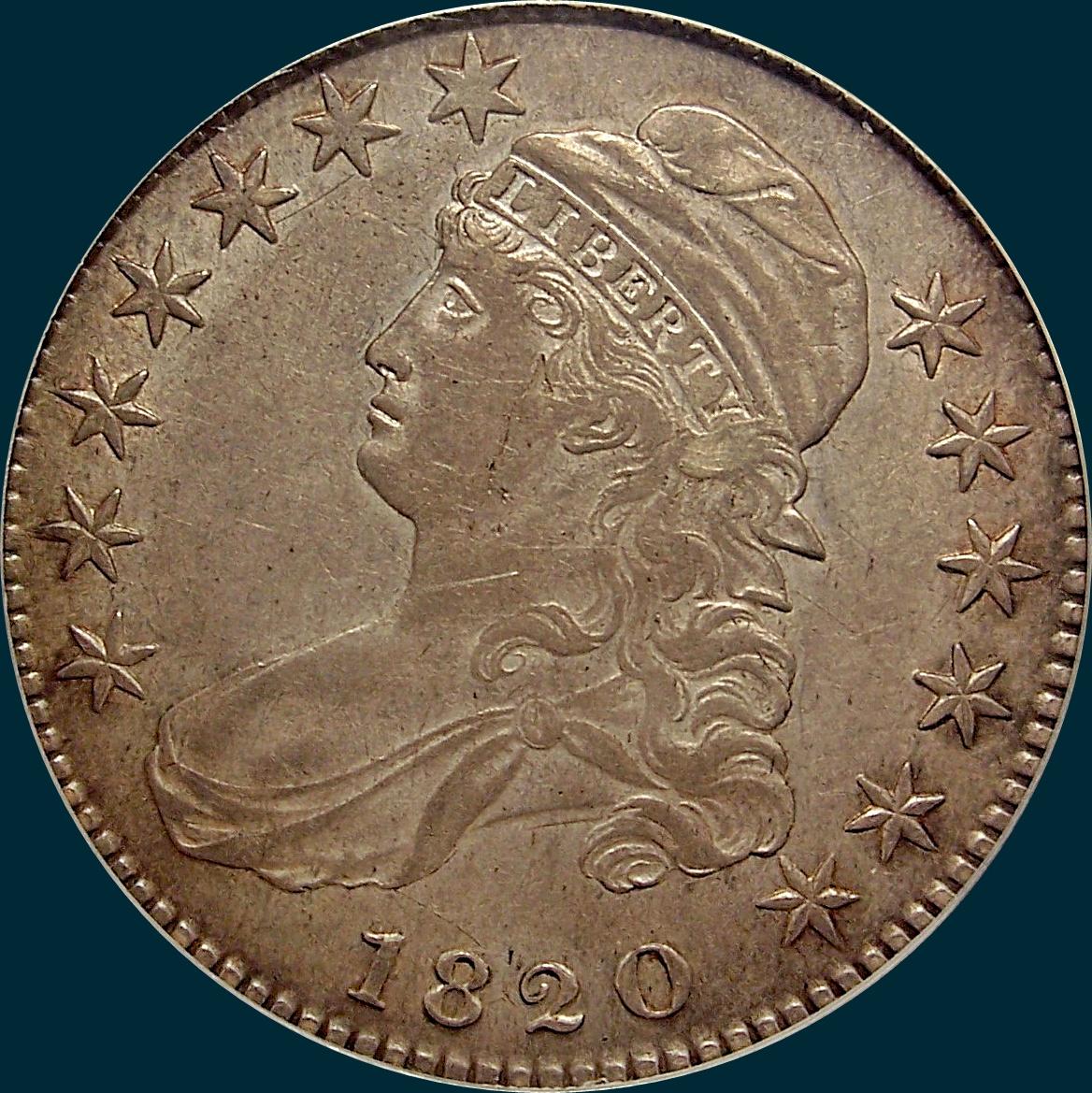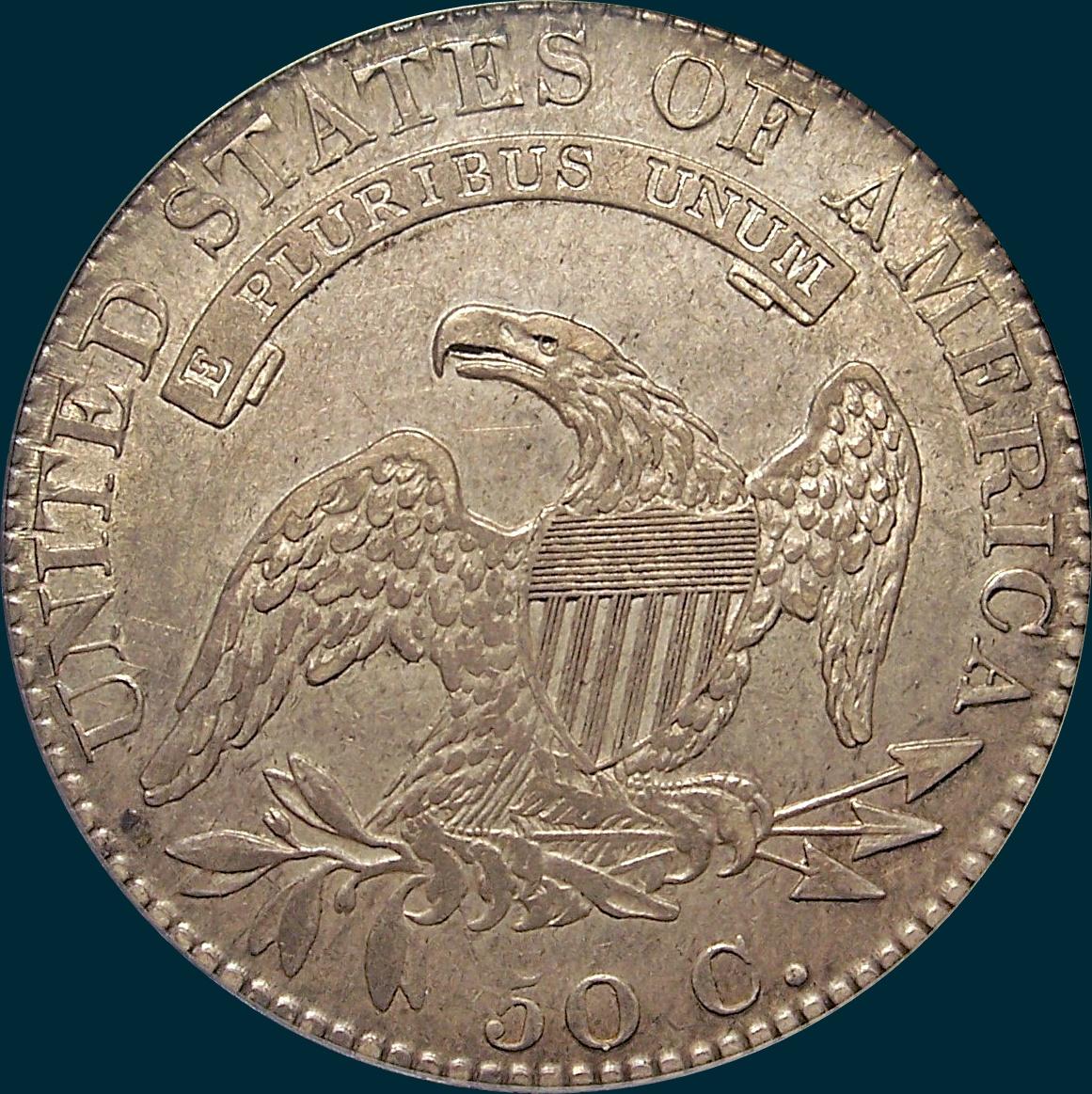 Variety Attribution: Stars are large and clear of milling. Date is 9 1/2 mm. and low, with small curled base, curled top 2 and large 0. Considered Small Date variety.
O-103a: There is a sharp die crack from edge near star 11, down along edge of curl to top of 1 to edge.

Reverse- 50C is 1 3/4 mm. Arrow to A is 3/4 mm. Narrow A's with small serifs at base. Most early specimens show that a second T in STATES has been punched over a first attempt that was 1 mm. too low.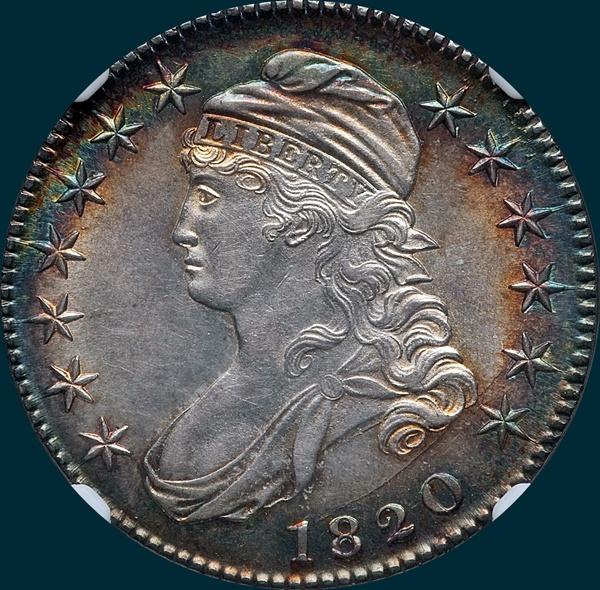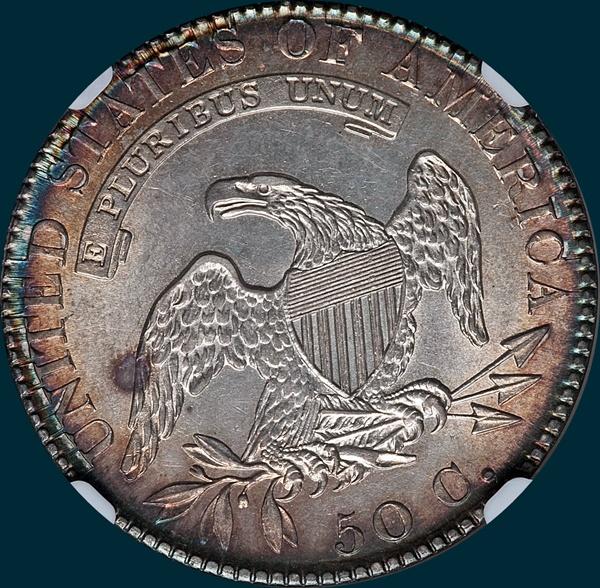 1820 Leaman-Gunnet Emission Sequence Number for O-103: 3
Overall Number: 128
Top five condition census coins from last 10 years of auction and sale records O-103:
​08/18 Heritage (ANA-Philly) PCGS (S) MS63 (Dale Friend)
03/16 Heritage (ANA-Dallas) PCGS MS63 (former NGC MS62)
​​​​​​​12/19 Heritage (Dec Signature) NGC MS62+
07/17 Heritage (FUN-Orlando) NGC MS62 (Reiver)
07/13 Downey MBS#37(Nomura/Hilgard) PCGS MS62 CAC
Top five condition census coins from last 10 years of auction and sale records O-103a:
11/13 Heritage (Newman) NGC MS63
01/20 Heritage (FUN-Orlando) PCGS (S) MS62 ​
01/14 Heritage (FUN-Orlando) PCGS MS62
01/14 Heritage (FUN-Orlando) NGC MS62
12/08 Alpine Numismatics FPL PCGS MS62