1824 O-103 R1 1824 over Various Dates Capped Bust Half Dollar
Obverse: 2
Reverse: C

A highly sought after neat overdate that is readily available in most grades, though MS examples are slightly scarce.

NGC Graded AU50. Deep gray toning with orange and blue highlights. A liight old pinscratch adorns the portrait. An original example of this 4/2/0 overdate. This one may be considered a high end 45 rather than a 50.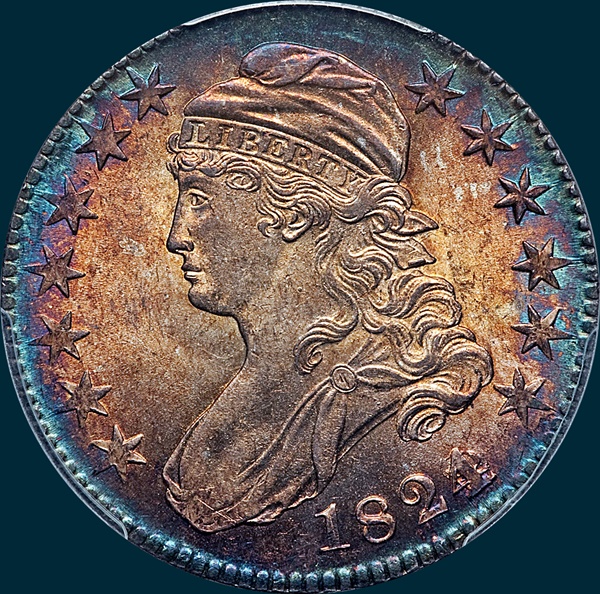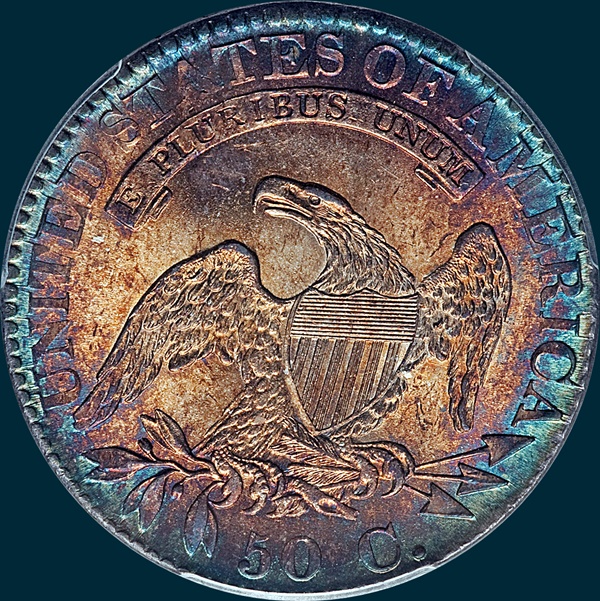 Variety Attribution: Obverse-1824 over 2 over 0 (4/2/0). Stars large and mostly flat. Date is 8 1/2 mm. with 24 closer than 182. Small center dot on neck. This over-date has been referred to as over every figure from 1820 to 1823, and Edgar Souders has suggested that it is a 0 and a 2 in the jumble of illegible digits.
Reverse- 50 C. is 2 mm. Arrow to A is 1/2 mm.Center dot between crossbars 4 and 5. Right side of T and left side of I in line. Line 1 of stripe 1 extends to crossbar 5.
Notes:
According to Edgar Souders, he estimates that the projected mintage for this overdate is approximately 206,173. Get his book Bust Half Fever and read all about overdates and how he came up with the number!
1824 Leaman-Gunnet Emission Sequence Number for O-103: 10
Overall Number: 176
Top five condition census coins from last 10 years of auction and sale records:
​09/18 Legend (Regency-XXVIII) PCGS MS64 (Secure)
06/17 Heritage (Long Beach) PCGS MS64 (Secure)
01/17 Heritage (FUN-Lauderdale) PCGS MS64 (former NGC MS62 CAC)
09/16 Legend (Regency XVIII) PCGS MS64
​​​​​​​01/20 Heritage (FUN-Orlando) PCGS (S) MS63+ CAC (Friend)